Only 17% of Americans follow any women's sport and the lack of media coverage is blamed for the lack of interest in women's sport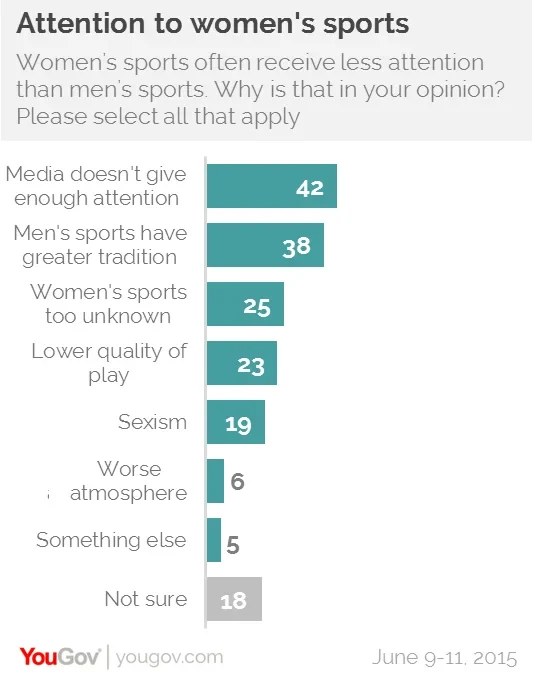 The final group stage matches of the Women's 2015 World Cup are being played this week. The United States and Japan, the 2011 champions, look set to move on to the knockout rounds. Unlike the American men's team, the U.S. Women's soccer team have a proud history including two World Cup victories in 1991 and 1999. Despite this, however, viewing figures were higher for the U.S. men's team in last year's World Cup than for the women's team this year. The latest match against Sweden did break a record for women's soccer with 4.5 million Americans tuning in to watch the match but in 2014 over 18 million watched the U.S.-Portugal match.
YouGov's latest research confirms that many more Americans pay attention to men's sports than women's sports. Only 17% of Americans follow any one women's sport at the college or professional level, compared to 61% who follow at least one men's sport. In fact tennis, the most followed women's sport (11%) is followed by the same percentage of Americans who follow the least followed major men's sport, golf.
When asked why women's sports often receive less attention, the most common reason given is simply that the media doesn't give them enough airtime (42%). 38% of Americans also said that it was because men's sports have greater tradition and 25% believe it is because women's sports are too unknown among the wider population. 23% believe that it is because women athletes are not as good as male ones, while 19% say that the lack of attention is a result of sexism.
Men and women do diverge somewhat on this issue. While a quarter of both men and women agree that women's sports receive less attention because men's sports have greater tradition, women are more likely to blame a lack of media attention (26% to 18%) or sexism (13% to 10%). Men (24%) are nearly five times as likely as women (5%) to say that the reason is that the quality of play is lower in women's sport.