With four of the top 10 Olympic advertising spenders in the automotive category – and BMW leading the way at $28.7 million according to iSpot.tv – the brand that has experienced the biggest uplift in key consumer metrics in the first week is the TV network broadcasting the event itself, NBC-TV.
NBC made a large enough leap in YouGov BrandIndex's Word Of Mouth score to make it the only brand to pass a statistically significant threshold of the three metrics used to measure Olympics sponsors.
The second largest Word Of Mouth gainer – Polo Ralph Lauren - - increased about half as much as NBC.
The largest movement any auto-related brand made in the first week was Bridgestone, which made gains in Purchase Consideration and Word Of Mouth.
Worldwide and U.S. sponsors of the 2016 Summer Olympics in Rio were measured with three of YouGov BrandIndex's scores: Buzz ("If you've heard anything about the brand in the last two weeks, through advertising, news or word of mouth, was it positive or negative?"), Purchase Consideration ("When you are in the market next to purchase, from which of the following brands would you consider purchasing?") and Word Of Mouth ("Which of the following brands have you talked about with friends and family in the past two weeks -- whether in person, online or through social media?"). All respondents were age 18 and over.
YouGov BrandIndex's Buzz score ranges from 100 to -100 and is compiled by subtracting negative feedback from positive. A zero score means equal positive and negative feedback.
The Purchase Consideration and Word Of Mouth scores range is from 0% to 100%.
Consideration: 2016 Olympic Sponsors (WW = World Wide)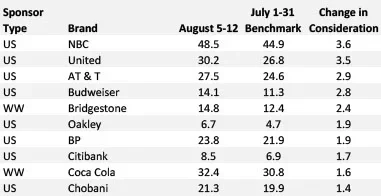 Buzz: 2016 Olympic Sponsors (WW = World Wide)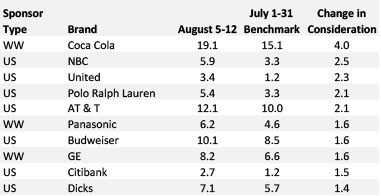 WOM: 2016 Olympic Sponsors (WW = World Wide)