Data from YouGov Profiles reveals the food and drink brands that this season's NFL viewers are likely to view positively
Almost nothing brings TV and eyeballs together more than the National Football League. The proof: According to Ad Age's annual survey of media buying firms, this year marketers will pay somewhere between $485,695 to $673,664 to air a single 30-second spot during a game broadcast on NBC or CBS. It's the priciest commercial time on TV, costing more than a traditional ad on hit shows such as Empire ($437,100), The Big Bang Theory ($289,136), and Modern Family ($224,571).
New data from YouGov Profiles finds that viewers who've tuned into a game during the opening month of the current NFL season — either live on TV or via a streaming service — are most likely to be men aged 35 to 64. 38% of these football watchers admit to either doing housework or preparing a meal while watching TV, compared to just 33% of the general public.

But not everyone has the time or energy to cook each Sunday, especially when having a large group of friends over to watch the big game. A look at food and drink brands that viewers of the current NFL season hold in high regard when compared to the average American presents a prime opportunity for marketers. In other words, these are the brands that receive significantly higher positive impression scores from NFL watchers than the general public.
At 47%, for example, nearly half of football fans report having a positive impression of Rold Gold pretzels. The same is true for only 30% of the national population. NFL viewers also have better impressions of Emerald Nuts and Ritz crackers.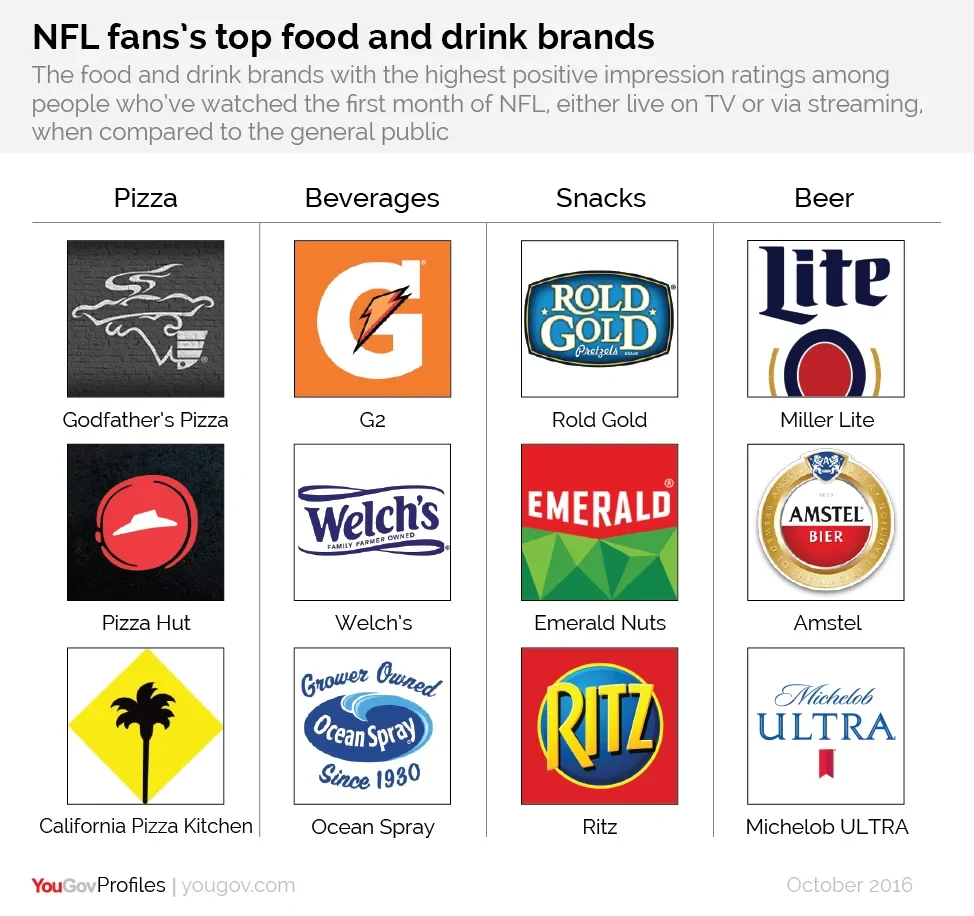 As for pizza, football fans lean toward Godfather's Pizza, Pizza Hut, and California Pizza Kitchen. They also have comparatively high views of Miller Lite and G2, Gatorade's low-calorie offering.
NFL ads are expensive precisely because a large chunk of the American public sees them. NFL ratings are the biggest around. Knowing which brands these viewers already have an affinity toward won't lower the cost of a 30-second commercial, but it will lead to smarter decisions on which brands are likely to resonate with NFL viewers, and make each spot more cost-effective.