A new infographic from YouGov highlights what fans of this year's Super Bowl rivals have in common — and don't
It's almost that time of year again. This Sunday, within the confines of Houston's NRG Stadium, the New England Patriots will meet the Atlanta Falcons in Super Bowl LI. While the Falcons are hoping to win their first championship in franchise history, the Patriots, who've dominated the league for over a decade now, are aiming for their fifth.
But that's what makes the teams different. What about their fans? A new infographic from YouGov helps illustrate the many differences and similarities between the two groups.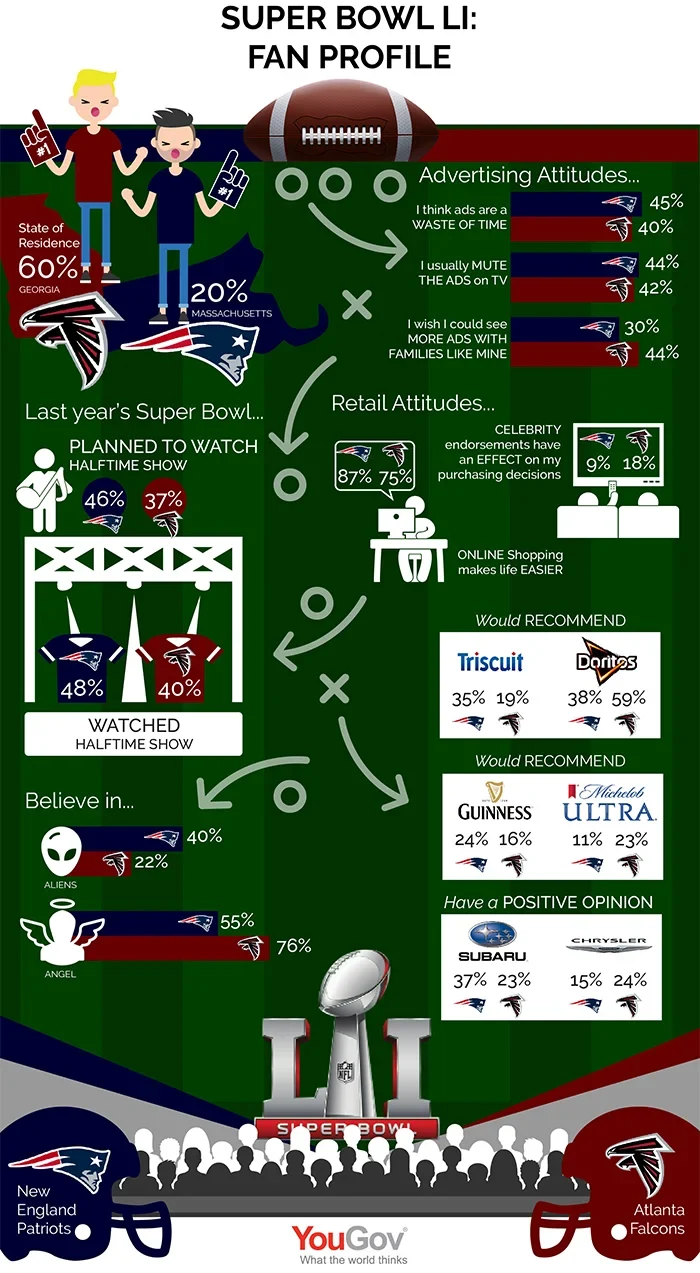 For example, only 20% of people who consider the New England Patriots one of their favorite teams in sports actually live in the state of Massachusetts (home of the Patriots). 60% of Falcons fans, however, reside in Georgia (home of the Falcons). The difference in this statistic alone is rather stark.
More divergence surfaces when it comes to the paranormal and supernatural. 76% of Falcons fans believe in the existence of angels, compared to 55% of Patriots fans. For aliens, the roles reverse: Patriots fans are 18 percentage points more likely to believe in alien life than Falcons fans, at a rate of 40% to 22%.
Since the Super Bowl is the year's main event for advertising, marketers might be interested in knowing that Patriots fans are more likely to recommend Triscuits as a snack to their fellow couchmates than Falcons fans, while Falcons fans are more likely to offer a bowl of Doritos.
Data featured in the infographic above comes from YouGov Profiles, an agile market research tool that uses digital tracking technology and daily online surveys to collect a variety of opinions, attitudes, and behaviors from over 200,000 U.S. adults aged 18+. YouGov Profiles is nationally representative and updated weekly.