Data shows that 58% of NFL fans want the Atlanta Falcons to beat the New England Patriots in Super Bowl LI
Two years ago, the New England Patriots defeated the Seattle Seahawks in Super Bowl XLIX, winning their fourth National Football League title. But they weren't the fan favorite that year. In the wake of Deflategate, just one in five Americans in the Economist/YouGov Poll conducted before that 2015 matchup wanted Bill Belichick's team to win. More than a third were rooting for the Seattle Seahawks.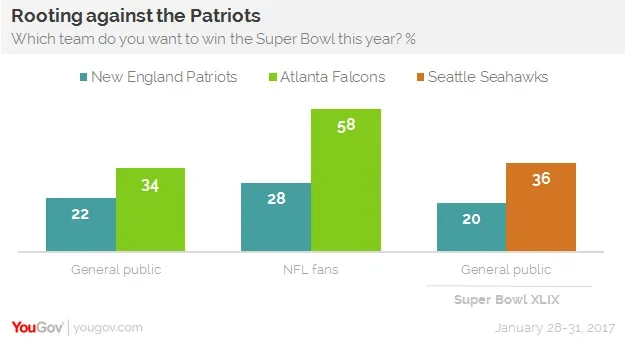 The Patriots are facing the same type of fan deficit this year, even without the controversy of Deflategate, and even though they are seen as 3-point favorites. In the most recent poll, 34% of Americans want the Atlanta Falcons to win Super Bowl LI, while just 22% support New England.
More than four in ten Americans don't have a preference. But most of that group aren't fans of professional football. Among those who are, there is an even stronger preference for the Falcons to win: By more than two to one, NFL fans favor Atlanta.
Men are more likely than women to say they are NFL fans. 52% of men and 31% of women are fans. Republicans (51%) are more likely than Democrats (43%) and independents (34%) to be fans. And interest is higher among those who are middle-aged than among those either under 30 or 65 and older.
But the Super Bowl is more than just a football event. Nearly every NFL fan says they will probably watch, but so will one in four of those who aren't fans. These non-fans primarily will be watching the commercials, while for NFL fans the best part will be watching the actual game itself.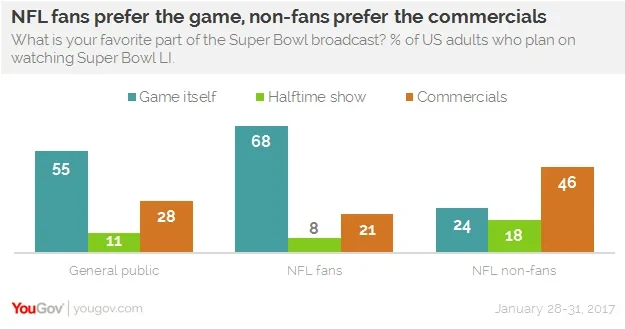 NFL fans aren't sure whether they'd want to travel to Houston to watch the game in person, even if cost were not an issue. As many say they wouldn't want to see the game in person as say they would.
Thoughts about the game itself don't divide up Americans by party identification. Republicans may be more likely than Democrats to be fans of the NFL, but Republicans and Democrats both agree they'd prefer Atlanta to win. Partisans, however, do divide on the halftime entertainment. Lady Gaga is generally liked, but there is a big gap between Republicans and Democrats when it comes to her performing during the halftime show. Democrats approve; Republicans do not.