From fanbase diversity to lifestyle choices, New England and Philly fans are distinct consumer groups
This Sunday, the New England Patriots and the Philadelphia Eagles will face off in Super Bowl LII, and their fans are separated by more than team loyalty. A closer look at the life interests and consumer attitudes of the two fanbases in YouGov Profiles shows what it's like to identify as a Patriots or Eagles fan.
Demographics
Fans of the Patriots are more spread around the nation. Though more Patriots fans live in the Northeast than elsewhere (45%), Patriots fans currently live in the South (29%), West (13%), or Midwest (13%). Some Eagles fans cheer for their team away from historic Philadelphia, residing instead in the South (24%), West (7%), or Midwest (6%).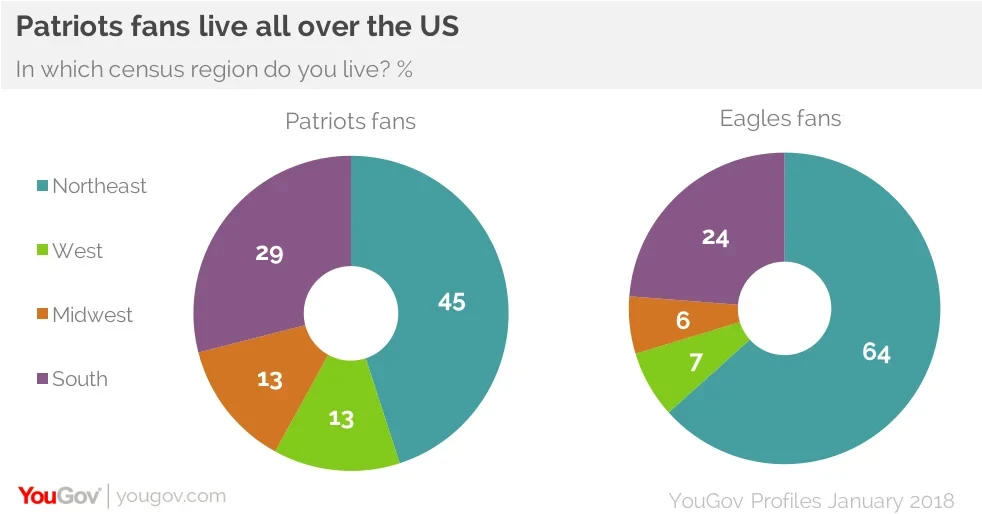 While Patriots fans hail from all over, Eagles fans tend to be slightly more diverse. More than a fifth (21%) of Philly fans are black, compared to just 10% of New England fans. Both fanbases report being predominantly white (75% for Patriots fans, 67% for Eagles fans).
Personality
The fans of each team are likely to describe themselves differently. Patriots fans are more likely to say they're funny (20%), punctual (7%), and patient (5%) while Eagles fans say they're more of a leader (36%), dedicated (10%), and a problem-solver (4%).
Lifestyle
The day-to-day mindset of each fanbase varies too. Many Patriots fans (70%) say they value their time more than making money, while only 60% for Eagles fans agree. Over a third of New England fans also report being scared of change (35%) compared to just a quarter of Philly fans (25%).
Fans from each team also prefer to be reached differently. While slightly more than half of New England fans (51%) prefer a text to a phone call, less than half of Philly fans say the same (41%).
When they're not donning on a jersey to support their favorite teams, Patriots and Eagles fans differ in what they do to stay in shape. Patriots fans are much more likely to prefer walking (27%), yard work (14%), or camping (10%). Eagles fans say swimming (28%) and running (23%) are their main forms of exercise.
Snacks and Beverages
No Super Bowl party is complete without drinks or food. Purchase data from
reveals that each fanbase prefers different beers. In the last 30 days, Patriots fans bought brews from Samuel Adams (11%), Corona (10%), and Budweiser (10%). For Eagles fans, Yuengling (9%), Corona (9%), and Heineken (8%) lead all other beer purchases.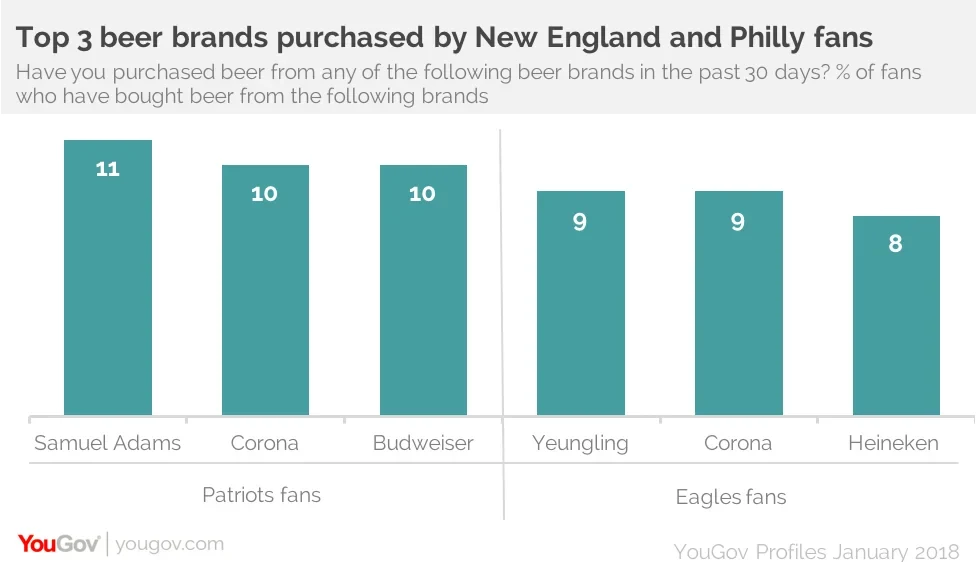 Eagles fans may have other alcoholic beverages at a Super Bowl party, though. When asked whether they like spirits more than beer or wine, most Eagles fans (45%) agreed compared to just 21% of Patriots fans. Most Patriots fans prefer a beer (59%) over any type of liquor.
Every Super Bowl spread needs snacks and the two teams will likely showcase different types. In the past 30 days, Patriots fans bought snacks from Nature Valley (15%) Chex Mix (10%), and Cape Cod (10%), while Eagles fans purchased from the Herr's (15%), Cheese Nips (11%), and Wise (9%) brands.
Advertising and Cord cutting
The NFL has embraced technology at a pace that has changed football itself in the last decade and fans of both teams have also taken to enhancing their lives with technological advancements. Patriots fans (55%), for example, report higher usage of ad-blocking technology while they browse than Eagles fans (47%).
Their attitudes towards advertising trends are also varied. Nearly two-fifths (39%) of Philly fans wish they saw more families like theirs in ads while only 33% of New England fans said the same, and 29% of Patriots fans are likely to be influenced by ads starring their favorite celebrity, compared to just 22% of Eagles fans.
When it comes to television consumption, Eagles fans are the less likely of the two fanbases to cord cut, with 38% saying they rely solely on a cable subscription and don't use any streaming or subscription services like Netflix or Hulu, compared to 29% of Patriots fans. Many Patriots fans (43%) in turn say that they have a cable subscription but also use streaming services for their entertainment needs (compared to 33% of Eagles fans).