Consumer perception rose dramatically for both Dick's Sporting Goods and Walmart after the stores announced changes in their gun sales policies last week, according to YouGov BrandIndex.
The perception jump was especially acute for Dick's, which was the first retailer to make an announcement of this type on Wednesday, Feb. 28. Dick's said it was immediately ending sales of all assault-style rifles and high-capacity magazines in its stores and requiring all gun buyers to be at least 21 years old. Dick's also issued a letter from its CEO Ed Stack, who wrote that the company was moved to do something because "the systems in place are not effective to protect our kids and our citizens." Walmart followed later the same day with a similar announcement.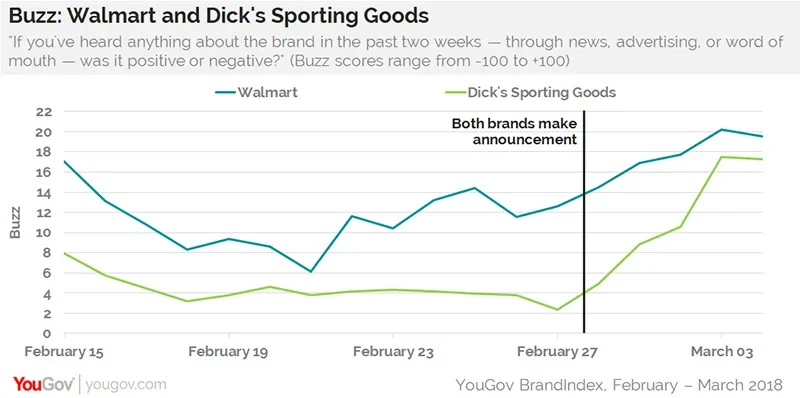 Democrats drove Dick's increase in perception, while both Republicans and independents remained steady. While the Democratic consumer reaction is not surprising given the party's stance on gun control, the unchanged response from the other two groups possibly indicates conflict within their own ranks. Support for stricter gun control has risen since the shooting in Parkland, Florida, according to a recent Economist/YouGov poll.
Walmart's rise in perception was mainly fueled by Democrats and independents, while Republican perception dipped mildly. Walmart is the biggest gun seller in the country, but it makes most of its revenue in other areas because of its sheer size.
Likely because Dick's was the first out of the box in such a high-profile matter, Word of Mouth tripled in a short amount of time, from 7% of adults talking about Dick's with family and friends on Feb. 28 to 25% this past weekend. Walmart's Word of Mouth remained steady, indicating Dick's received the bulk of the attention.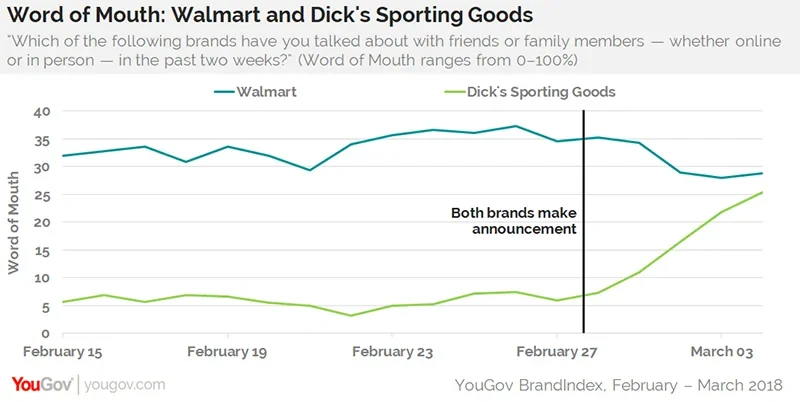 YouGov BrandIndex measured consumer perception using its Buzz score, which asks respondents: "If you've heard anything about the brand in the last two weeks, through advertising, news, or word of mouth, was it positive or negative?"
Photo: Getty