Nearly two-thirds (65%) of MLB fans think the Red Sox will win
Most baseball fans weren't rooting for the Boston Red Sox to capture the World Series title last week, but now that it's down to two teams, baseball fans in the latest Economist/YouGov Poll both want and expect the Red Sox to emerge as the winner.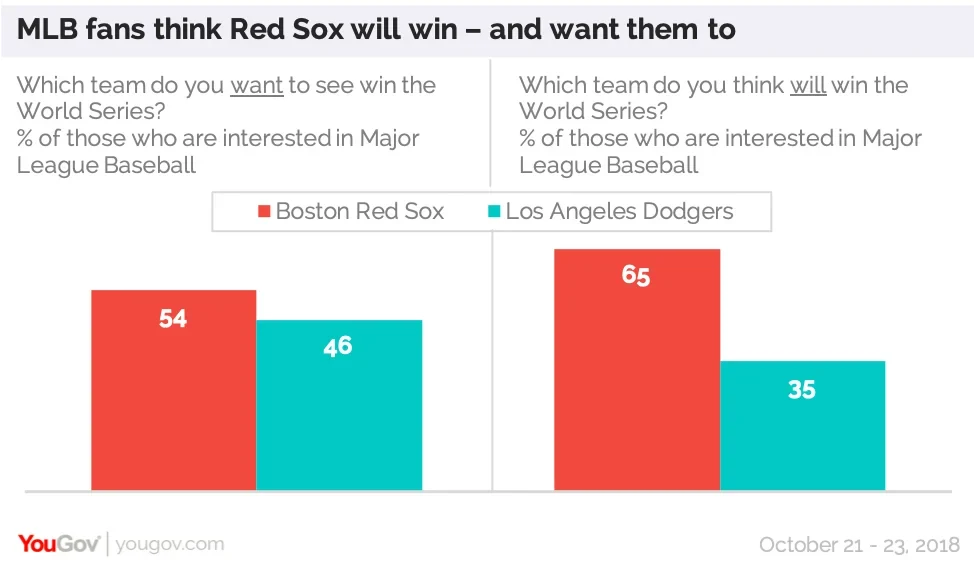 The poll was conducted before the Series began (and before the Red Sox jumped to a 1-0 lead in the best of seven contest Tuesday night).
The Red Sox are favored by those who follow Major League Baseball a little, as well as by the one in ten who describe it as one of their top interests.
Only in the West, the home of the Los Angeles Dodgers, do fans favor the Dodgers. But the region's support is strong: 64% of fans in the West want the Dodgers to win the Series. But just 54% of fans think they will take it all. In all other geographic regions, fans both favor the Red Sox and expect them to win.
There is a party difference in support, too. Republicans are rooting for Boston 55% to 45%. Democrats narrowly support the Dodgers 52% to 48%.
Interest in Major League Baseball hasn't risen in the last week, but viewership has gone up. This week, more than half of baseball fans say they have watched at least one playoff game (up from 44% two weeks ago), and even more say they plan to watch at least one Series game. But viewership – even among fans – is heavily dependent on age and gender. Viewership will be higher among men than women, and higher in older age groups as well.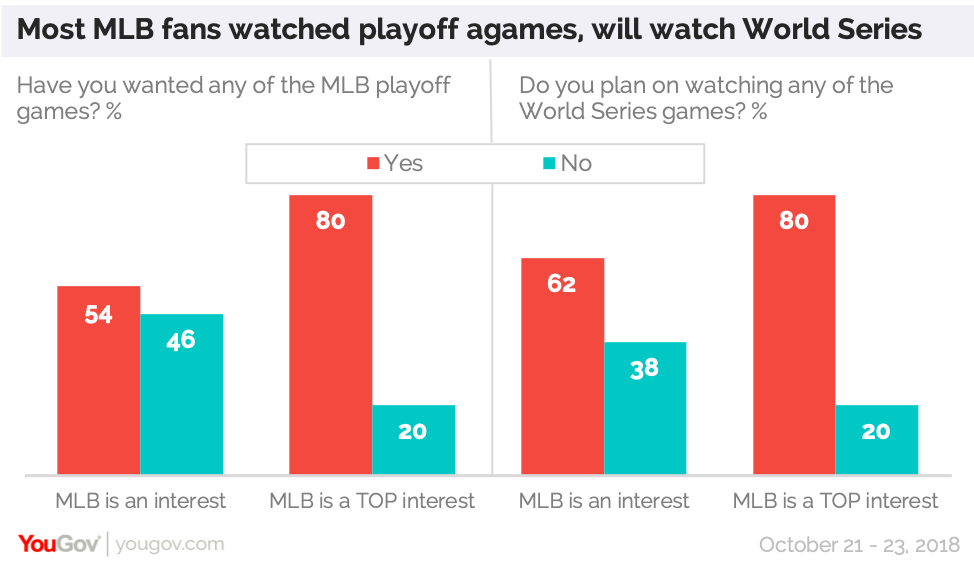 The "superfans" – the one in ten who call MLB one of the top interests – will be watching. 80% of them say they will watch the World Series; the same percentage have already seen a playoff contest. Red Sox fans and Dodgers supporters are equally likely to be watching the Series.
See full toplines and tables results
Image: Getty