Chip and dips is most popular Super Bowl snack, one in eight have not gone to work the day after the game, and one in three want it played on Saturday
Many Americans are planning for Super Bowl Sunday, but it's not the game itself they're readying for: it's the party. Most (55%) Americans plan to watch Sunday's game, with one in seven (15%) doing so at a Super Bowl party, according to new data from YouGov Omnibus.
While 9% say they plan to attend a party hosted by someone else, a brave 6% say they'll be hosting a party themselves. Another 3% say they plan to watch at a restaurant or bar, with the remaining 9% planning to watch the game but aren't yet sure of their plans.
Hispanics in the US are most likely to be attending a Super Bowl party. About one in five (21%) will be either hosting or attending a party, compared to 16% of black Americans and 14% of white people.
Of course, one of the most critical parts of any Super Bowl party is the food. The most popular foods for this year's festivities are chips and dip (47%) and pizza (37%), followed by chicken wings (32%), nachos (27%), and cheese and crackers (24%). And of course, it's not a party without some dessert: 14% plan to have cookies, while 11% think they'll enjoy ice cream and 10% will be munching on brownies.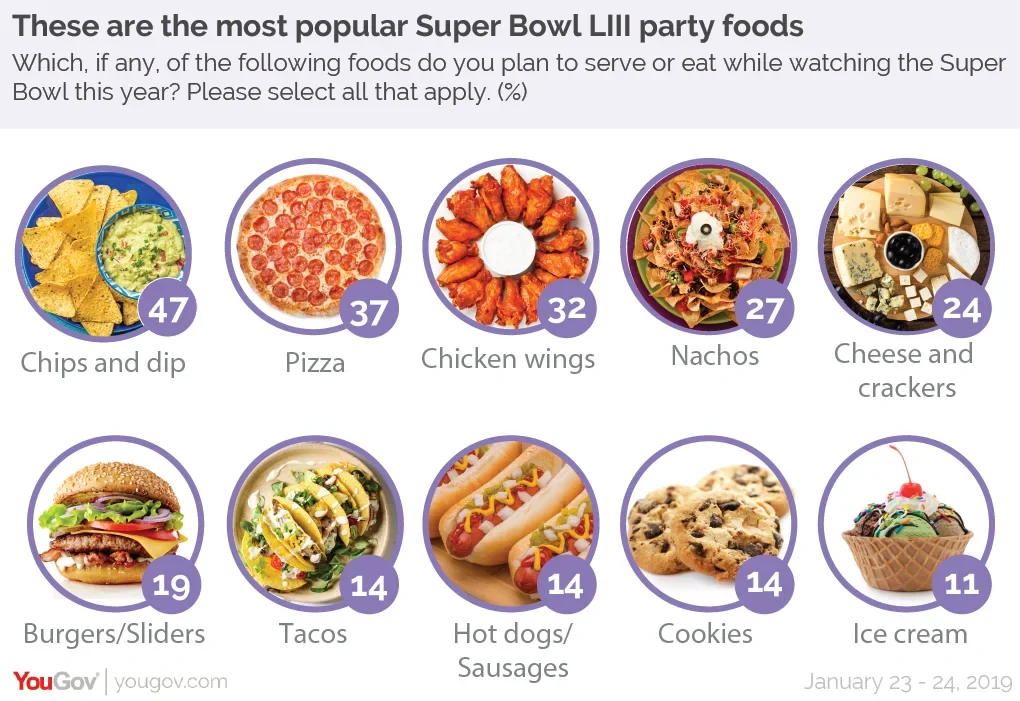 All that party food (and maybe a few drinks) can cause problems the next day. One in eight (13%) Americans has ever skipped work the day after the Super Bowl, either by planning days off in advance (5%), taking personal days (4%), calling in sick (2%), or skipping work without notification (2%).
Men are more than twice (16%) as likely as women (7%) to say they have skipped work the day after the Super Bowl. Parents with kids under 18 are also far more likely than non-parents (21% vs 8%) to have skipped work on the Monday after the Super Bowl. Those with a household income of $80K or more are also more likely to have skipped work after the Super Bowl (18%) than those on middle-income (13%) and low-income (9%).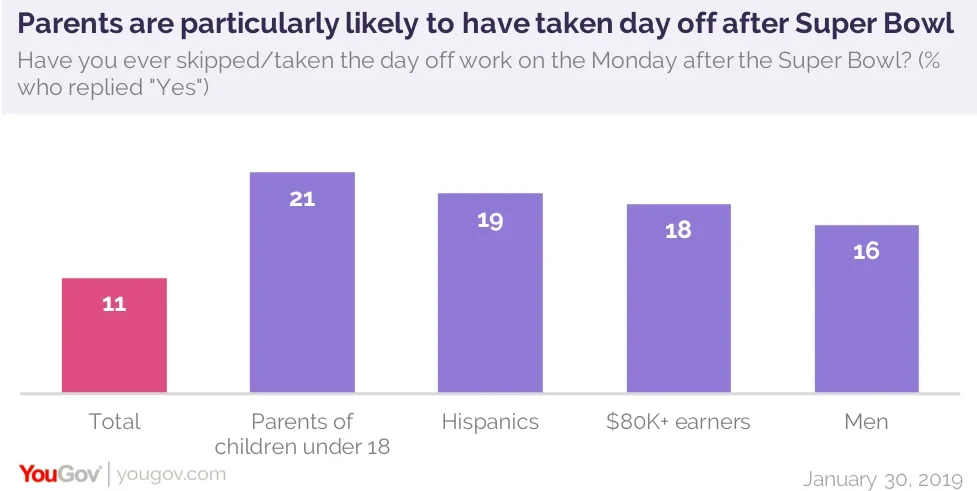 Perhaps an extra day to recover could be beneficial for many. One in three (35%) believe that the Super Bowl should be played on Saturday rather than Sunday, although just over one in four (27%) disagree. Parents (41%) of children under 18 are particularly likely to want the game played a day earlier.
See full results here.
Learn more about YouGov Omnibus.
Image: Getty