Americans support "equal pay" – at least when it comes to sports.
The chanting crowd that saw the US women's soccer team win the World Cup last week it made clear with their refrain. Before the World Cup competition began, the American women had sued the US Soccer Federation for better pay. Their victory on the field against the Netherlands brought their demand to the attention – and support – of their public.
In the latest Economist/YouGov Poll, Americans believe success should determine sports salaries for both sexes (although nearly as many men say revenue generation should count more). Democrats and Republicans are on the same page when it comes to "success" determining how much money male and female athletes should make.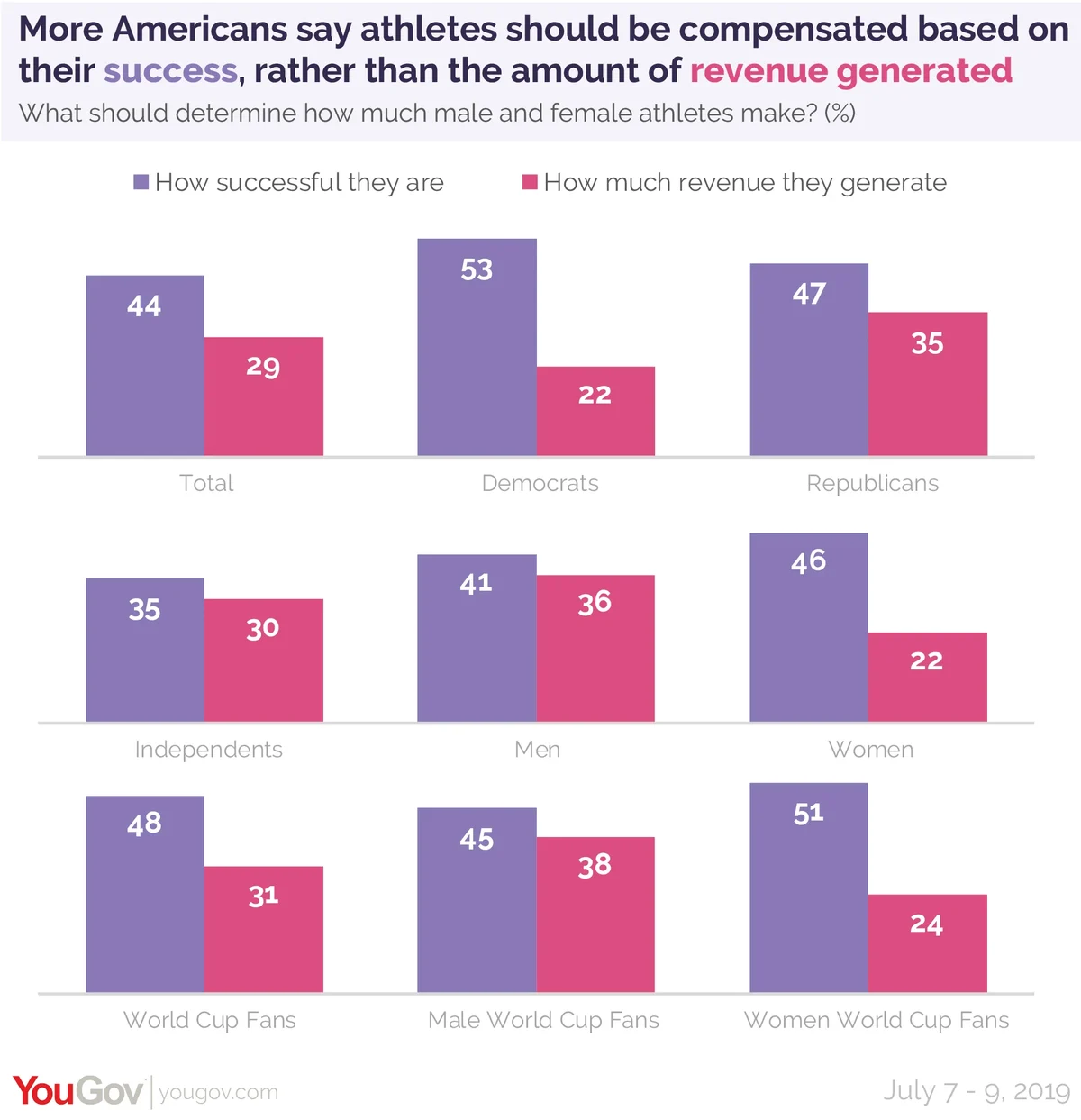 Success as the better salary metric is especially popular with women World Cup fans. On a second question, men and women agree that the US national men's and women's teams do the same job and should get equal pay. Men agree with that by 44 percent to 33 percent, while women think this by four to one, 57 percent to 14 percent.
Republicans agree that competitive success and not a game's financial structure should determine athletes' pay in general, they divide closely when it comes to payment for the two US soccer teams. There is a gender gap among Republicans: female Republicans support paying women and men soccer players equally 46 percent to 28 percent. Republican men disagree, and half of them believe that the women's and men's games are fundamentally different, justifying different pay, 50 percent to 38 percent.
The women's success in France brought some financial success, too, in one case clearly outperforming the men. The US women's World Cup jersey has become the single-season best-selling soccer jersey – men's or women's – ever for Nike, the manufacturer. But women's soccer still doesn't have the reach of other (male) sports. More than half (54%) say they had no interest at all in watching the Women's World Cup; in a June Economist/YouGov Poll, more said they followed the National Football League and Major League Baseball.
However, just about as many adults are interested in watching women's sports in general as are interested in professional football and baseball.
Pay equity wasn't the only controversy at this World Cup. Megan Rapinoe, one of the American team's captains, made political statements critical of President Donald Trump, and remained silent during the playing of the national anthem (she had previously "taken a knee" before the US Soccer Federation forbade that practice). Rapinoe was the star of the tournament, winning both FIFA's Golden Boot as the top scorer during the competition and the Golden Ball, as the tournament's best player.
Overall opinion about Rapinoe is divided, but not among soccer fans. A majority of the public overall say they don't know her well enough to have a favorable or unfavorable opinion; those that do are divided, with Republicans negative and Democrats positive. But World Cup fans, whatever their party, like Rapinoe, though some party differences remain.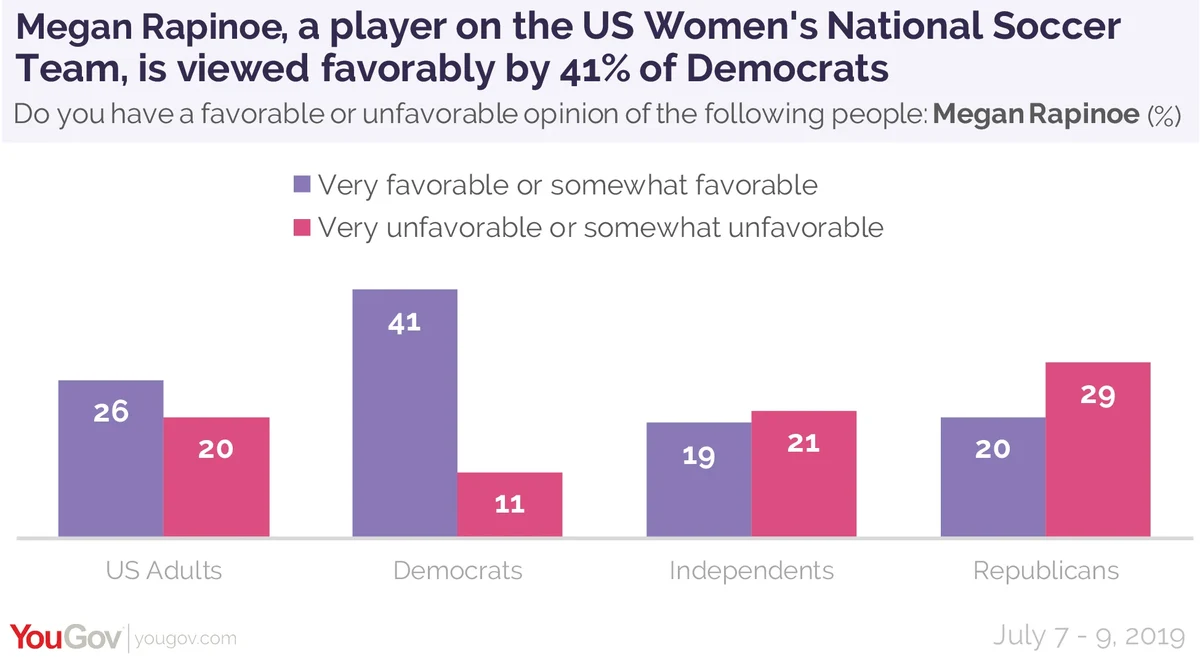 Political activism by athletes in general (not just by Rapinoe) gets mixed and very partisan reviews. When it comes to athletes making political statements, the parties differ dramatically. Democrats support athletes making political statements 69 percent to 15 percent, while two-thirds of Republicans disagree. As for Rapinoe's statement that she would not accept a presidential invitation to the White House (should there be one after a World Cup win), two-thirds of Americans had heard about this stance.
Once again partisans disagree: Democrats find that an appropriate position to take by nearly six to one; Republicans don't by more than three to one.
Though support for pay equity appears to have gained because of the women's performance, there is not a lot of evidence in the poll that other gender attitudes changed post-tournament, with one exception. In January of this year, men agreed with the statement that "Many women are actually seeking special favors, such as hiring policies that favor them over men, under the guise of asking for 'equality.'" Now, they are nearly as likely to disagree as agree with it.
Though it can't be attributed directly to the women's World Cup success, much of the change among men has taken place among Republican men. In January, 70 percent of Republican men believed women were seeking special favors. That percentage has dropped 13 points in this poll. GOP women (half of whom also agree with the statement) changed hardly at all.
FULL DISCLOSURE: I qualify as a fan of the women's team, and even attended the U.S.-France quarterfinal match in Paris.
See the full toplines and tables results from this Economist/YouGov poll.
Image: Getty