The US Women's National Soccer Team and the US Soccer Federation broke off negotiations last week in the pay dispute that has only intensified since the team won its fourth World Cup last month. The current expectation is that there will be a trial next May, before the 2020 Olympics. The American public in the latest Economist/YouGov Poll is clearly on board with the concept of equal pay. In the specific national team-soccer federation conflict, they side with the American women's team.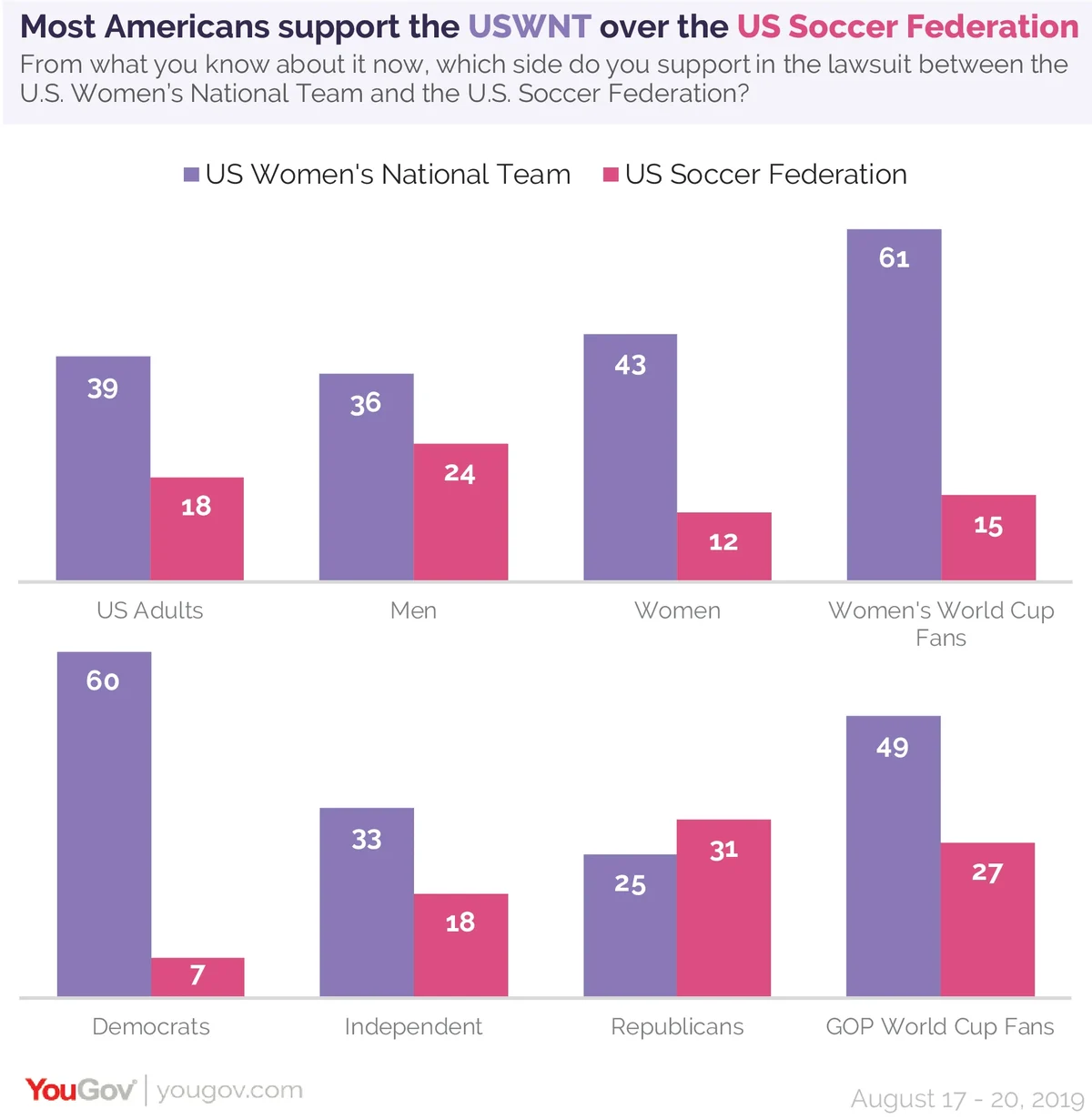 Support for the women is even greater among those who are interested – even a little bit – in the World Cup Tournament. [Fans make up less than half the public; 58 percent are not at all interested in the Women's World Cup.] Republicans think differently, and narrowly side with the Federation. However, that isn't true for GOP World Cup fans – by nearly two to one, Republican fans side with the players.
Republicans were clearly disturbed by the team's co-captain Megan Rapinoe during the competition, when she stated she had no interest in going to the White House (and the team did not go to the White House after they won). President Donald Trump even tweeted his displeasure with her. In last week's Economist/YouGov Poll, Republicans, by more than two to one (38% to 16%) had an unfavorable opinion of Rapinoe.
But there may be other reasons for a lack of GOP support for the team's demand for equal pay. Republicans don't necessarily accept the argument that men and women soccer players are doing the same job and deserve equal pay. They prefer to link pay to the different economics of the men's and women's sport.
Women's World Cup fans are more closely divided on this question than the public overall, but still agree that doing the same job should mean equal pay. GOP fans are just about split down the middle.
By more than five to one, the public knows the women's team has been more successful than the men's team. But that doesn't mean Americans think the World Cup champions should be paid more than the US men – just that they should get equal pay. About as many say the women should be paid more as think the men should be paid more, but even more believe their pay should be the same.
Pluralities of both men and women support equality, though men are more likely to favor men being paid more, and women more likely to want the women to earn more. Republicans overall favor men over women, but GOP fans are divided. All fans give the women's team more support than the public at large, but even more favor equality in pay.
See the full toplines and tables results from this week's Economist/YouGov poll.
Related: Democrats don't like President Trump criticizing US Soccer's Megan Rapinoe
Image: Getty