Even though both teams seem evenly matched for today's Super Bowl, the Broncos enjoy wider support than the Seahawks
Most Americans say they will be watching Super Bowl XLVIII this Sunday – and more will be rooting for the Denver Broncos to won than will be cheering for the Seattle Seahawks. The latest Economist/YouGov Poll gives Denver an 18-point lead among likely viewers. That's much larger than the current gambling line: the Broncos are just two-point favorites there, which would make this the closest Super Bowl spread in more than 30 years.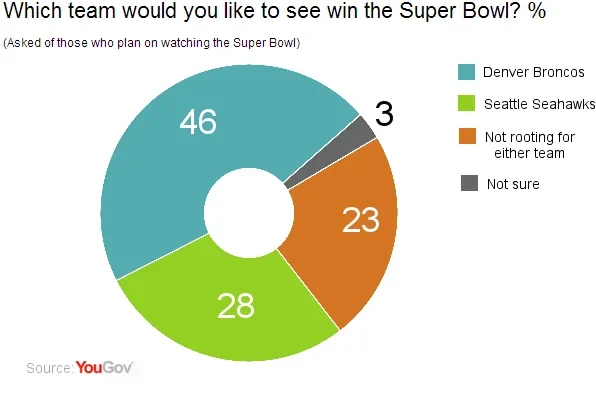 Denver's margin is ever greater among those who closely follow professional football: Denver is favored by 51% among that group.
There is no gender gap in preference. Although Seattle fares better with those under 30 years old and with African-Americans than it does overall, all groups give the Broncos the edge. In the West, the home of both Super Bowl teams, more people than elsewhere have a favorite, but the pattern is the same: Denver holds a 49% to 34% lead over Seattle.
Less than half of those who plan to watch the game say they'd want to see the Super Bowl in person – IF they could afford it. More are willing to just sit back and watch the game on television.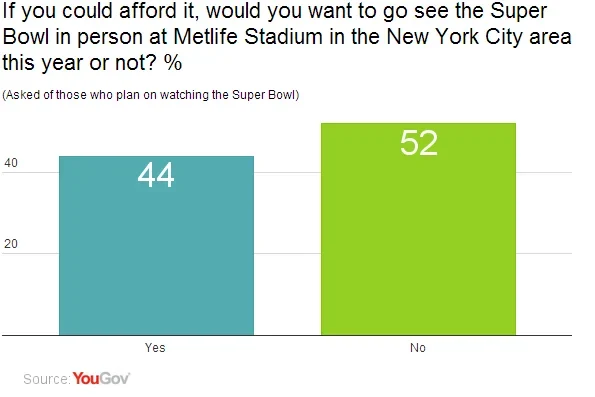 But the more attention one pays to professional football, the more likely you are to want to travel to see the game in person – and the older you are, the less likely.
Richard Sherman
Nearly all of those who follow the NFL closely have heard about the post-NFC championship game comments by Seattle Seahawk cornerback Richard Sherman, who had been penalized during the game for his behavior after he deflected a last-minute 49er pass to Michael Crabtree in the endzone,and cemented the Seahawk victory.
Americans find Sherman's "rant," as it has been called, generally unacceptable behavior. Just 27% see it as acceptable in any way. But many understand how it happened – it was the game. Nearly half say that the conduct took place because Sherman was "caught up in the heat and excitement of the game" and wasn't just "poor sportsmanship."