New data from YouGov reveals that users of Snapchat and Instagram still prefer Snapchat Stories to Instagram Stories, but Instagram Stories have been well received
Last month, Instagram launched a new feature called Instagram Stories, which allows users to upload photos and videos that disappear after 24 hours. The comparison to Snapchat's feature of the same name began immediately, with various tech journalists calling Instagram's version everything from a total rip-off to a better design.
According to a new YouGov poll conducted between August 23-26, just under half (48%) of social media users aged 18-34 were either fully or somewhat aware that Instagram had rolled out Instagram Stories. When asked whether they'd prefer to use Instagram Stories or Snapchat Stories, 45% of 18-34 year olds familiar with at least one of the two services said Snapchat, while 21% said Instagram. 34% indicated that they have no preference between the two platforms.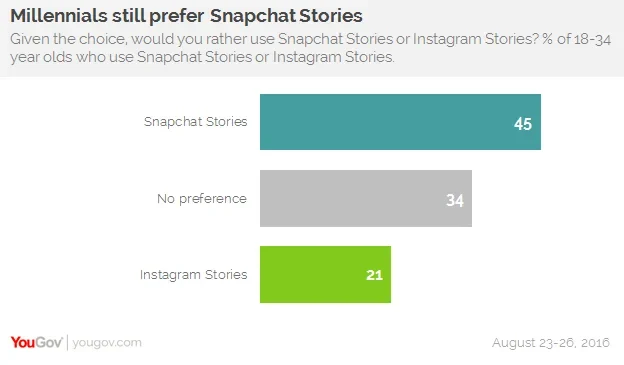 Overall, Snapchat's Stories feature still appears more popular than Instagram's version, especially among millennials aged 18-34. That said, Instagram's version, still in its infancy, is off to a healthy start: 53% of millennials active on Instagram say they look at content on Instagram Stories at least once per week, while 27% say they post content on the feature at least once throughout the same time period.
Recent reports estimate that Instagram has around 300 million daily active users, while Snapchat has less than half of that — somewhere north of 100 million. At the same time, Snapchat is growing in popularity amongst millennial women and expected to surpass $1 billion in ad revenue by 2018, setting the scene for increased competition between the rival platforms.