Data shows that 40% of 18-49 year olds who watch 'Quantico,' starring Priyanka Chopra, are minorities
As the fall TV schedule begins, two highly rated prime-time shows hoping for a big start to their second season include NBC's Blindspot and ABC's Quantico, which premiere on September 14 and September 25, respectively.
At a glance, the two broadcast programs appear strikingly similar, in that they're both mystery-driven crime dramas with a focus on the Federal Bureau of Investigation. Both shows also feature strong female leads — Jaimie Alexander as Jane Doe on Blindspot, and Priyanka Chopra as Alex Parrish on Quantico. Perhaps because of these parallels, data from YouGov Profiles reveals that, among TV viewers aged 18-49, both shows attract a larger female audience than male. Both are also more likely to be watched live as oppposed to streamed later, but not by much (42% of viewers aged 18-49 who tuned in for the first season of Blindspot watched via streaming, while 44% streamed Quantico).

All that said, a difference does exist. When reviewing the demographics of each program's 18-49 audience, who either watch live or via streaming, YouGov Profiles shows more racial diversity among Quantico viewers. While each audience includes a majority of white viewers, Quantico's includes four percentage points more Hispanics and eight percentage points more Asians. (Blindspot attracts slightly more black viewers.)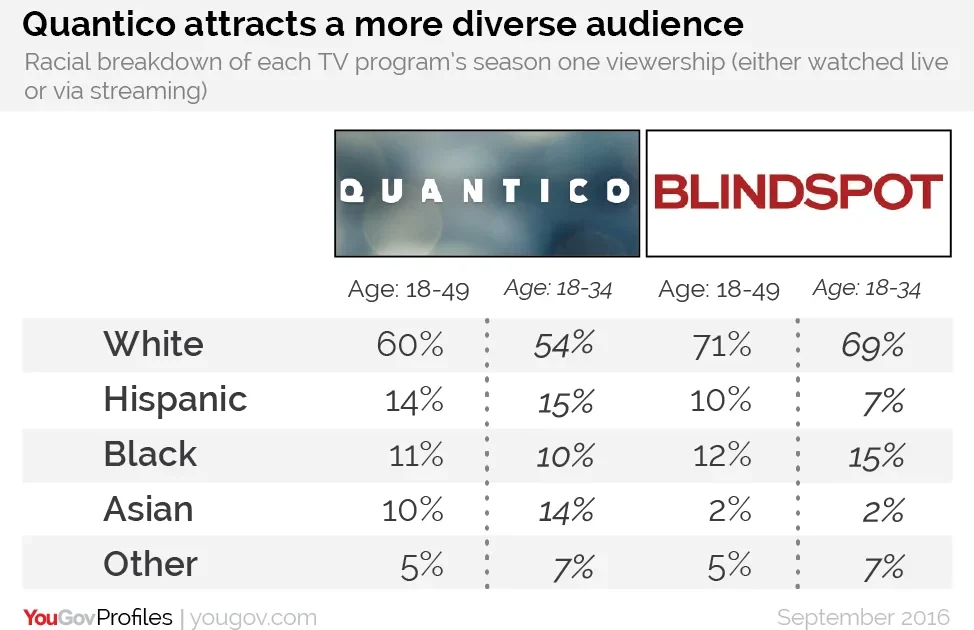 An isolated look at each show's 18-34 audience makes this difference in racial makeup even more pronounced. Suddenly, Quantico's white viewership drops six percentage points to 54%, while Blindspot's decreases a mere two to finish at 69%.
The implication: India-born, Bollywood-famous Priyanka Chopra, who stars as Quantico's non-white protagonist, attracts a larger non-white audience than a similar show starring a Caucasian actor from South Carolina (i.e. Jaimie Alexander).
In perhaps another sign that Blindspot and Quantico don't share the same audience: 30% of Blindspot viewers aged 18-49 say they wish they could see more advertisements with families like theirs, while the same is true for 48% of Quantico viewers.