New data from YouGov Profiles reveals a host of new potential advertisers that Kiefer Sutherland's fans could attract to ABC
On the latest cover of Adweek stands a confident, cross-armed Kiefer Sutherland, who returns to prime-time later tonight on ABC's new political drama Designated Survivor. Sutherland will once again be busy battling terrorists and navigating danger — except this time as the acting President of the United States, as opposed to the hard-nosed Jack Bauer on Fox's long-running and highly successful 24. The questions is, can Sutherland also save ABC from its struggling ratings?
New data from YouGov Profiles reveals that fans of the actor, if they follow him to the new show, are a valuable target audience for advertisers. Most likely to be males aged 50-64, they earn more money and consume more hours of live television per week than the average person, making them an ideal group for both networks and marketers.

Looking at specific brands, there is a rich list of big names that are particularly popular with this segment. When it comes to cars, for example, fully 45% of Sutherland fans would consider purchasing a Ford when next on the market for a new vehicle. 22% indicate they'd consider a Dodge, and 14% say they're open to a Chrysler.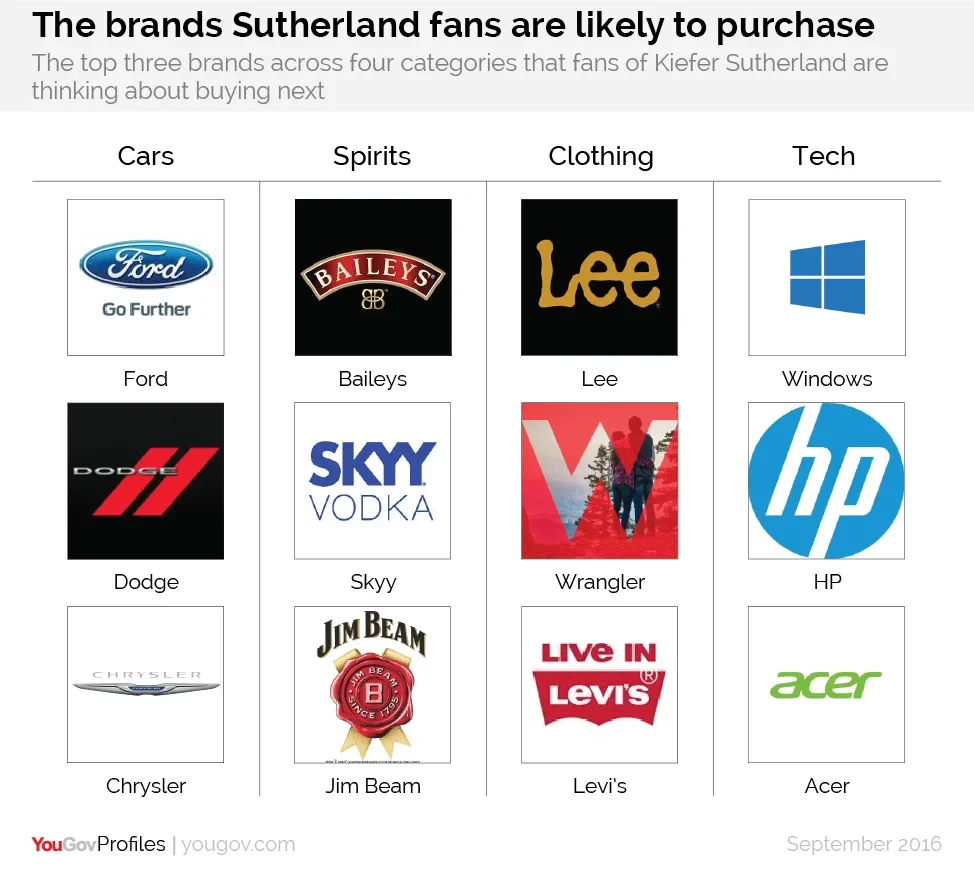 As for alcohol, about a quarter of Sutherland's fans would consider Baileys. Around 15% say the same about Skyy and Jim Beam. Lee tops the apparel-and-shoes category with 30% of fans open to buying the brand, compared to just 16% of the general public.
The success or failure of Designated Survivor will dictate how big an opportunity this becomes, and a good result could be a much needed shot in the arm for the beleaguered network.