New research shows that 66% of US adults aren't willing to pay more for groceries, even if it means skipping the checkout line
Patience is a virtue, they say. Good things come to those who wait.
When Amazon recently announced plans to launch a cashier-less, checkout-free grocery store called Amazon Go, however, the emphasis landed on a rather different trait: speed. Using hi-tech sensors and artificial intelligence to track the items a shopper grabs from the shelf (or decides to put back), the store is designed to get people in and out as quickly as possible. That means no more lines, no more waiting for the guy in front of you to figure out how to insert his new chip card. Once customers leave the premises, the store charges their Amazon account accordingly.
New data from YouGov finds that 53% of Millennials aged 18-34 are likely to try shopping at Amazon Go if one opened near them. Meanwhile, 47% of consumers aged 35-54, and 29% of people 55 years old or older, say they'd be likely to try it out, too. (Amazon expects multiple locations to open in early 2017.)
What people aren't willing to do, however, is sacrifice price for speed. Additional data shows that 66% of the general public aren't open to paying more for groceries in exchange for a cashier-less, checkout-free grocery store experience. Only 14% of people indicate interest in paying more to make the process quicker.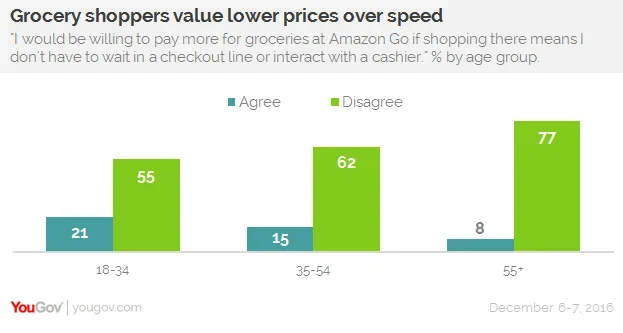 Overall, a greater percentage of Americans feel Amazon Go will introduce more problems for grocery shoppers than solutions (40% agree that the hi-tech store will cause more trouble, compared to 22% who disagree).
59% of people, for example, say the idea of shopping at Amazon Go makes them concerned about the security of their Amazon account. Furthermore, 53% don't trust the sensors's ability to accurately track which food items a shopper decides to take or put back on the shelf. If Amazon Go happens to suffer some technical glitches, a trip to the innovative grocery store may take longer than it would at a traditional location.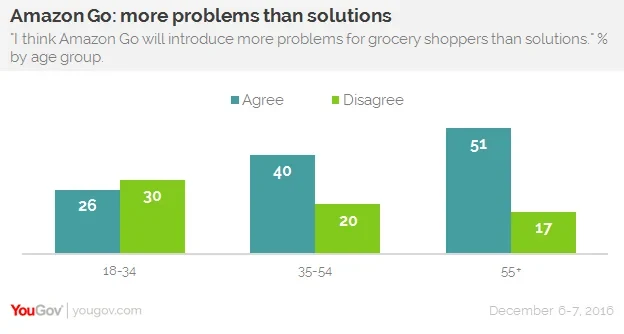 While Amazon Go offers relief to shoppers tired of waiting in checkout lines, data suggests most consumers aren't willing to pay more for the convenience. Many also express concerns that Amazon's technology isn't advanced enough to make the visit a problem-free one.