New data from YouGov reveals that a desire for better health, not communication, currently drives consumers to wearables
Although wearable tech is a relatively young product category, research suggests it's primed for a growth spurt. Indeed, one report estimates that the global wearables industry, which includes everything from smartwatches to fitness trackers, will hit $34 billion by 2020 — up 143% from its current value.
With the holiday season in full swing, new data from YouGov helps parse the potential. At present, for example, 13% of consumers report that they're likely to buy a wearable fitness device either for themselves or as a gift for someone else. Likewise, 12% of shoppers indicate that they'll probably purchase a smartwatch, while 8% say the same about smart wear, such as jewelry or clothing. Depending on the specific device, 8-10% of these purchases are expected to take place during the holiday season, suggesting that roughly 7 million US adults will buy some sort of wearable before the end of the year.
When it comes to specific brands, 22% of consumers likely to buy their first wearable device within the next 12 months or more show interest in choosing a product from Fitbit, known for its fitness tracker. In a tie for first place, another 22% of potential first-time wearable owners say they'll most likely pick Apple, known for its smartwatch. Samsung comes in third with a rate of 17%. Other brands shoppers say they're likely to buy from include Google (5%), LG (4%), and Garmin (3%).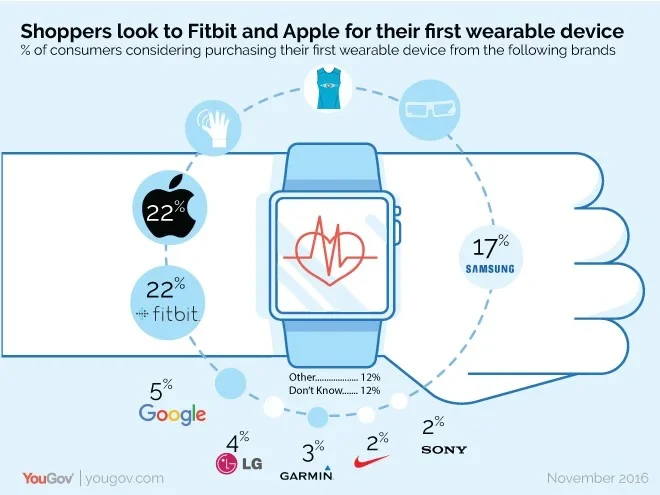 While a brand's reputation can convince many customers to choose its product over a competitor's, reputation alone is not omnipotent.
Additional data finds that 72% of people likely to buy their first wearable device plan on doing some research before settling on a specific model. This includes everything from reading consumer product reviews to asking family, friends, and colleagues for advice. At the same time, 7% of shoppers say they've already concluded their research.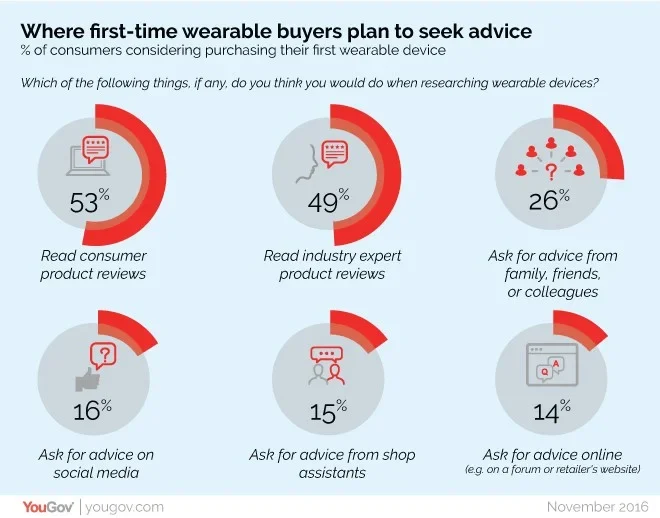 As for particular product features, the majority of consumers likely to purchase a wearable device want the following: the ability to track a user's heart rate (56%); the ability to track fitness measures, such as steps taken and calories consumed (54%); and the ability to display time and date (51%).
On the other hand, only 13% of shoppers express a desire to own a device that's able to build a community of friends to compete against or establish common goals.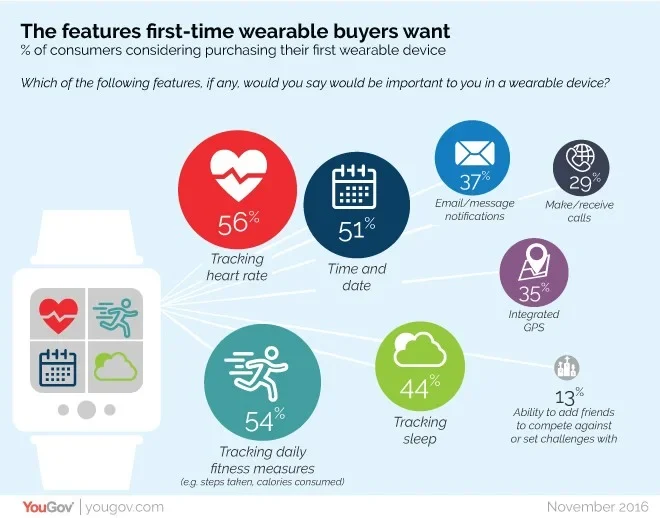 Overall, new data from YouGov shows that people leaning toward buying their first wearable device are doing so for one main reason: health. Whether it's managing their weight, monitoring their fitness, or maintaining their motivation to exercise, a concern for health is what's currently driving this group of potential shoppers to participate in the burgeoning product category.
What these consumers want, and how their attitudes toward new features evolve and change over time, will largely determine how the wearables industry grows into maturity.
The data above comes from YouGov's Wearables tracker study, which quantifies the evolution of this growing market over time by examining market penetration, key features, future purchase intent, brand awareness and ownership, and other metrics of interest. Data collection occurs on a quarterly basis.
For information on becoming a subscriber, please contact Tom Fuller at tom.fuller@yougov.com