New data shows that four in 10 US adults have altered their social media habits since the 2016 US presidential election
Social media was front and center during the 2016 Presidential Election — #Feelthebern generated 2,000 retweets per hour, Hillary Clinton utilized Facebook groups, and Donald Trump developed some very prolific tweeting habits.
With various social networks playing an increasingly large role in politics, it comes as no surprise that shifts in how, and how often, Americans use social media have begun to take hold.
Indeed, a recent YouGov survey confirms that since the US presidential election 41% of US adults have, in some way, altered their social media routine. For example, 15% of people have started checking their accounts more frequently post-election, while the same amount have removed or blocked friends. One in 10 have joined private groups.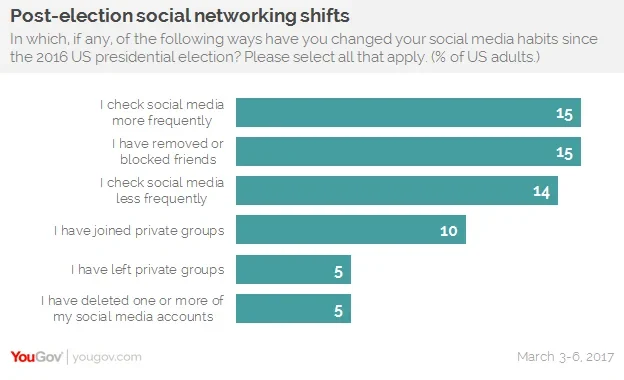 Specific reasons for routine shifts varied, but roughly a third of individuals who changed their habits said they did so because they felt social media was just too upsetting. (This likely relates to why 14% of all US adults report checking their feeds less frequently since the election, and why 5% have deleted one or more of their social media accounts.)
Over a quarter of people who've changed their social media habits say it's because they wanted to interact with like-minded people, while 20% wanted to see more opinions from those outside their in-person friend group. Other popular reasons people changed their social media habits include finding their feeds too political (24%) and feeling that it took up too much of their time (20%).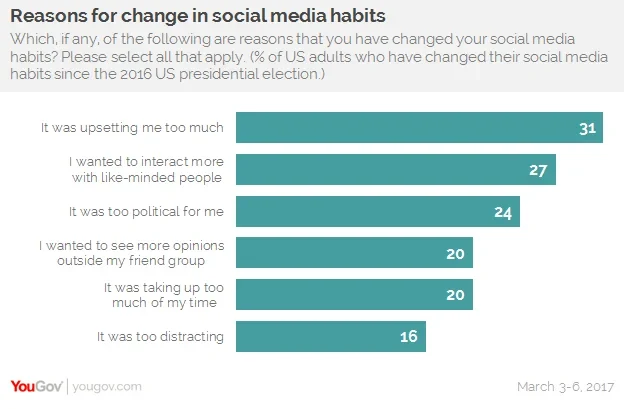 Meanwhile, 43% of US adults report that they have not adjusted their social media habits since the presidential election last November.