39% of Americans think it is appropriate for late night talk show hosts to advocate for Congress to act in a specific way when considering legislation
Partisans get their information from the sources they say they trust, and for 28% of the public (and even more of those under 30), that news can sometimes come from comedians. Many Americans never watch The Tonight Show with Jimmy Fallon, or Jimmy Kimmel Live, or Late Night with Stephen Colbert. 46% say they never watch Colbert. A third say that about Kimmel and Fallon. Those 65 and older are the least likely to ever watch. Republicans tend not to watch either. The partisan gap in viewership, which exists for all three hosts, is smallest in the case of Fallon (13 points) and largest in the case of Colbert (33 points). The partisan gap in favorability is also largest for Colbert.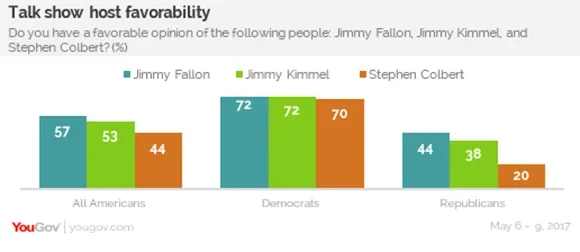 Fallon's favorable percentage exceeds his unfavorable percentage by 36 points. Kimmel is not too far behind, with a 30-point gap. For Colbert, arguably the most political of the late night hosts, the overall difference is just 15 points.
Kimmel inserted himself into the political arena last week, when he made a plea for health care coverage for pre-existing conditions and child health care, after his newborn son was born with a heart defect. That foray into politics got mixed reviews, as it dealt with what has become a partisan issue: health care reform. Democrats overwhelmingly found Kimmel's advocacy appropriate, Republicans did not, though by only a 12-point margin.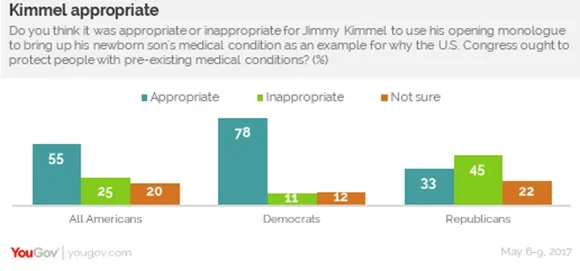 The issue of advocacy on political issues clearly divides the country, and again the partisan nature of discussion on late night television affects responses. Although the country is closely split, Democrats say such talk is appropriate by four to one. Republicans, by the same overwhelming margin, say it is not.
There are two recent television news issues that find more agreement between the parties. Republicans continue to have favorable opinions of Bill O'Reilly, the former Fox News television personality. 52% are favorable, 24% are not. But they approve of Fox News' decision to let him go after sexual harassment charges were made by a number of women. O'Reilly has denied all the charges.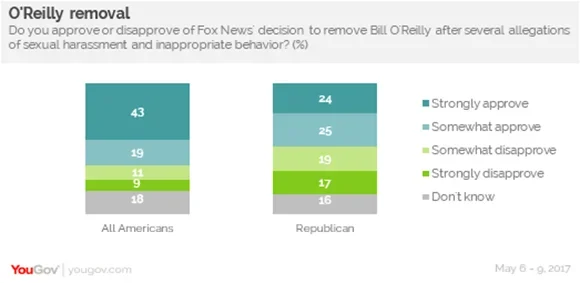 Most Americans agree that there is at least some sexual harassment in the workplace. Women are only slightly more likely than men to see it. Women also are nearly three times as likely as men to say they have personally experienced it.
But they also see a difference between sexual harassment and romance in the workplace. By 48% to 26%, they say it is appropriate for an employee to date another employee, though they is a sizable difference in the responses of men and women to this question (there is little difference between Republicans and Democrats). Men say it's appropriate by nearly three to one, while women give the practice only narrow approval. However, there is enormous disapproval when the question is about supervisors dating employees. That is inappropriate to a large majority of respondents.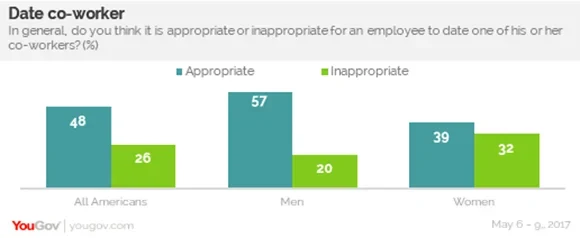 As for last week's television romance, the engagement of the Morning Joe hosts, Mika Brzezinski and Joe Scarborough is okay. The two are not especially well-known: 63% express no opinion, either favorable or unfavorable, about Brzezinski, and 57% had no opinion of Scarborough. Two-thirds say they hadn't heard about the engagement. But those who had an opinion – Republicans or Democrat, male or female – approved.