While Snap Inc's IPO helped narrow the gap in points between the two apps, the divide is currently getting wider
Just over a week ago, Snap Inc released its first quarterly earnings report since going public. Analysts weren't impressed. Due to Snapchat's slowing user growth and the company's lower-than-expected revenue, share prices dropped more than 20%.
Apparently, consumers are noticing. According to YouGov's Buzz score, which asks US consumers aged 18+ if they've heard anything positive or negative about various brands in the past two weeks, the gap between Snapchat and its chief rival, Instagram, is beginning to widen. At present, Snapchat has a score of six, while Instagram sits at 13.7.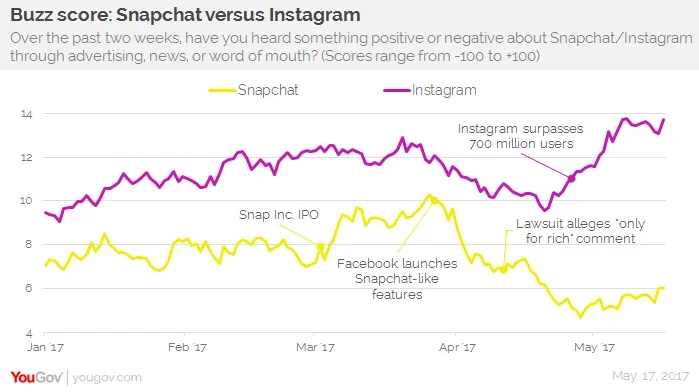 Nearly a month after Snap's IPO in early March, Snapchat peaked at 10.3 — only 1.5 points behind Instagram. However, when Facebook, which owns Instagram, launched several Snapchat-like features at the end of March, Snapchat's Buzz score began to drop. Instagram's score had been declining since mid-March, but at a slower rate.
Snapchat's descent continued after news broke that a lawsuit claimed Snap's CEO, Evan Spiegel, had once described the mobile app as "only for rich people." Spiegel also allegedly said he doesn't want to "expand into poor countries like India and Spain."
Meanwhile, on April 26, Instagram announced it had surpassed 700 million users. At this point, the competing platforms were separated by nearly 6 points. Since then, the divide has increased to 7.7.
Additional YouGov data shows that 72% of Snapchat's current adult customers are aged 18-34, while the same is true for 57% of Instagram's. When it comes to individual income, 49% of adult Snapchat users earn $49,999 or less per year, compared to 56% of Instagram users.