New data from YouGov reveals the compatibility of singles looking for romance on different online dating sites
There's nothing puppy love about the online dating industry. It brings in billions annually, and, according to one report, the number of 18- to 24-year-olds using various dating platforms has nearly tripled between 2013 and 2015.
Recent YouGov data shows that the majority of people visiting the dating sites Zoosk, Match.com, and eHarmony are male. Most fall between the ages of 18-49, too. But that's not to say all online dating sites attract the same types of people — because they don't.
Consider people who admit to flirting on social media (11% of US adults do). When looking at current and former customers of Zoosk, Match.com, and eHarmony, however, nearly a quarter of Zoosk customers confess to this behavior, compared to 15% of people looking for love on Match.com and 12% of those using eHarmony.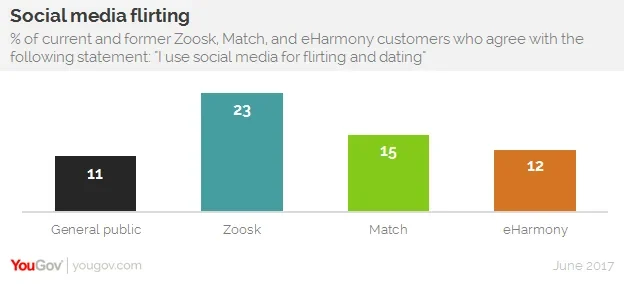 The differences don't stop. When asked if they like experimenting with recipes, being friendly with the neighbors, and spending their leisure time relaxing — in other words, typical relationship stuff that can either make or break a couple — a variety of responses came back.
Current and former Zoosk customers appear the most adventurous in the kitchen, followed by eHarmony users. At 71%, consumers on Match.com were not only the least likely online dating customer base to say they enjoy experimenting with new recipes, but were two points lower than the general public, too.
At the same time, Match.com customers were most likely to report saying hello to their neighbors and knowing who they were, while eHarmony customers showed the strongest desire to spend their leisure time relaxing.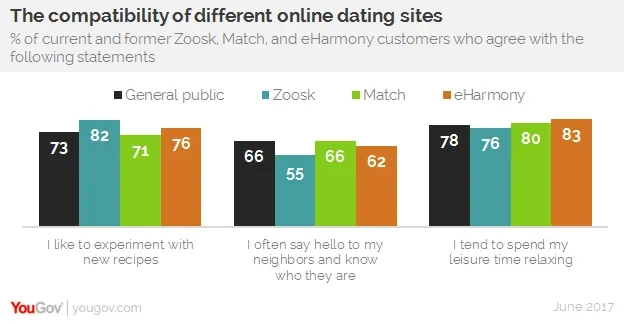 What do current and former customers of all three online dating sites have in common?
They're all more likely than the general public to find controversial or taboo subjects funny, and need time alone to recharge after being in a group setting. They're also more likely to show interest in starting their own business.
Most importantly, perhaps, users of Zoosk, Match.com, and eHarmony all report higher rates of self-identifying as hopeless romantics.