43% of Hispanic and black millennials say they're likely to buy a smartphone next year
The youngest millennial is now starting his/her first internship (paid, hopefully), and contributing to the $600 billion dollars that other Americans his/her age spend every year. That scenario is valuable to retailers hoping to build messaging around products that not only personalize the millennial experience by age group, but also by the demographics that make them the most diverse generation to date.
So what is the largest living generation the US has ever seen going to buy? The answer happens to lie in the characteristic that defines them distinctly from other generations — their familiarity with communications, media, and digital technologies.
In every case except the desktop computer, millennials surpass their elder cohorts in device ownership and purchase intent. Additional data shows that millennials belonging to three minority groups (Hispanics, Asians, and blacks) plan to buy smartphones, laptops, and tablets at higher rates than their white peers. The only deviation from this pattern is that white millennials are slightly more likely to plan on buying a tablet within the next 12 months than Asian millennials.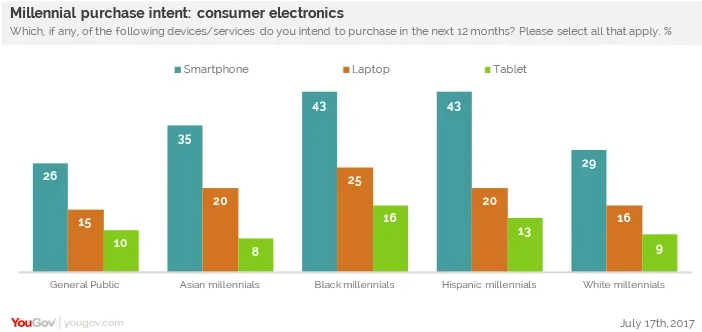 An explanation for lower purchase intent in white millennials could be that they already have the devices listed. In fact, 79% of white millennials own either a smartphone or laptop — a number second only to Asian millennials (89%). Only one in two of their Hispanic and black peers own laptops (54%), which might explain their intent to buy one in the next 12 months.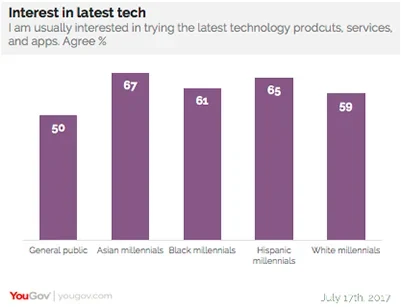 When YouGov polled the four millennial groups and asked if they were usually interested in trying the latest technology products, services, and apps, we found a similar trend. Asian (67%), Hispanic (65%), and black (61%) millennials were slightly more interested than white millennials (59%).
Given that three in four millennials (74%) use Facebook, Twitter, Snapchat, and Instagram to keep up with their friends and share information, it makes sense that millennials are buying the tech to host these social media apps. In two to three years, all of the millennial population will be a part of the workforce and it'll be interesting to see what America's most diverse generation spends its money on.