But 74% of Republicans don't think the Russians spread fake news to help elect Donald Trump
Have you seen fake news? Two in three Americans think they did during the election last year, with Republicans in the latest Economist/YouGov Poll more likely than Democrats to say they saw fake news stories.
Two in three are confident they can distinguish between fake news and real news. The more confident they are, the more they believe they have seen it. Men are more confident than women that they can spot fake news, but there are few differences between Republicans and Democrats or liberals and conservatives.
A majority of the public says Russia created fake news during the election in an attempt to elect Donald Trump. But this is a matter of party politics. Nearly nine in ten Democrats say Russia used fake news last year in an attempt to sway the election. Most Republicans disagree.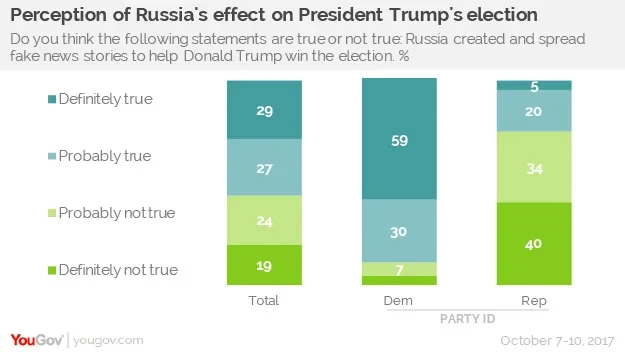 President Trump has castigated his version of fake news, which includes stories about possible collusion between Russia and his campaign that way. But few minds have been changed.
Democrats see improper and/or illegal actions by members of the Trump Administration (and by Trump himself), while Republicans don't. Just one in five Republicans say they are at least somewhat concerned about improper relations between the Trump campaign and Russia, while eight in ten Democrats are concerned.
80% of Republicans say they don't believe that there was Russian hacking of Democratic National Committee emails during the campaign, something that U.S. intelligence agencies have determined took place. Still, two in three Republicans view Russia as unfriendly towards or even as an enemy of the United States.
Read more from this week's Economist/YouGov poll here
Image: Getty