Data shows the public's impression of the brand hasn't been the same since its CEO sent a company-wide anti-Trump email
As Grubhub prepares to release its earnings report for the third quarter of 2017, recent figures from YouGov BrandIndex reveal that Democrats and Republicans familiar with the online food-delivery service are, on average, more divided over their feelings towards the company than they were in the months leading up to the 2016 presidential election, after which Grubhub founder and CEO Matt Maloney spoke out against then President-elect Donald Trump in a company-wide email.
"I absolutely reject the nationalist, anti-immigrant and hateful politics of Donald Trump and will work to shield our community from this movement as best as I can," wrote Maloney. "If you do not agree with this statement then please reply to this email with your resignation because you have no place here."
News of the email, which received coverage in multiple major publications, sent the brand's Impression score into the negatives among Republicans, dropping from a high of 15 on November 10, 2016 to a low of -9 on January 7, 2017. Grubhub's Impression score among Democrats, however, saw a slight bump following the news of Maloney's anti-Trump message to his employees.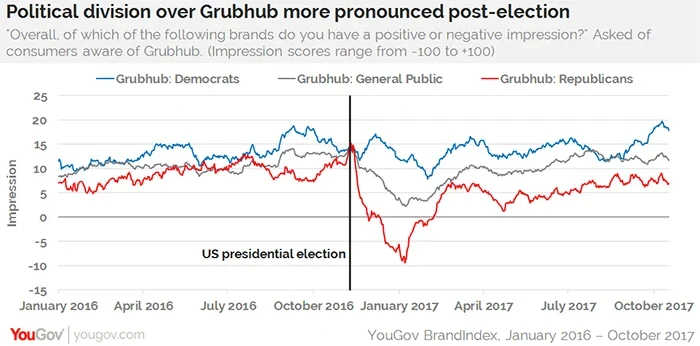 From January 1, 2016, through November 8, 2016 (Election Day), Grubhub's average Impression score among Republicans was a 9, while the average score among Democrats was a 13. Since then, Republicans have given the brand an average Impression score of 4, while Democrats have given it a 14.
Although Republicans have generally held a lower view of Grubhub than Democrats, Maloney's stance on Trump certainly seems to have widened this gap.
YouGov BrandIndex's Impression score asks respondents the following: "Overall, of which of the following brands do you have a positive or negative impression?"
Photo: Grubhub