San Francisco residents are more likely to say they're the first to adapt to new technology than people in other major US cities
As reviews for Apple's iPhone X begin popping up online prior to its November 3 release date, a recent YouGov Omnibus survey shows that 38% of people living in the San Francisco-Oakland-San Jose metro area think that residents of their city are the first to adapt to and use new technology when compared to other cities. This makes them the most likely group out of the country's 20 most populated urban hubs to agree with this notion.
Following San Francisco for the nation's most tech-forward metro area comes New York, where 27% of its residents say the people living in their city are the first to adapt to and use new technology. In third place is Seattle-Tacoma (25%), followed by Washington D.C. (22%) and Portland (19%).
Places that appear least likely to display an early adopter mindset when it comes to technology include Cleveland (5%), Tampa-St. Petersburg (7%), and Orlando-Daytona Beach-Melbourne (8%).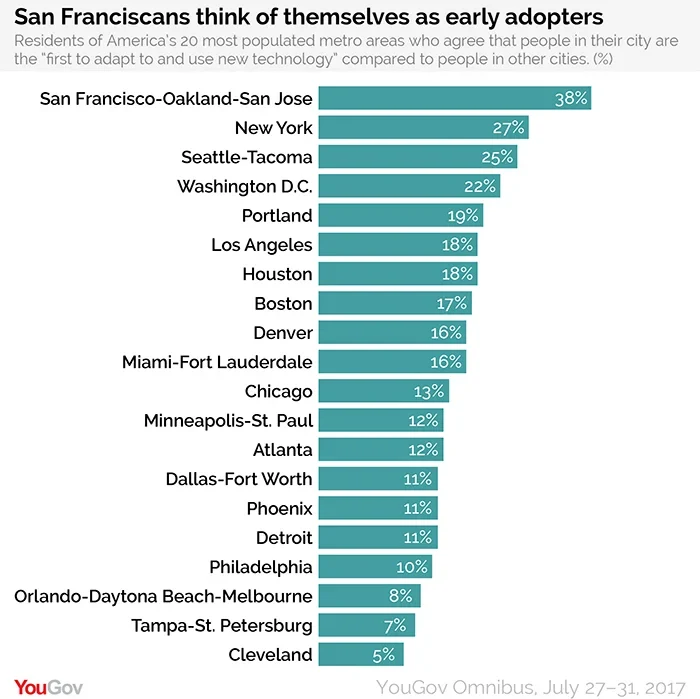 Methodology: Total sample size was 4,019 US adults aged 18+ (i.e. approximately 200 people per metro area). Interviews were conducted online between July 27-31, 2017. All figures have been weighted and are representative of the adult population of each metro area.
Photo: Getty