Data highlights how social media stunts gave each brand its highest Word of Mouth score of the year with Twitter users
The idea behind viral marketing is simple: Create something that delights people enough that they feel compelled to share it with friends and family. The execution, however, is the hard part. But KFC and Burger King are recent examples of viral marketing gone right.
On Oct. 19, 2017, a user noticed that KFC's official Twitter account follows only six men named Herb and all five Spice Girls. In other words, 11 herbs and spices – the ingredients used in KFC's secret recipe. This person tweeted his discovery and his message went viral, generating over 700,000 likes and more than 300,000 retweets. Even major publications, such as the Chicago Tribune and Washington Post, covered the story.
According to data from YouGov BrandIndex, numbers indicate that news of the cleverly designed social media account began spreading among Twitter users. Indeed, KFC's Word of Mouth metric, which asks respondents if they've talked about a particular brand in the past two weeks – whether online or in person – increased from 14% on Oct. 19 to 21% on Nov. 4. This marks a high for the year. KFC's Word of Mouth score among the general public also saw a slight lift over the same time period, but to a much lesser extent.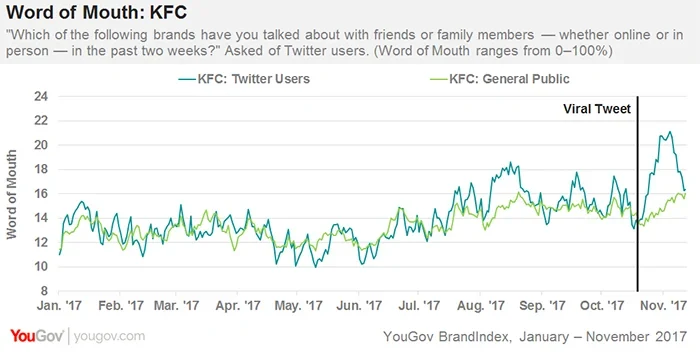 It was the second big social media win of the month for quick-service brands. On Oct. 10, 2017, Burger King launched an ad campaign that involved re-packaging old tweets from Twitter users complaining about Wendy's decision to remove spicy chicken nuggets from its menu. A few days after the officially promoted tweets began surfacing on the social media platform to promote Burger King's new spicy chicken nuggets, the brand's Word of Mouth metric rose to its highest score of the year among Twitter users.
On Nov. 1, 23% of Twitter users reported that they had discussed Burger King with friends or family at some point in the past two weeks, compared to 19% of the general public.