Elementary schoolers use their tablets to take pictures and learn while older Gen Z'ers use them to video chat and search for products
Younger Americans have a mobile-first mindset, but which mobile device they're using depends on the generation you ask. For years, marketers have sought to understand the smartphone habits of millennials but now a younger, tablet-wielding generation has captured their attention. Most Americans between the age of 8 to 17 say they regularly use a tablet (65%).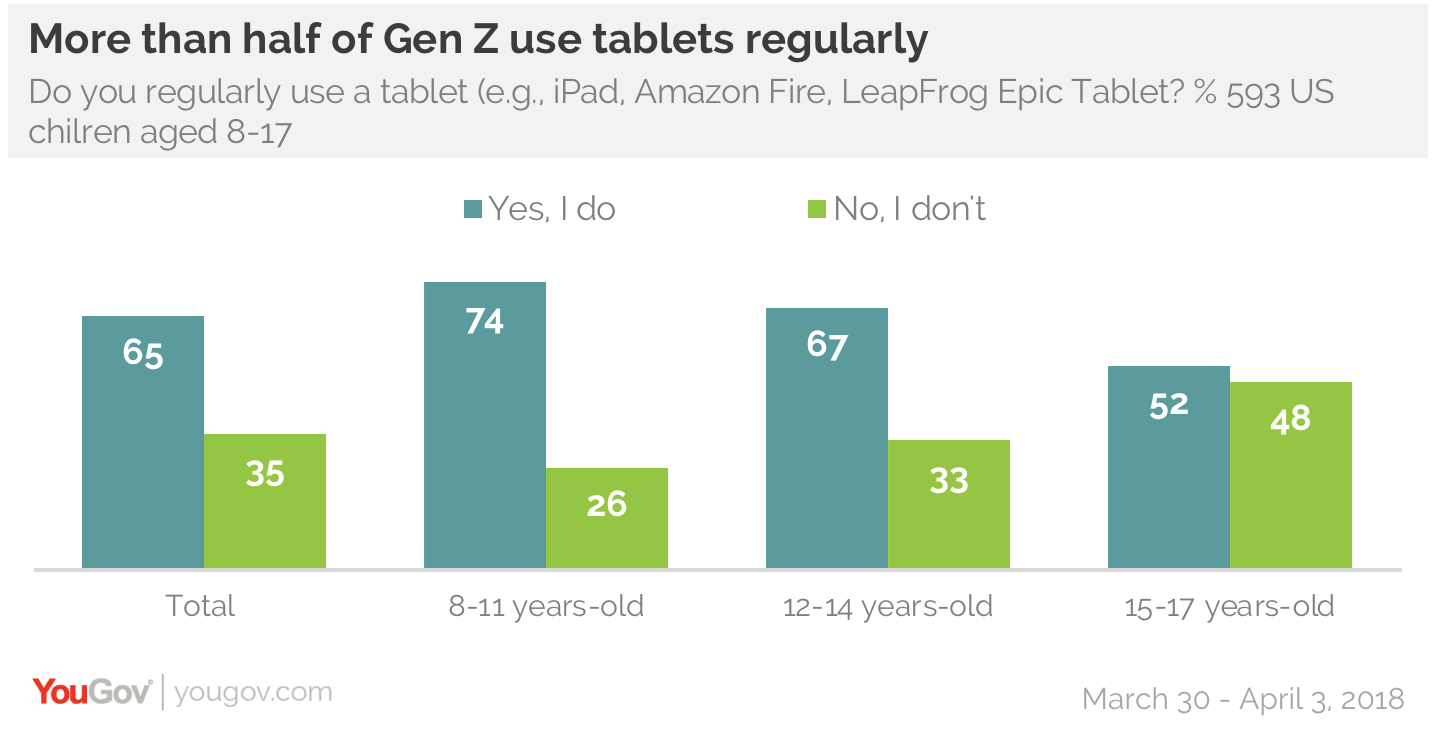 YouGov Omnibus' research into this younger generation – currently dubbed Gen Z – and tablet usage reveals that younger children, ages 8 to 11, boast the highest rates of regular usage (74%). Regular usage declines in older children but even then, more than half of 12- to 14-year-olds (67%) and 15- to 17 year-olds (52%) say they frequently use a tablet like an iPad, Amazon Fire, or LeapFrog Epic Tablet.
Among Gen Z'ers who use a tablet regularly, personal ownership is likely to be high. Eight in ten of these regular users (81%) say they have their own tablets, with personal ownership highest among 15- to 17 year-olds (90%). A quarter of frequent tablet users (25%) in this generation say they don't own their own tablet but have access to one through parents or siblings.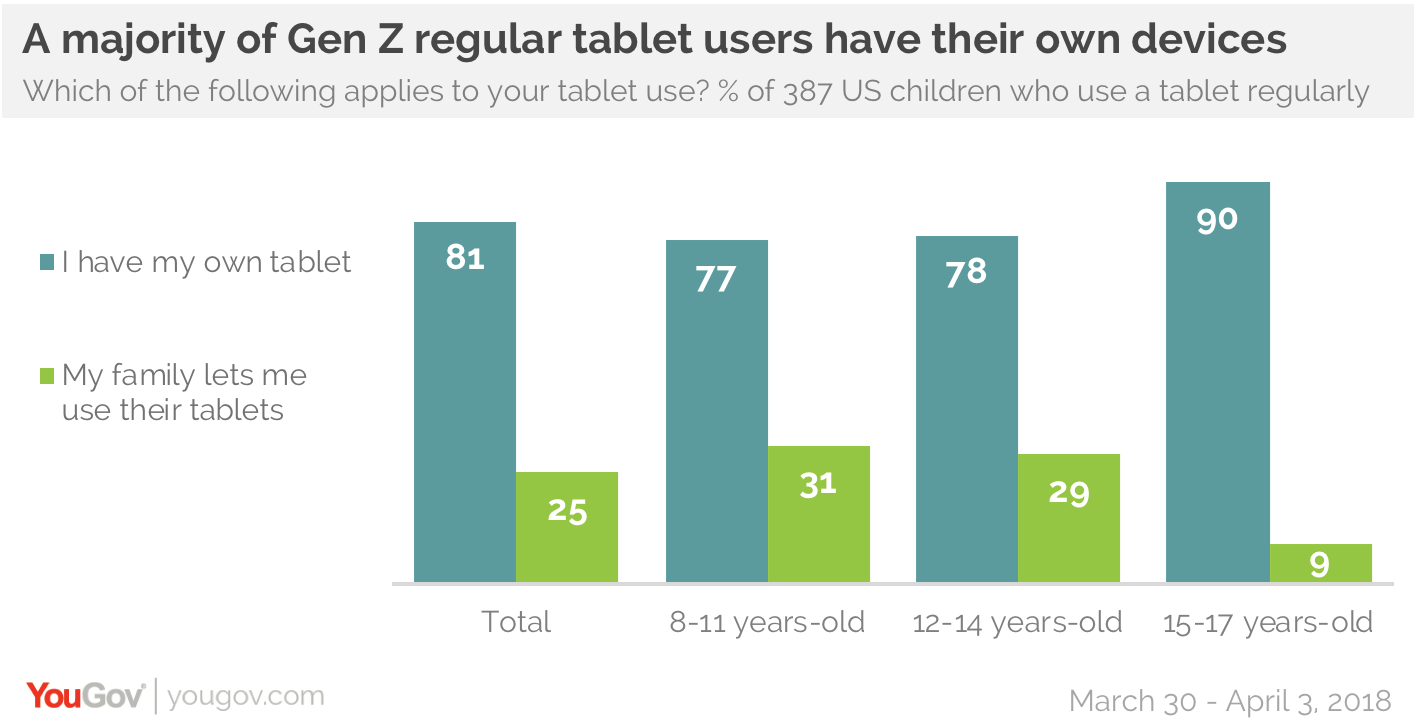 As to the activities they're specifically using them for, playing games (77%) is the most popular. Over half of regular users say they use their tablets mainly to watch videos (74%) and listen to music (56%). Many Gen Z'ers also use their tablets to message and email friends (45%), take pictures (43%), go on social media (41%), and read books (38%).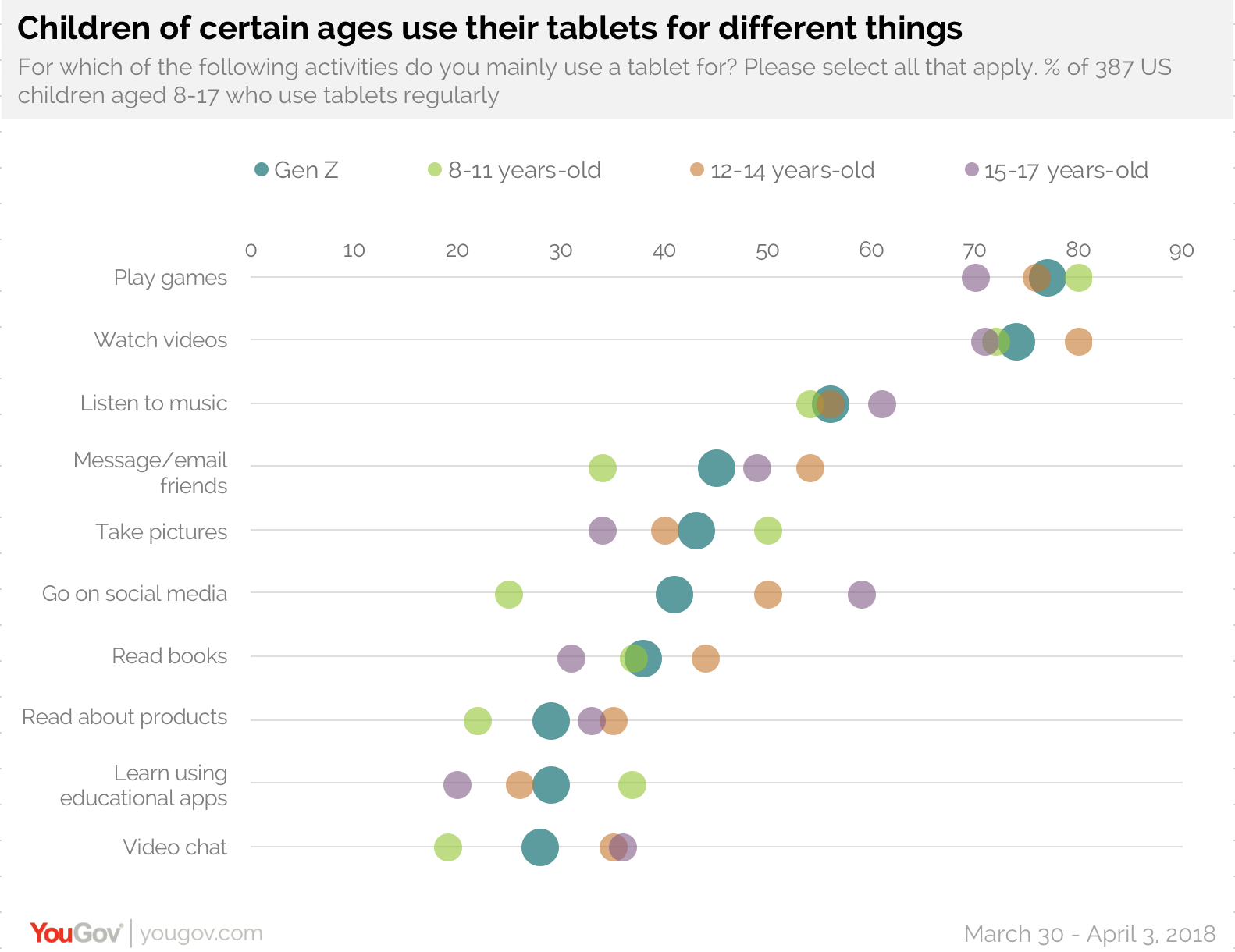 Kids of various ages are more likely to use their tablets towards different ends. For example, children between the age of 8 and 11 are significantly more likely than their older peers to say they take pictures (50%) or use educational apps to learn with their tablets (37%). And those between the ages of 12 and 17 are significantly more likely than those 8 to 11 to say they use their tablets to message friends, video chat, go on social media, and read about products.
Parents play a big influence on tablet usage and YouGov's research finds that less than half of Gen Z (47%) have unlimited access to their tablets. This too varies by age; just 28% of 8 to 11 year-olds say they have no limit on their tablet usage, and kids at that age are more likely to say they can use it whenever but are limited in how long they can use it (40%). The data also suggests that once a child reaches 12 years of age, she is more likely to have unlimited access to her tablet.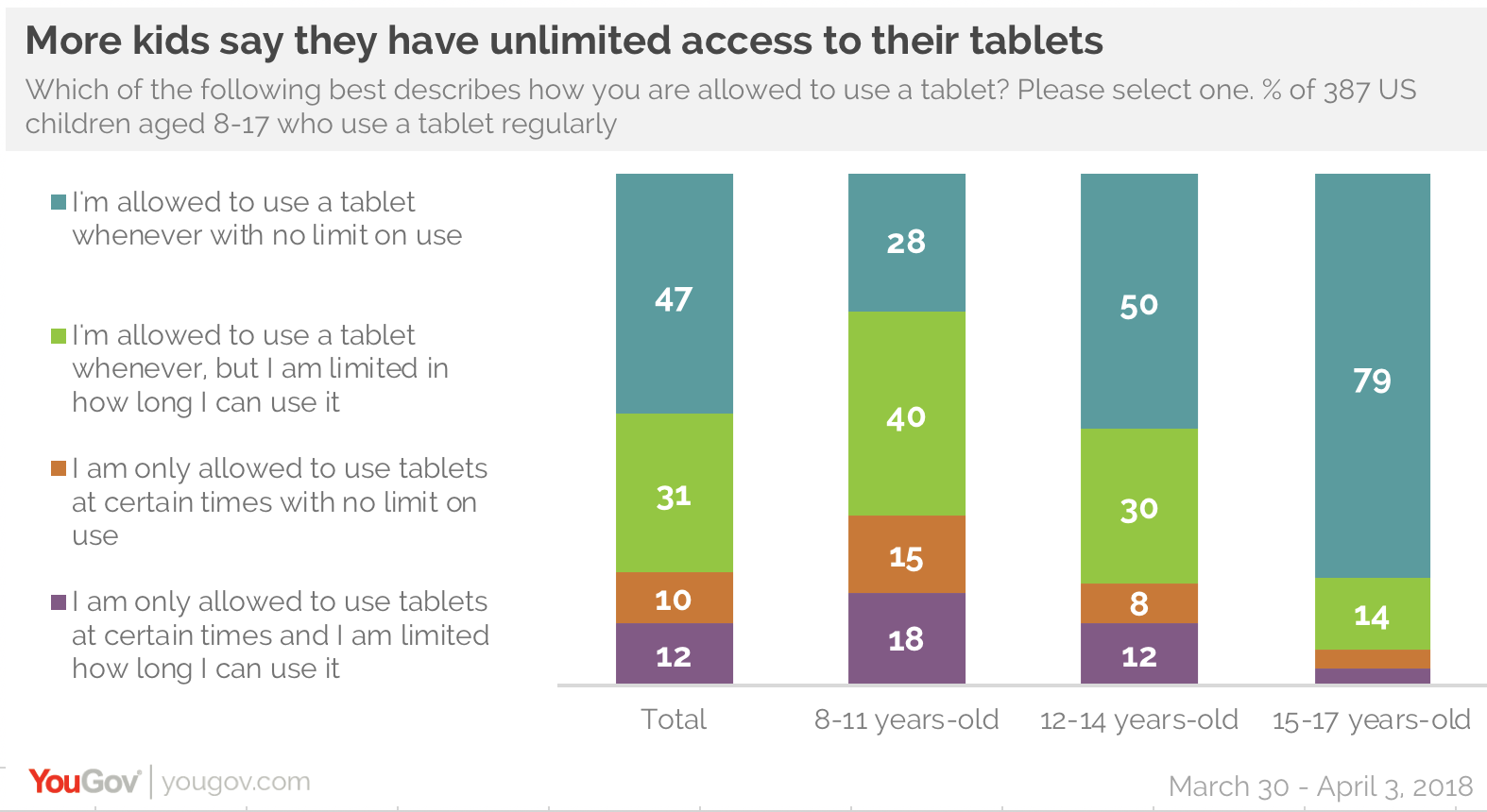 Other quick data points:
47% of children prefer to read a physical book versus 21% who would rather read on their tablets
27% like reading a real book and on their tablets equally
Of children who don't own a tablet yet, 9% say they it's at the top of their wishlist and 25% reveal it's high their list but say they want other things more
Read more results from this poll here
Learn more about YouGov Omnibus
Photo: Getty