But 49% of people also say the Internet has made politics worse
This week, the World Wide Web turned 30 years old—and access to the Internet is so prevalent that 49% of Americans now believe it should be a human right, according to a new YouGov study. Millennials and Gen Xers are the most likely to believe the Internet should be a human right (52%) with baby boomers remaining less convinced at 46% agreeing.
While Internet access is seen as a necessity by a plurality of Americans, many people aren't convinced that cyberspace has improved fundamental aspects of life. Almost half (49%) of people say the Internet has made politics worse, while less than a quarter of people (24%) said the Internet has improved the political world. Just 37% of people say the World Wide Web worsened public debate and conversation. And 36% say the Internet has harmed romantic relationships.
Perceptions of the Internet's impact vary significantly by generations. Millennials, who grew up with the Internet, are the most likely generation to view its role optimistically. Baby boomers, who were in their 20s to 40s when the Internet shook up the world, believe it has worsened more parts of society than their younger counterparts. Over half (56%) of baby boomers believe the Internet worsened politics, compared to 50% of Gen Xers and 49% of millennials.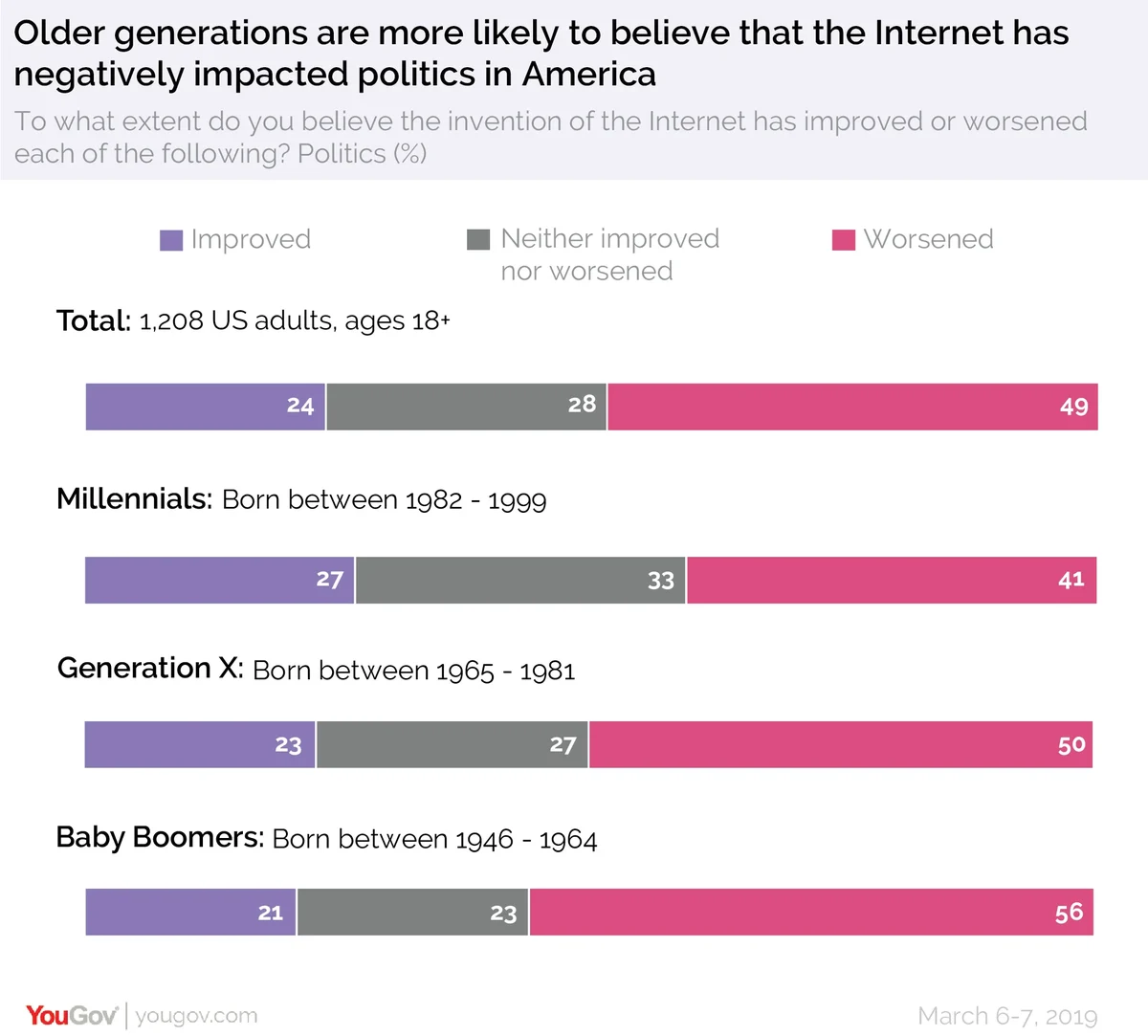 Amid all its perceived flaws, 63% of Americans say they could live without the Internet, while one in three (37%) admit that it has become a slight necessity. That feeling is heavily dependent on generation, though. Seven in ten baby boomers (70%) are certain they could live without the Internet, while just 64% of Gen Xers and 54% of millennials agree.
Perhaps the most prevalent buzz about the Internet's expansion comes from the potential for 5G wireless networks, which could bring the fastest wireless speeds known to-date. More than half of people (53%) are looking forward to 5G coverage, while 29% of people say 5G access would be "not very helpful" or "not at all helpful" to them personally.
Read the full results from this poll.
Learn more about YouGov Omnibus
YouGov Methodology: Total sample size was 1,208 US adults aged 18+, including 618 women and 590 men, 396 millennials (born 1982-1999), 298 people from Generation X (birth year 1965-1981), and 392 Baby Boomers (birth year 1946-1964) surveyed. Interviews were conducted online between March 6th - 7th, 2019.
Photo: Getty