Just over one-third of consumers now say they're somewhat familiar with the companies developing VR games and applications
While, by some accounts, the latest cycle of hype around virtual reality might be waning, recent data from YouGov reveals that consumer adoption of the technology has increased after a period of stagnation.
Last November, 11% of US adults reported owning VR hardware and/or software, up from 7% in August 2017. Indeed, since October 2016, figures show that VR ownership hasn't surpassed 7% of the general public until now.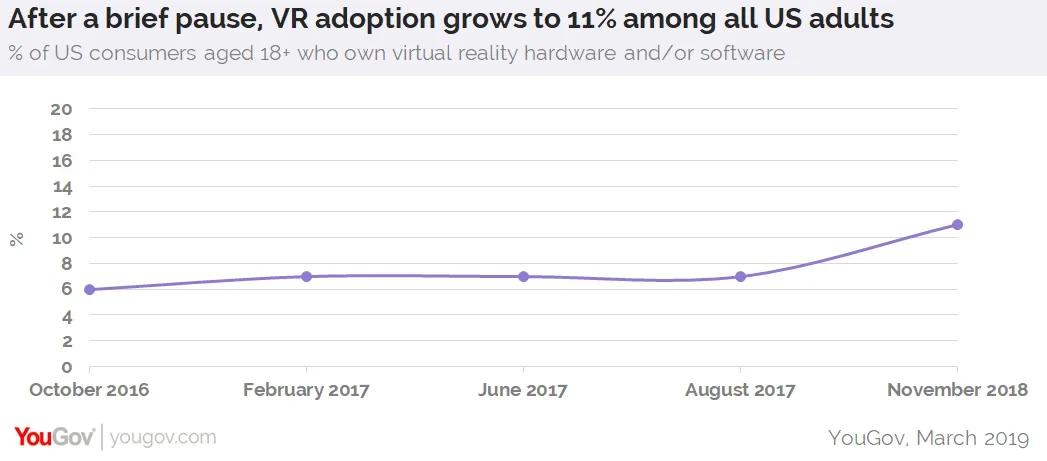 This rise in adoption is accompanied by an increase in familiarity with the emerging technology. Compared to August 2017, when 31% of US adults said they knew a bit about VR and some of the companies developing relevant games and applications, in November 2018 that percentage had grown to 34%.
Other numbers suggest that, at present, slightly more Americans feel comfortable saying they're quite knowledgeable on the topic than in the summer of 2017.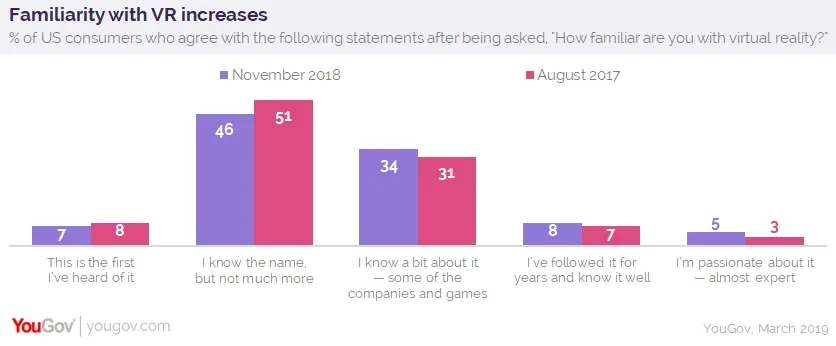 Part of these increases are likely helped by sales of the Oculus Rift and Sony's PlayStation VR, which, as of August 2018, had sold 3 million units and nearly 22 million games worldwide.
At the same time, however, perceived obstacles to owning VR technology remain largely unchanged. In total, 55% of US adults think VR products are too expensive. The exact percentage of potential shoppers expressed the same barrier to buying in August 2017.
Other top concerns include apprehension about VR leading to isolation, a lack of quality games, and fear of health issues, such as motion sickness, fatigue, and nausea.