A plurality (43%) of Americans believe social media companies should have a role in moderating user-created content
As various social media companies face questions about their content moderation policies, new research from YouGov RealTime finds that while many Americans believe social media companies should play a role in moderating user content, a strong minority - including a critical mass among conservatives - worry that doing so infringes on free speech. In general, liberals and conservatives differ on their opinions about how social media companies should moderate content -- or if they should do so at all.
Data shows that 45% of Americans believe technology companies have a responsibility to protect the public from objectionable content. Liberals (58%) are considerably more likely than conservatives (41%) to agree with this.
About four in ten (43%) Americans believe that social media companies should moderate user-created content, while 40% say these companies should monitor comment threads. Liberal Americans are more likely (60%) than conservatives (34%) to agree that user content should be moderated. Similarly, 58% of liberals believe social media companies should moderate comment sections or threads, while 28% of conservatives say the same.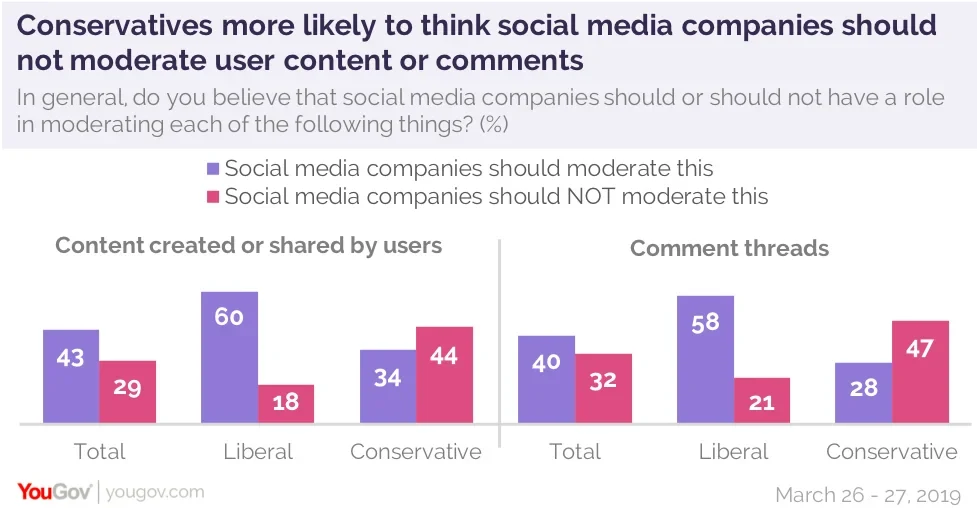 How should social media companies react to objectionable content?
Close to half (47%) of Americans say that if a piece of user-created content is deemed to be objectionable, the social media company should remove the content. Almost a quarter (23%) say that the user should be banned.
One in five conservative Americans (22%) believe that the companies should do nothing in these cases. Only 1% of liberals agree.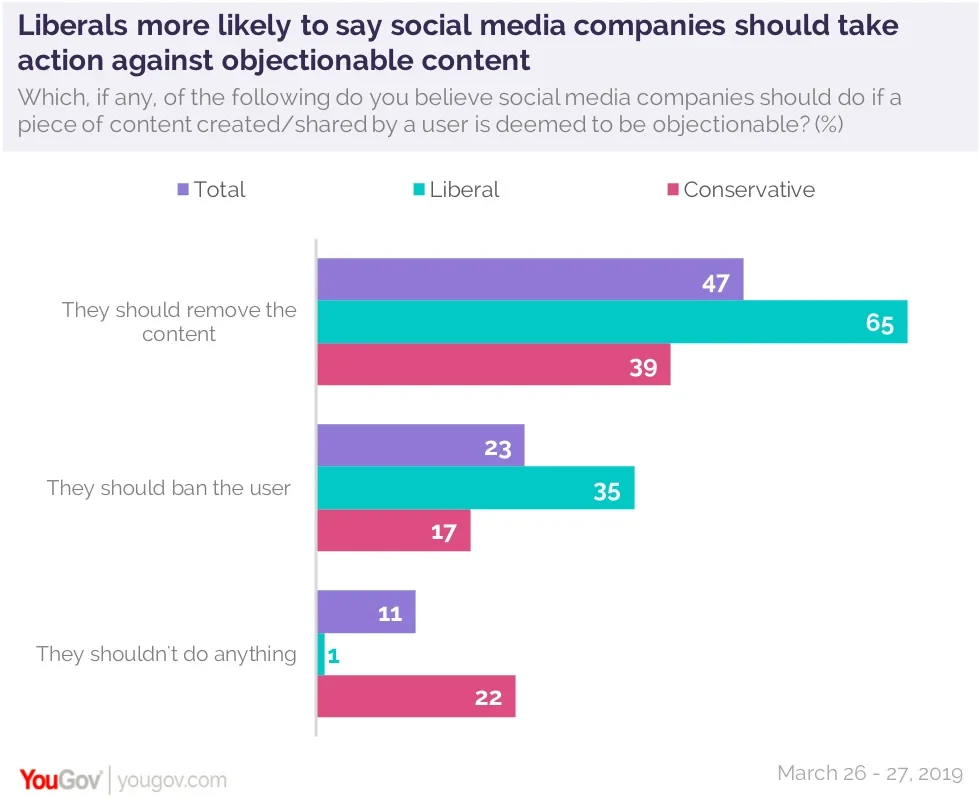 Social media and freedom of speech
The belief that free speech rights are violated by social media companies removing content is one that's considerably more popular among conservatives.
A majority (55%) of conservatives and about one-third (32%) of liberals agree that social media companies removing user-created content from their platforms are suppressing free speech; 58% of conservatives and 29% of liberals say the same about social media companies removing or deleting comments from their sites.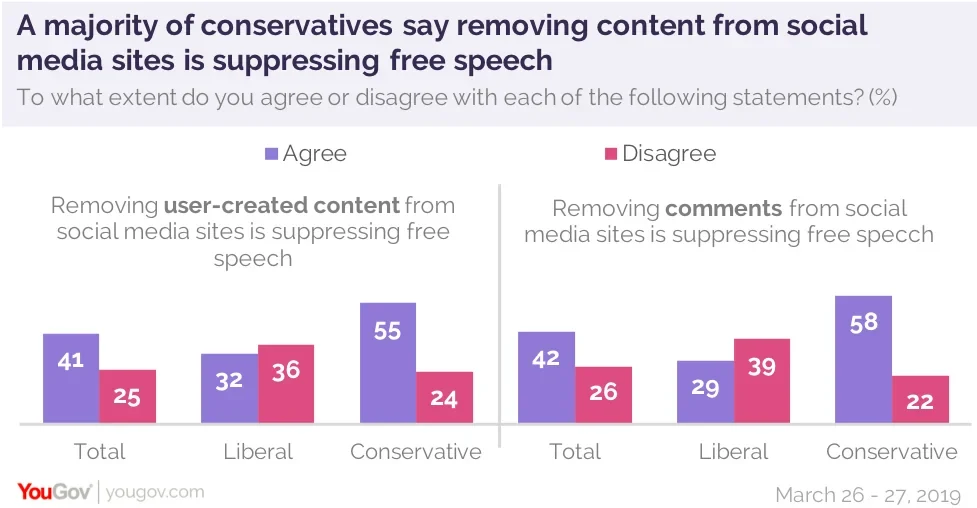 Personal experiences on social media
One in five (21%) Americans say they have felt bad about themselves as a result of negative comments on something they posted online. Liberals (28%) are 10 percentage points more likely than conservatives (18%) to agree with this.
Roughly one-quarter of Americans (26%) have regretted posting something online because it attracted negative comments, while a similar number (27%) say they've been harassed in a comment section online. One in five (20%) has taken a post down because of the negative comments they received.
See full results here.
Learn more about YouGov RealTIme and sign up to be a panelist here.
Methodology: Total unweighted sample size was 1,245 US adults aged 18+. The responding sample is weighted to the profile of the sample definition to provide a representative reporting sample. Interviews were conducted online between March 26-27, 2019.
Image: Getty