84% of Venmo users say technology changes their life for the better
Now that parent company PayPal Holdings, Inc. has released official numbers on its mobile payment app Venmo — showing that the service has over 40 million active accounts — new data from YouGov Plan and Track reveals that these users are especially likely to have positive feelings around new technology and are more interested in the latest and greatest tech products.
When asked if they tend to trust banks and credit unions, 57% of consumers who report typically using Venmo (i.e. Venmo users) said they do, which is more or less the same level of agreement found among the general public (55%). Likewise, around half of Venmo users (49%) and adult consumers as a whole (50%) believe that all banks are basically the same.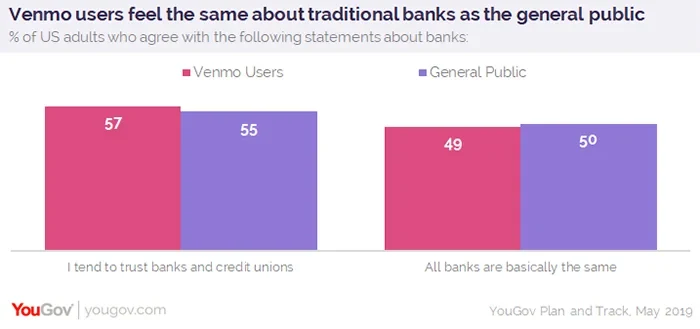 Where Venmo users appear to diverge from the general public is on the subject of technology's role in society, and whether it's making things better or worse.
In total, 84% of Venmo users say that technology changes their life for the better, compared to 74% of all US adults. At the same time, 63% of Venmo users are usually interested in trying the latest technology products, services, and apps. Among members of the general public, fewer than half agree (48%).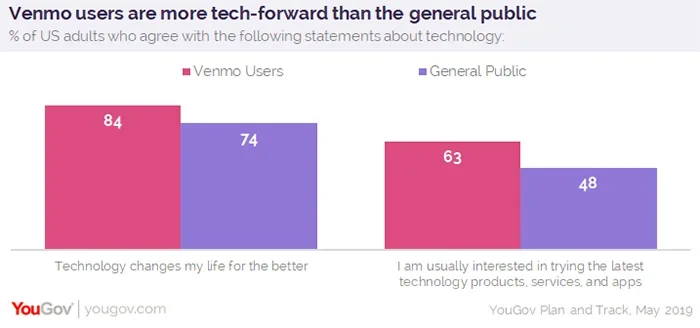 Additional data shows that 75% of Venmo users agree that wearable devices can encourage people to be healthier, compared to 56% of US consumers who think the same.
Overall, two-thirds (66%) of Venmo users are 18-34 years old. The vast majority (82%) live in either a city or suburb, while half (49%) have either earned a 4-year or post-grad degree.
Photo: Getty