Data from YouGov Profiles reveals the top tip of beer drinkers across 50 states
It's mid-May. Memorial Day is around the corner, and so is the unofficial start of summer. Time for barbecues, restaurant patios, and friendly gatherings in your cousin's backyard, which might just contain an ice-filled cooler of beer.
Data from YouGov Profiles shows what your uncle, neighbor, or favorite work colleague is most likely to recommend, depending on which state you live in. From a selection of 33 beer brands — including everything from Coors Light to Fat Tire to Icehouse — we've mapped the most recommended beverage by state. All 50 of them.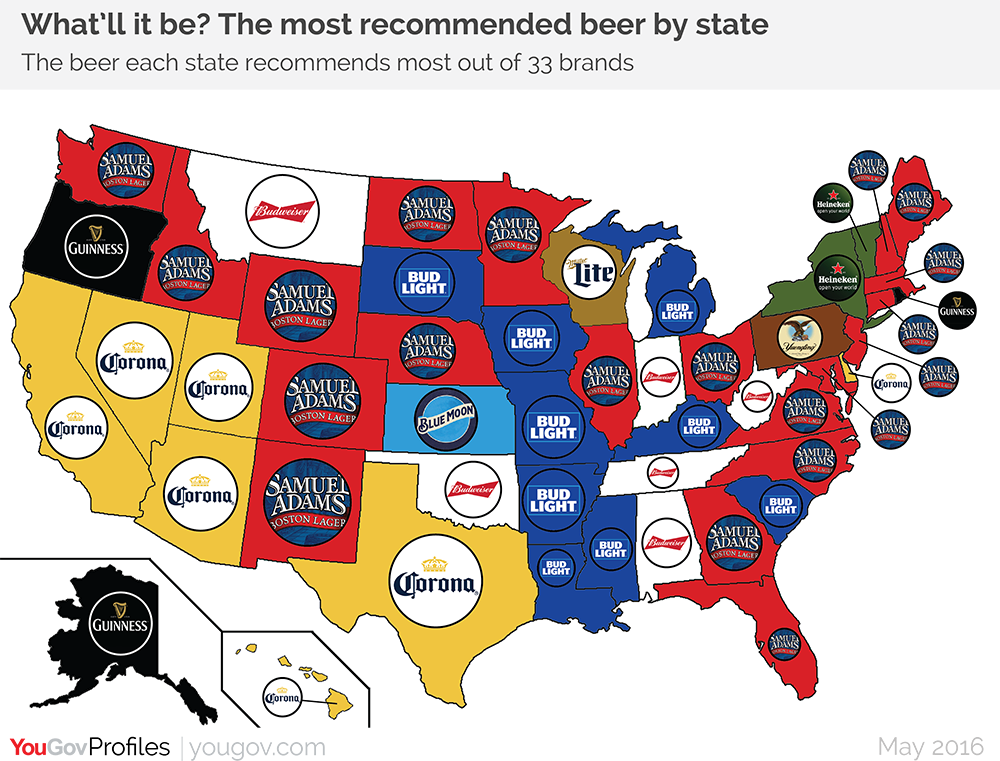 If this map of the United States looks red, white, and blue, and yellow, that's because Samuel Adams, Budweiser, Bud Light, and Corona dominate the recommendation rankings.
It's important to note, however, that while a brand such as Heineken only won two states — New York and Vermont — that doesn't mean it's not highly praised in other regions. Indeed, data from YouGov Profiles shows that, on a national scale, people recommend Heineken third overall, behind Samuel Adams and Corona. In other words, enthusiasm for the Dutch-made brew is dispersed across the nation, as opposed to clustered in specific areas.
Yuengling, conversely, recorded a win in its home state of Pennsylvania despite being recommended at mid-level rates across the country. And, obviously, some races were very close between two or three or more brands.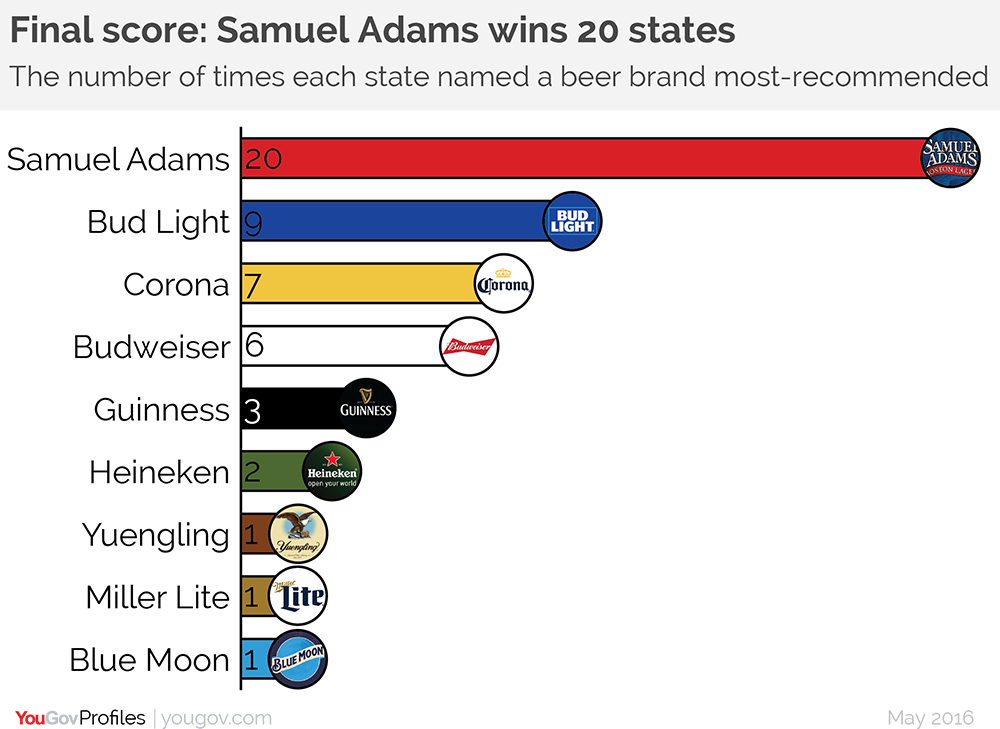 Part of this is due to each state's ingrained drinking habits — but some of these beers' prominence is the result of focused marketing campaigns. As Bloomberg puts it, "Corona isn't selling beer. It's selling the idea of having a beer on a beachside vacation. And the millions of beer drinkers who've taken a spring break trip to Cancun or hit a California taco stand don't really care what the brew tastes like." This strategy seems to have worked in the Southwest.
*The following states had sample sizes of under 100: Alaska, Delaware, Hawaii, Montana, North Dakota, Rhode Island, South Dakota, Vermont, and Wyoming.