Walmart, Target and Old Navy have come out of the back to school starting gate ahead the rest of the retail pack in key consumer parent perception metrics.
In last place, is beleaguered Abercrombie + Fitch, which dropped its "sexy teen" marketing not long ago and recently lowered their prices to better compete with H&M and Forever 21.
The biggest surprise may be the long-troubled Sears, which has made significant strides compared to one year ago, putting them ahead of brands such as Macy's and Marshall's.
As new campaigns and promotions unveil themselves, such as Macy's a capella contest that kicks off August 2nd, YouGov BrandIndex expects metrics to be shifting for these brands through Labor Day.
Each major retailer has been charted by combining two of YouGov BrandIndex's most relevant scores: Purchase Consideration ("When you are in the market next to purchase from a retailer, from which of the following brands would you consider purchasing?") and Value ("Does it give good value for what you pay?").
YouGov BrandIndex's Purchase Consideration score has proven repeatedly to be a precise gauge of potential sales.
Walmart & Target Ahead Of Last Year
The top tier of back to school retailers is three brands: Walmart, Target and Old Navy have the highest combination of purchase consideration and value perception levels with parents.
Walmart and Target are actually significantly ahead of where they were compared to one year ago on both metrics.
Currently, 62% of parents would consider making their next purchase at Walmart and 53% at Target the next time they go to a major retailer. Target made the biggest jump in this metric from one year ago, when that percentage was 44%, with J.C. Penney making the second biggest gain.
The Big Surprise: Sears
J.C. Penney and Kohl's are in their usual spots just behind the top trio, but like Walmart and Target, their key metrics are ahead of where they were one year ago.
The biggest surprise may be struggling chain Sears, which has been closing stores and losing sales. Sears had the biggest value perception hike of all retailers compared to one year ago, while making a significant jump in Purchase Consideration too. That has put them on par with TJ Maxx just behind J.C. Penney and Kohl's, and ahead of most competitors.
The Bottom Tier
The lower third of retailers are clustered very tightly in their metrics, a continuing sign of their inability to break out with parents. Hollister, Hot Topic, Wet Seal, Urban Outfitters, Charlotte Russe, J. Crew, Bloomingdales, Saks, Neiman Marcus, and Banana Republic are all grouped together just ahead of Abercrombie + Fitch with the lowest value and Purchase Consideration scores.
While not stuck in that cluster, "fast fashion" chain Forever 21 has seen both metrics fall considerably from one year ago, keeping them neck and neck with H&M.
Methodology
Periodically until shortly after Labor Day, YouGov BrandIndex will measure 28 of the most popular back to school retail chains as perceived by adults with children under the age of 18.
Value: Back to School Retailers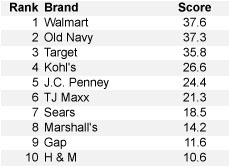 Value Top Improvers: Back to School Retailers

Consideration: Back to School Retailers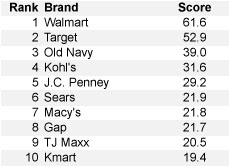 Consideration Top Improvers: Back to School Retailers