People who are 18 to 34 years old tend to favor newer cartoons like Rick and Morty (5%), South Park (5%), and Bob's Burgers (3%) far more than their older counterparts  
Follow @YouGovUS on twitter and stay up to date with the latest news and results
When it comes to cartoons, Americans are saying "what's up, Doc?" Bugs Bunny is the most popular cartoon in the U.S., with 11% saying this was their favorite cartoon. The famous bunny was especially popular with people 55 and older, 15% of whom said this was their favorite. Men (13%) were also nearly twice as likely as women (7%) to say this was their favorite cartoon. Other popular choices were Tom and Jerry (6%), Spongebob Squarepants (6%), and Scooby Doo (5%).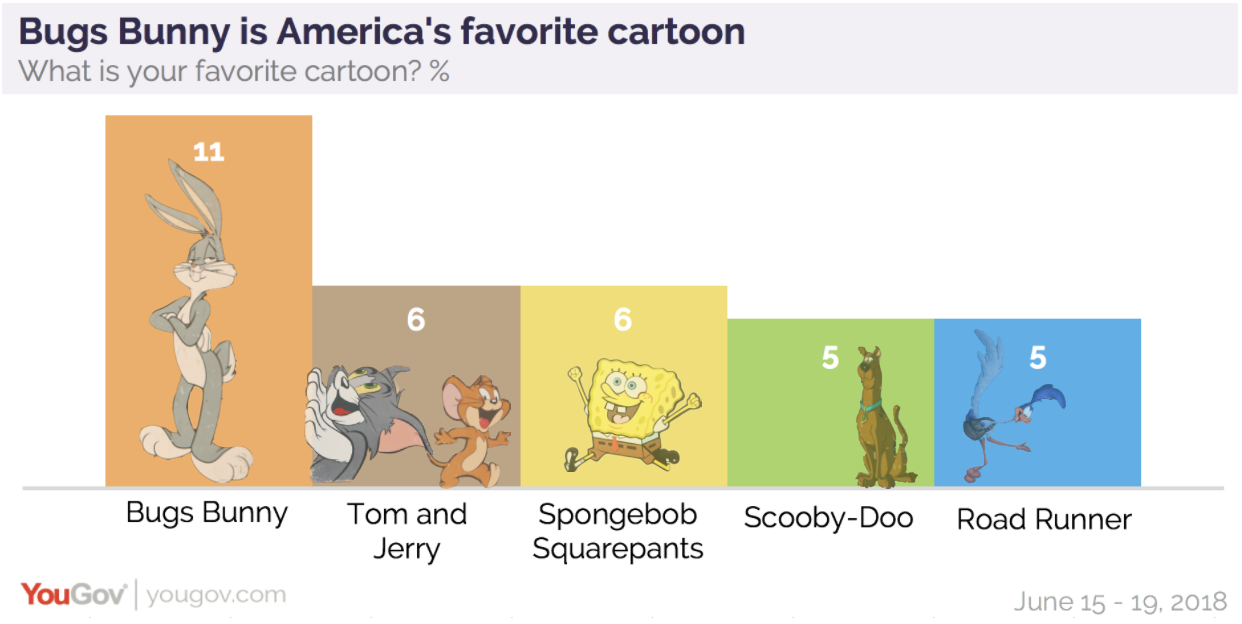 Naturally, there are some stark differences between different age groups when it comes to favorite cartoons. People who are 18 to 34 years old tend to favor newer cartoons like Rick and Morty (5%), South Park (5%), and Bob's Burgers (3%) far more than their older counterparts. Among the 55 and older crowd, Bugs Bunny (15%), Road Runner (11%), and The Flintstones (5%) tend to be the most popular picks.
Interestingly, it seems the 1940s brought us many of the country's favorite cartoons -- about 22% of them, as it turns out. Bugs Bunny (11%) and Tom and Jerry (6%) were both created in 1940, and another popular choice, Road Runner (5%), was created in 1948.

Besides the animators of the 1940s, it seems many Americans also have Warner Brothers Entertainment to thank for their favorite cartoons. The entertainment company either created or currently owns about 38% of the cartoons Americans say are their favorites, including Bugs Bunny (11%), Tom and Jerry (6%), Scooby Doo (5%), Road Runner (5%), Looney Toons (3%), The Flintstones (2%), Popeye (1%), and several others. Fox also is responsible for many favorite cartoons including Family Guy (3%), The Simpsons (4%), Bob's Burgers (1%), American Dad (1%), and Archer (1%).
The definition of cartoons wasn't just limited to animated TV shows. Some people opted to choose comic strips like Calvin and Hobbes (1%), The Far Side (0.37%), and Dilbert (0.42%) as their favorite cartoons.
See full results here.
Learn more about YouGov Omnibus.
Image: Getty