Murderous middle schoolers, green-fingered fathers and vengeful wives are all on the cards this week if you are looking for an exciting new film to stream at home. But before you make the difficult decision of what to watch, you might want to check out a trailer or two to help make up your mind. 
Each week, YouGov Direct asks a group of its members to watch movie trailers. We then report on what they say. YouGov Direct's surveys investigate how effective movie trailers are in persuading people to consider seeing a film, what they think about the content of the trailer, and how good or bad they expect the movie to be. Thousands of people provide immediate feedback on movie trailers using the YouGov Direct platform. 
"That's the way to do it!" The most successful trailer this week was for the pitch-black comedy drama  "Judy & Punch". The film is a revisionist take on the anarchic Victorian puppet show "Punch & Judy", wife beating and all. It stars "Alice in Wonderland" actress Mia Wasikowska, as Judy, one half of an up-and-coming puppeteer troupe. After her husband Punch's drinking leads to a heartbreaking crime, Judy swears revenge.
Prior to seeing the trailer, 23 percent of YouGov Direct respondents said they were likely to see this larger-than-life period piece. But after viewing the trailer on the YouGov Direct app, 32 percent said they were likely to see it. That's a lift of 9 percentage points in intent, the highest lift this week. This treatise on toxic masculinity seemed to appeal particularly to female audiences: 35 percent of users who participate in trailer questions and identify as female said they were likely to see this film after viewing the trailer, whereas for male respondents that number was 29 percent.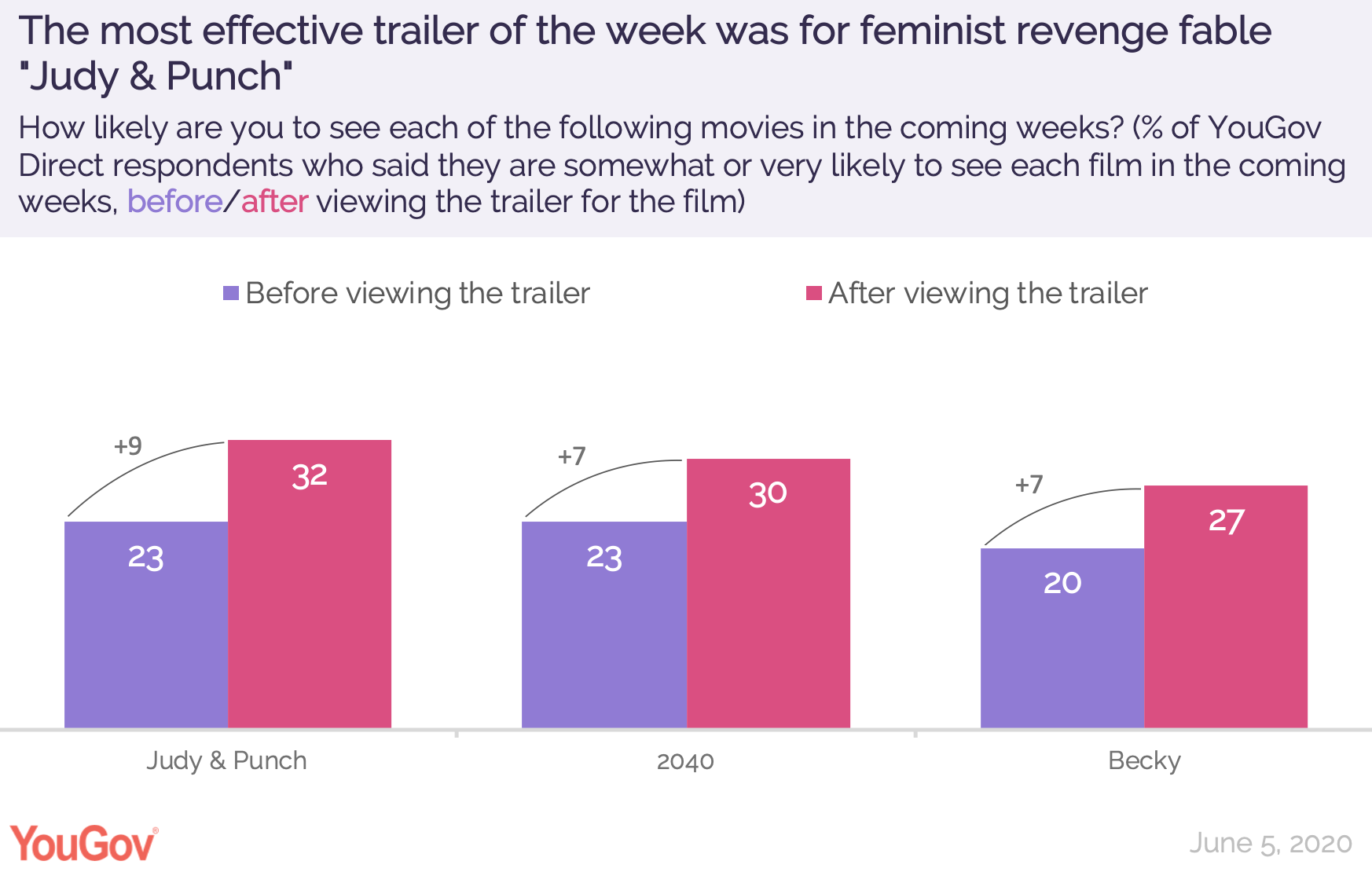 What did viewers like best about the trailer? Over a third of respondents (34%) said they enjoyed the look of this bold carnivalesque drama. A further 40 percent of respondents said it was the trailer's story and themes that stood out for them. Director Mirrah Foulks' debut certainly covers some controversial topics, including male aggression and mob mentality.  
The other film to catch viewers' attention this week was "2040". Practical solutions to environmental concerns are addressed in this uplifting documentary that follows director Damon Gameau as he sets out, armed with a camera and a mission, to build a brighter future for his 4 year-old daughter.
Before seeing the trailer, 23 percent of YouGov Direct users said they were somewhat or very likely to see this idealistic documentary. After viewing the trailer, that number increased to 30 percent.
Responses to the trailer demonstrated that climate change remains a politically divisive topic. After watching the trailer 35 percent of respondents who identified as politically liberal said they were likely to watch the documentary. Comparatively, only 22 percent of those who identified as conservative and 11 percent of those who identified as very conservative said they would be likely to watch the film. 
The documentary takes a somewhat unusual approach to the climate crisis. A self-declared exercise in 'fact-based dreaming', this is not an alarmist view on the subject. Gameau's accessible, easy going style of filmmaking uses hope and facts to find a positive but practical path for fighting climate change. This approach appeared to resonate with users. When asked what they liked best about the trailer, over half (53%) of respondents said it was the story or theme. Film critics seem to be in agreement with users. The New York Times called it "a rare climate documentary with an optimistic message."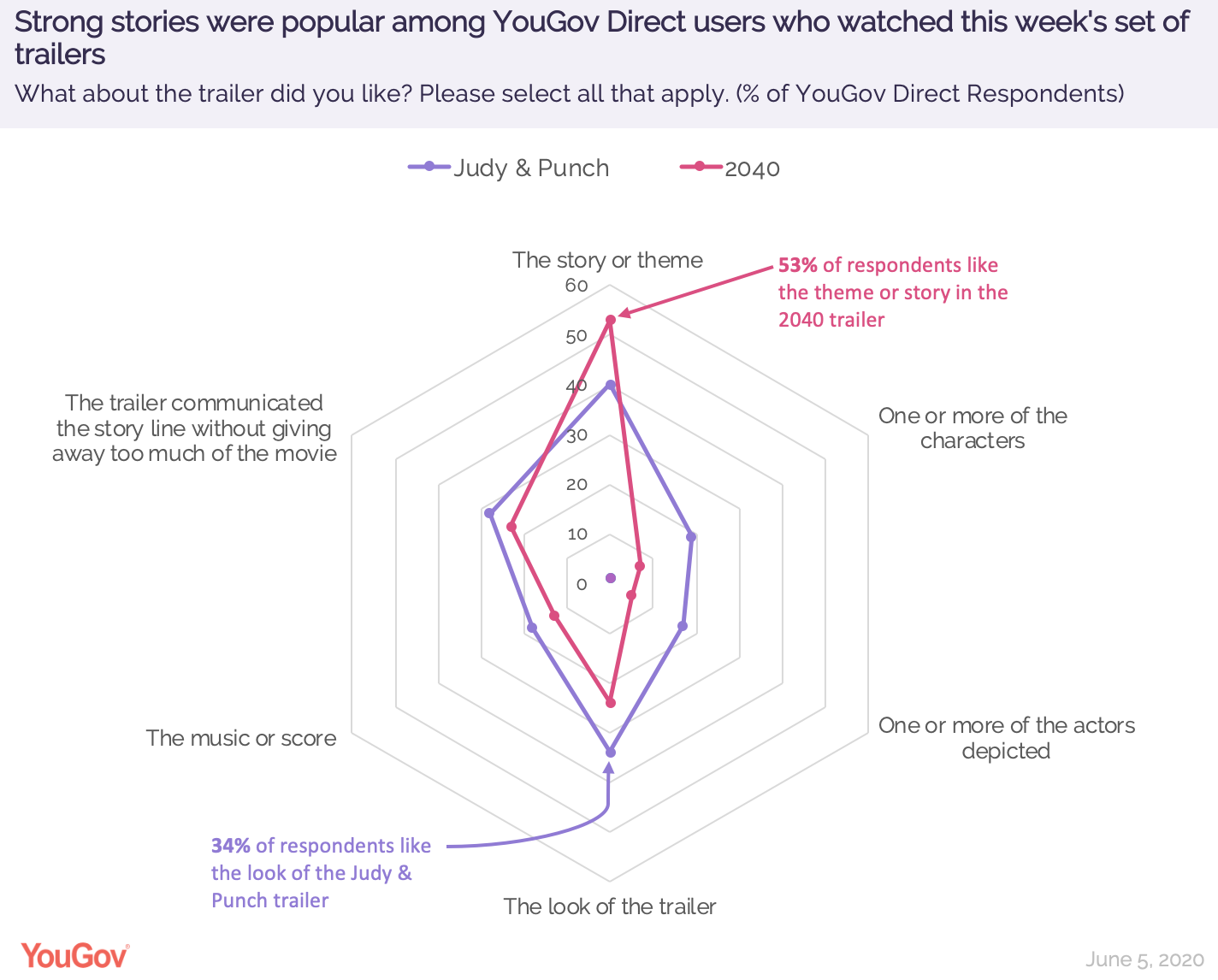 YouGov Direct also asks respondents to tell us how good or bad they think a movie will be, based on the trailer. Viewers gave "2040" the highest rating this week, scoring 3.5 out of a possible 5.0. This is compared to a median score of 3.5 for all trailers tested to date. "Judy & Punch" came in close second with a score of 3.4.
Rounding out this week is the action thriller "Becky". In the film, a teenager's trip to a lakehouse with her father goes awry when Neo-Nazis come knocking. It stars Kevin James in a dark role that couldn't be further from "Paul Blart: Mall Cop".  
Pre-trailer, 20 percent said they were likely to see this grisly home invasion thriller. Post trailer, that number rose to 27 percent. Gorehounds were especially excited about this gruesome flick. Of users who identified as fans of the horror genre, 42 percent said they were somewhat or very likely to see the film after watching the trailer. Many other users, however, were not as keen on the film. When asked to tell us how good or bad they think the movie will be, respondents rated "Becky" 2.9 out of 5.0. The median score for all trailers tested to date is 3.5. 
Related: 
Image: Getty
Methodology: Data is based on 4,000 interviews, including a minimum of 400 responses for each movie trailer tested. Surveys were conducted online on June 4, 2020.