As for what people like to top their ice cream with, hot fudge (43%) and nuts (31%) are the most popular picks 
Follow @YouGovUS on twitter and stay up to date with the latest news and results
National Ice Cream Day is Sunday, July 15, and it turns out we (almost) all scream for ice cream — especially if it's chocolate, vanilla, or butter pecan ice cream.
According to new data from YouGov Omnibus, 96% of Americans eat ice cream. The most popular flavor is chocolate (14%), followed by vanilla (13%) and butter pecan (11%). There are some interesting differences when accounting for age. People who are 18-34 years old were more likely to prefer cookies 'n creme (14%) and chocolate chip cookie dough (13%), while people 55 and up were far more likely to prefer butter pecan (17%) and vanilla (16%).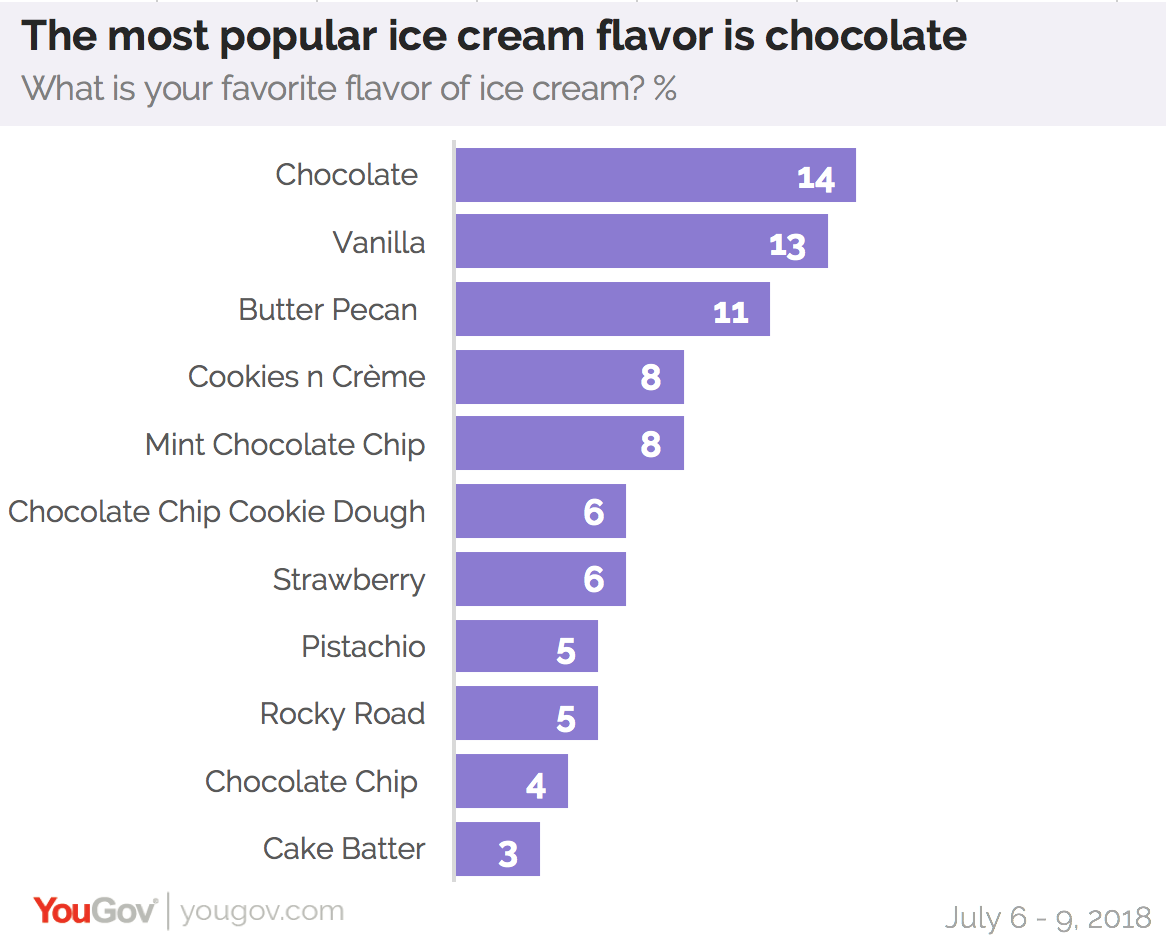 Regionally, people who live in the West were more than twice as likely as people in other parts of the US to say their favorite flavor is rocky road -- 11% of people in the West said this, compared to 3% in the Northeast and the South, and 5% in the Midwest. Meanwhile, the Northeast tended to favor mint chocolate chip (13%) significantly more than other regions.
As for what people like to top their ice cream with, hot fudge (43%) and nuts (31%) are the most popular picks, with chocolate syrup (28%), Oreo crumbles (24%) and sprinkles (21%) coming in slightly behind. And 43% of people are putting their ice cream and toppings in a cone, while another 37% prefer a cup.
Almost three-fourths (71%) of people say they eat ice cream year-round, regardless of the weather. Another 19% save ice cream for the warmer seasons.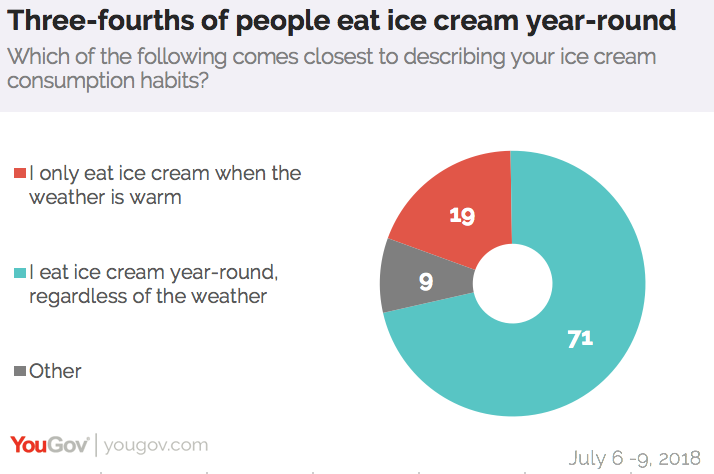 When given the choice between traditional ice cream, or low-calorie alternatives, a majority of people (69%) said that they would choose traditional ice cream. This tended to be true no matter how old the respondents are, or where in the US they live.
When asked about alcohol-infused ice cream, over half of people (52%) said they hadn't tried it, and had no interest in trying it. 35% said that they hadn't tried it, but would be interested, while only 8% of people said they had tried alcohol-infused ice cream.
See full results here.
Learn more about YouGov Omnibus.
Image: Getty