Chicago, Atlanta, Boston, and Philadelphia residents also say they enjoy fall weather in their cities
Saturday, September 22nd, marks the beginning of fall. As foliage begins to turn across the country, data from a recent YouGov Citybus poll reveals that the residents of Denver are the most likely of people in the top 20 most populous metropolitan areas to say they enjoy the fall weather in their city.

Autumn's popularity among Denver residents may stem from the beauty of its enduring fall foliage: the Mile High City is a short drive from five different climate zones and Denver's fall foliage tends to last longer than that of other cities. Indeed, 96 percent of Denver residents say they 'somewhat like' or 'like [fall weather] a lot'.

While Denver residents may express the most enjoyment for fall weather in their city, residents in other cities also say they also enjoy autumn where they are. Residents of Chicago (95%), Atlanta (94%), Boston (94%), and Philadelphia (94%) boast a high rate of satisfaction for their city's fall weather.

Not all residents are fond of fall weather where they live; those residing in warm weather cities such as LA (13%), Tampa (12%), Miami (11%), Phoenix (11%), and Orlando (11%) are more likely to say they dislike it.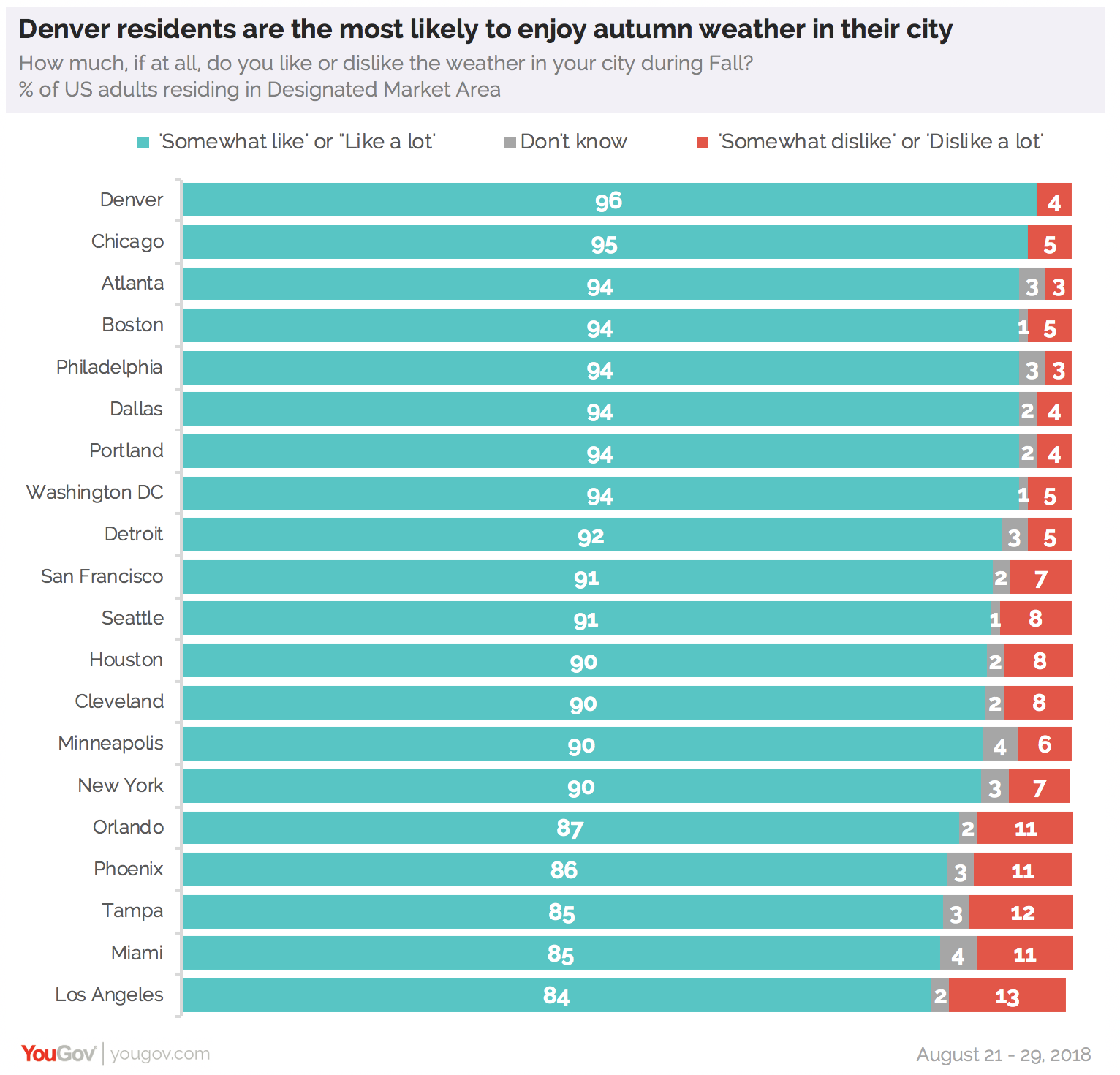 The respondents surveyed in this YouGov Citybus study reside in the following Designated Market Areas: Atlanta, Boston, Chicago, Cleveland, Dallas - Fort Worth, Denver, Detroit, Houston, Los Angeles, Miami - Fort Lauderdale, Minneapolis - Saint Paul, New York, Orlando - Daytona Beach Melbourne, Philadelphia, Phoenix, Portland - Oregon, San Francisco - Oakland - San Jose, Seattle - Tacoma, Tampa - Saint Petersburg, Washington DC.

Read more results from this poll here

Learn more about YouGov Omnibus

Image: Getty