Americans are glad to have U.S. combat troops out of Iraq – but see no end to combat and little hope for American victory there. But in the last few weeks the withdrawal has brought with it a rise in approval of the way President Obama is handling the war in Iraq. In this week's Economist/YouGov Poll, 49% approve, while 41% disapprove.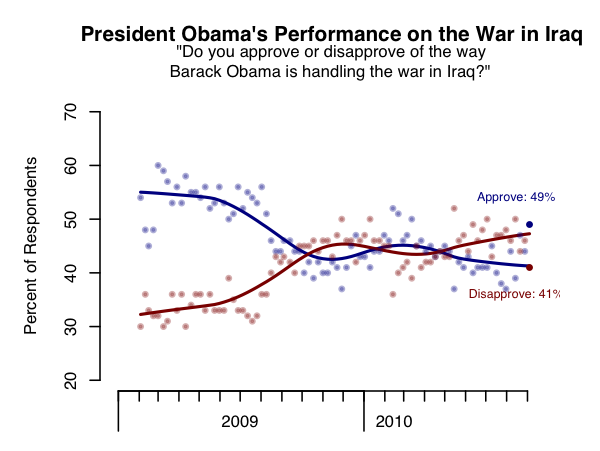 The approval of ending U.S. combat operations in Iraq comes despite the clear expectation that Americans will fail in Iraq. Almost half believe that in the end, the U.S. will leave Iraq without a victory. Only 16% say the U.S. has won the war, with just another 12% believing it will win. And the effort will still be costly for the country: nearly three in four believe the non-combat troops remaining in Iraq will still be involved in combat. 
As for the future for Iraq, Americans are also pessimistic. 49% believe Iraq will never be a stable democracy. 36% say it will be – eventually – but only 3% believe that stability will happen within the year.
Still, the public is happy about the withdrawal. Nearly two out of three are either satisfied (41%) or enthusiastic (22%) about the President's decision, while just one in four are dissatisfied (17%) or angry about it (7%). In the last few years, opinion about the war in Iraq has grown extremely negative. In this week's poll, 53% of Americans say the war itself was a mistake. 32% disagree. 
Although approval of the President's decision is high, American still lack confidence in his leadership on the war. Only 29% believe he has a clear plan for U.S. strategy in Iraq. And the public is divided on whether or not the President can keep his promise to remove all U.S. troops by December 31, 2011. 44% think he will be able to do that, but 42% think he will not. However, prior to last month's combat troop withdrawal, many Americans also were skeptical President Obama would keep that promise.
The President's speech to the nation last week describing the end of U.S. combat operations in Iraq gets mixed reviews. About four in ten Americans claim to have seen or heard at least part of the address, and like most Presidential speeches, the President's supporters were more likely than his opponents to watch. But the reaction was decidedly mixed: 51% rated it as very good or good, while 49% described it as only fair or poor. Even one in four Democrats described it as less than good.