Black and white Americans disagree strongly on whether or not the police officer in the Michael Brown case should have faced federal prosecution
The racial divide expressed during the protests that followed the shooting death of an unarmed black teenager by a white police officer in August remains today after an investigation of the death by the Department of Justice brought no charges against the officer.  Whites and blacks in the latest Economist/YouGov Poll have different opinions about both the lack of an indictment by the Missouri grand jury and the decision by the federal prosecutors to take no action. 
As has been the case with opinion about the grand jury's decision, whites and blacks divide on the federal government's action.  By three to one, whites support the decision of the Justice Department to make no charge against the officer; by nearly two to one, African-Americans do not.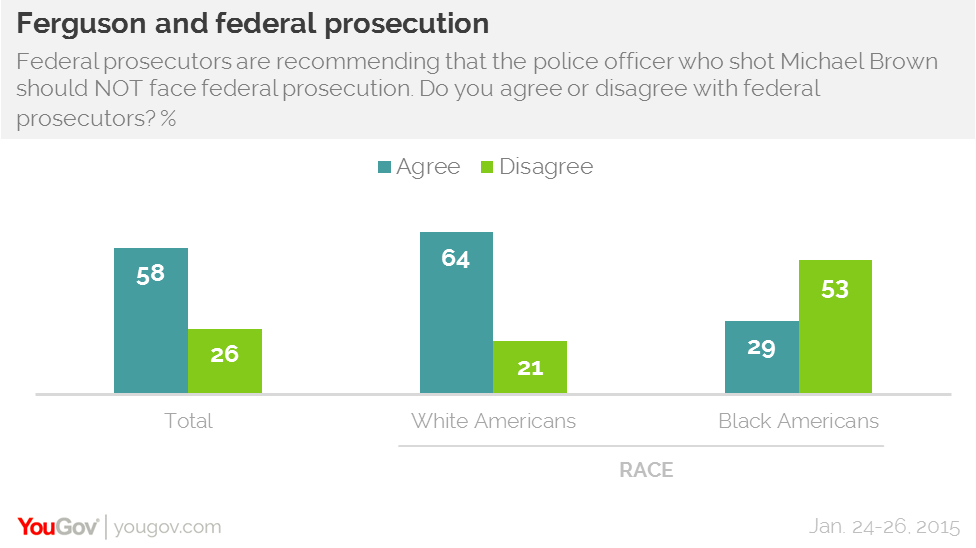 The racial division still remains wide when Americans are asked their opinion of the lack of an indictment by the Missouri grand jury in November.  64% of whites, but only 29% of blacks, agree with the decision.   That is a racial gap of 35 points.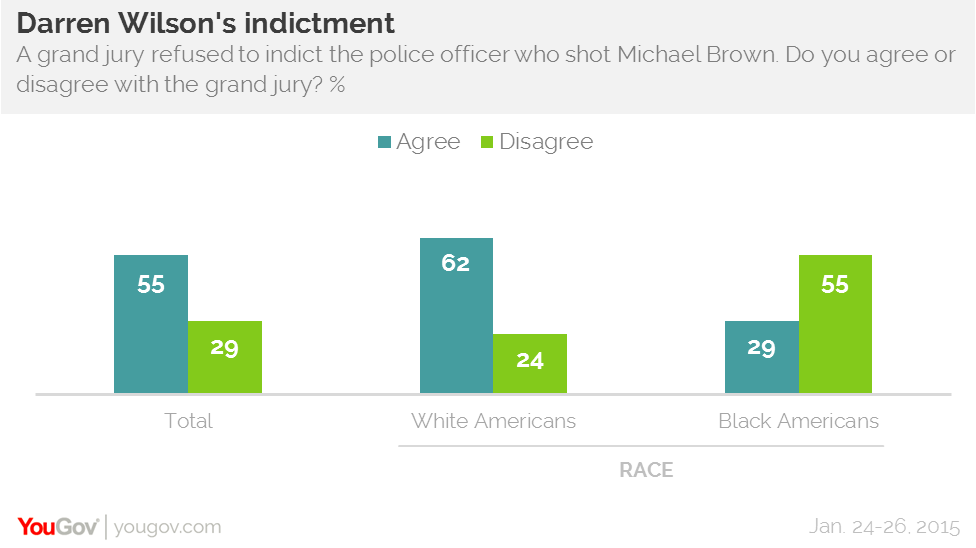 However, on a similar question asked in early December about the grand jury's lack of an indictment, the racial difference was even greater.  
Nearly all questions about the shooting of Michael Brown by police officer Darren Wilson elicit a racially divided response.  Whites view the police reaction to the protests after the shooting as reasonable, and the residents' reactions as not reasonable.  Blacks see the police reaction to the protests as unreasonable (though narrowly), and they divide evenly when asked to assess the residents' response.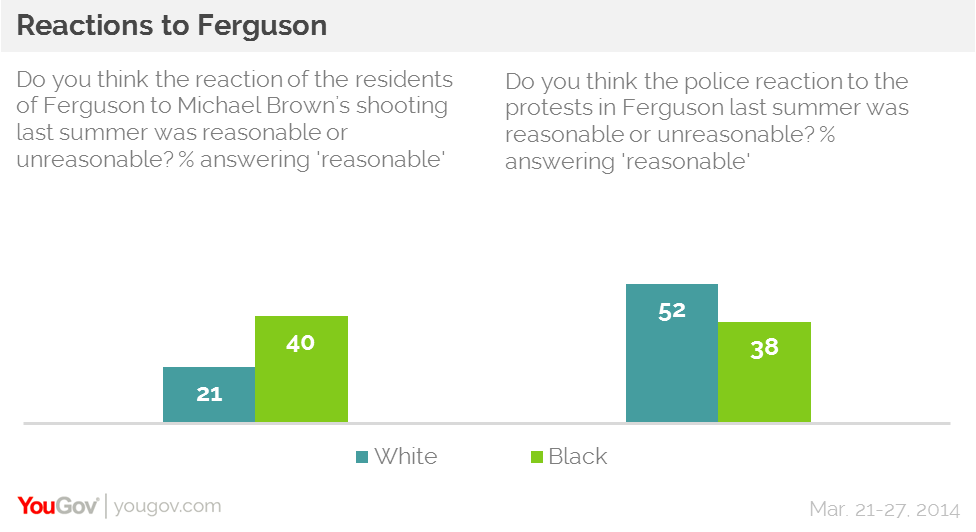 But whites and blacks agree about how local politicians responded to the shooting.  By more than two to one, both whites and blacks agree that local politicians in Missouri did not respond adequately to the shooting and its aftermath.  Whites and blacks may disagree about what the proper response was, but they agree that politicians did not do well.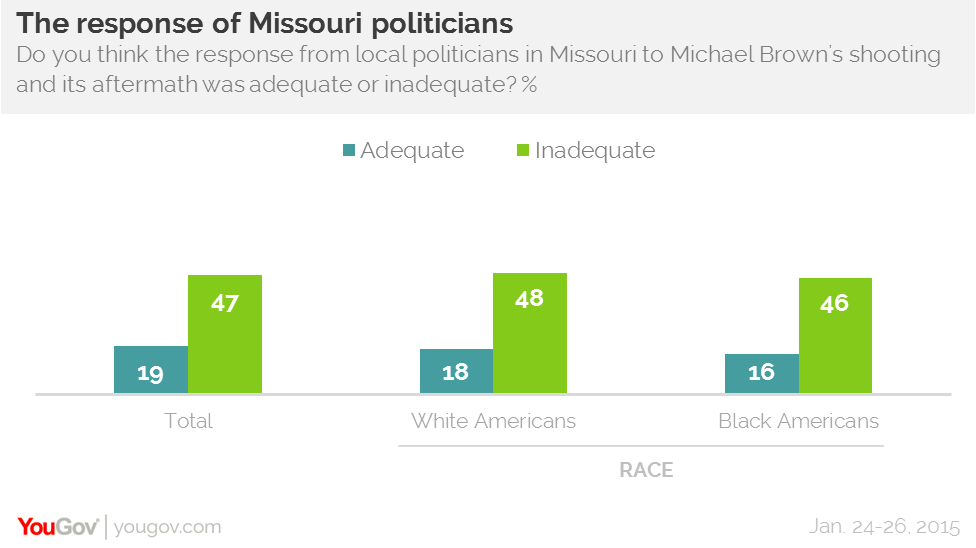 While the Justice Department will not charge Darren Wilson, the Justice Department is continuing an investigation into the Ferguson police department.  For many whites, however, the shooting death of Michael Brown is not an indication of systemic problems.  Most say the shooting was an isolated incident.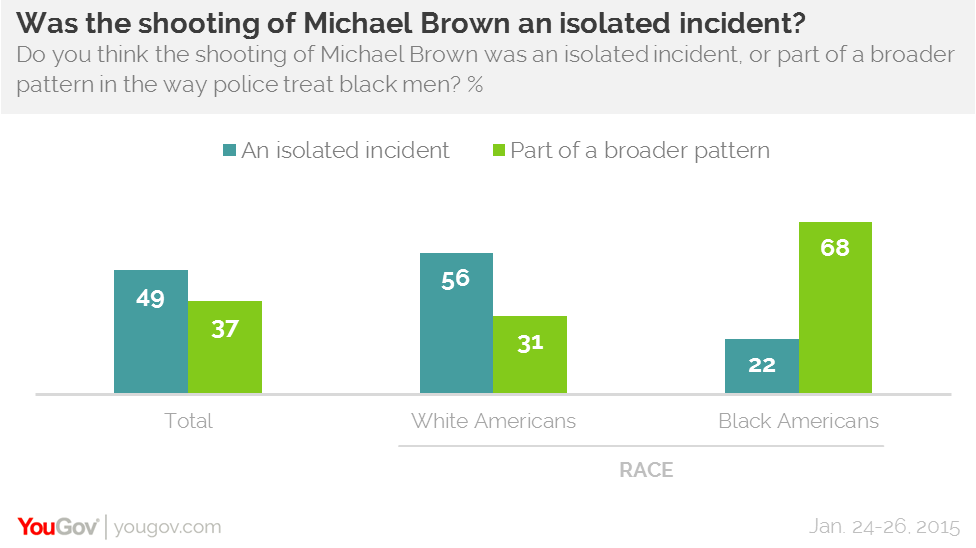 That is not what African-Americans believe.  Two-thirds say this is part of a broader pattern of relations between the police and black men. 
Economist/YouGov poll archives can be found here.