Both Marco Rubio and Rand Paul are viewed favorably by Republicans, but many also doubt their chances to win the Presidential election
Florida Senator Marco Rubio's Monday announcement that he will run for the Republican Party's 2016 presidential nomination won plaudits from many pundits, but the latest Economist/YouGov Poll, completed mostly before that announcement, suggests that Rubio still has to introduce himself to the public – and to many of the Republicans who will determine whether or not he succeeds. 
Nearly three in ten Republicans have yet to form an overall opinion of Rubio – and today he is not much better known by Republicans than he was a year ago.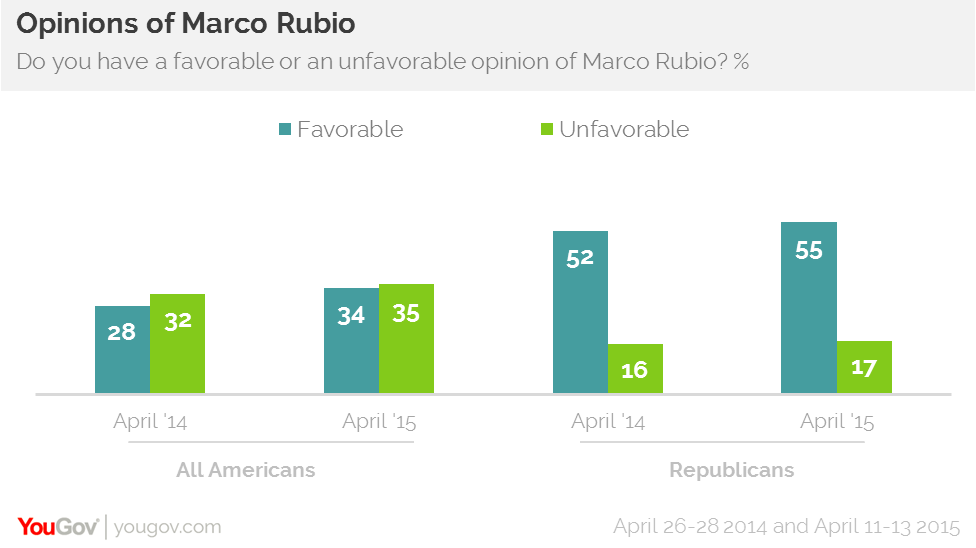 Those with an opinion, as they responded a year ago, like Rubio.  Half of Republicans classify him as a conservative, which they describe as the right ideological position (only 7% of Republicans think Rubio is too conservative, and only 10% say he is not conservative enough).  Still, a third aren't sure.
And when it comes to qualifications and electability, partly because of their lack of knowledge about Rubio, less than half of Republicans think Rubio is qualified, or can win the Presidency.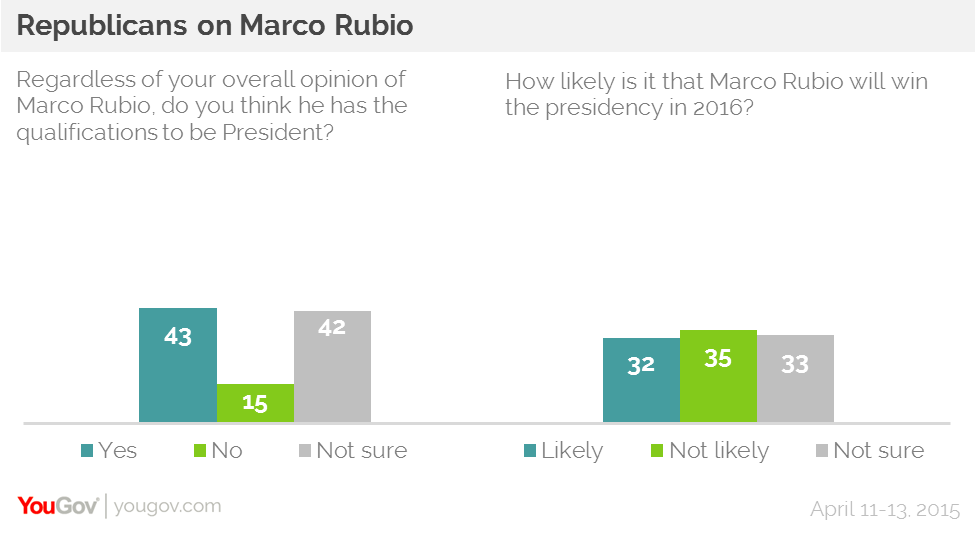 Tennessee Senator Rand Paul, who announced for the presidency last week, has a similar problem.   Although somewhat more Republicans express an opinion of Paul than have an opinion of Rubio, their sense of Paul's electability and qualifications is also limited.  A third can't judge whether Paul has the qualifications to be President, and Republicans are as likely to say Paul will lose the race as believe he is even somewhat likely to win.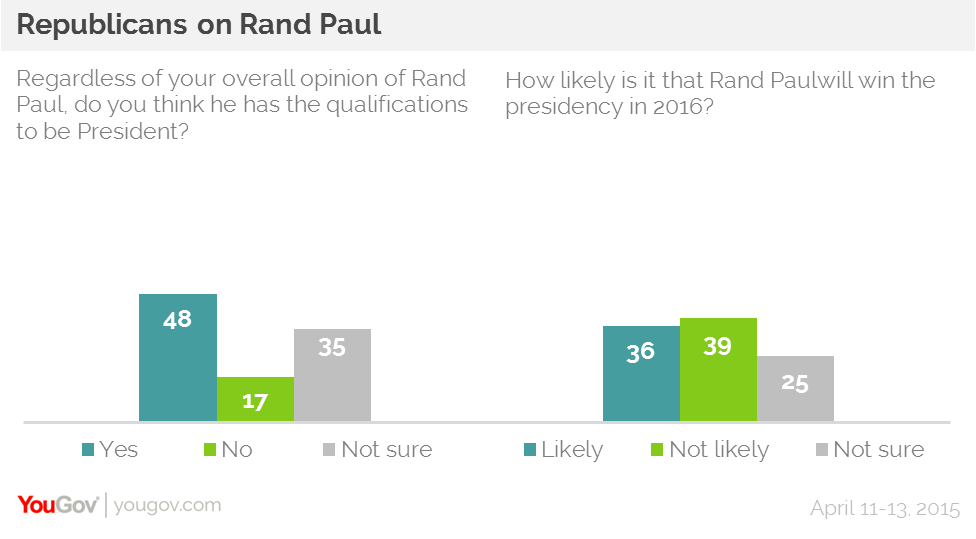 Republicans' overall opinions of Paul are positive, and despite libertarian positions Paul has taken, half consider him a conservative.  And, as with Rubio, nearly half of Republicans say Paul's ideology is "about right."  But more than a quarter of Republicans aren't sure how to describe Paul's ideology.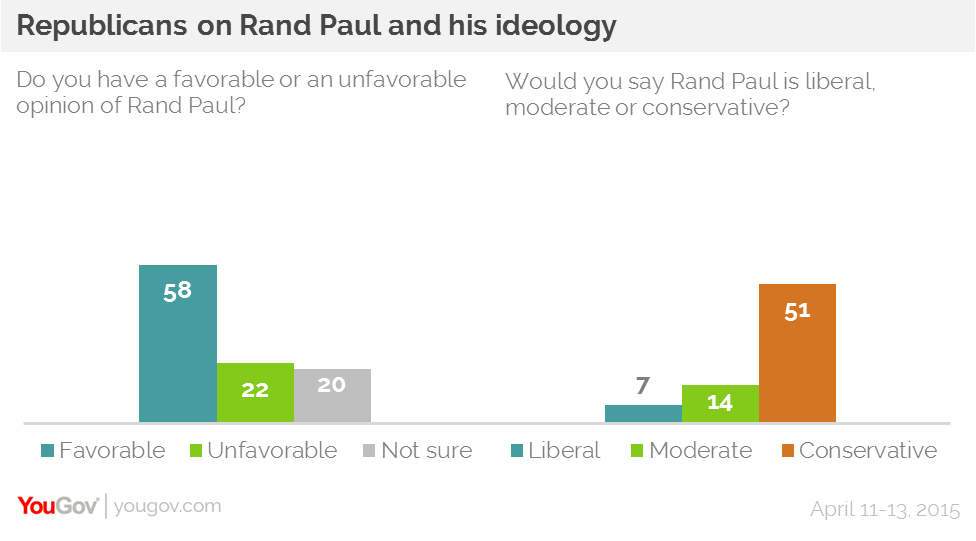 Many Republicans (as well as many non-Republicans) have doubts about both Paul and Rubio when it comes to their ability to handle an international crisis.  Even more Republicans have doubts about Paul on this than express concern about Rubio.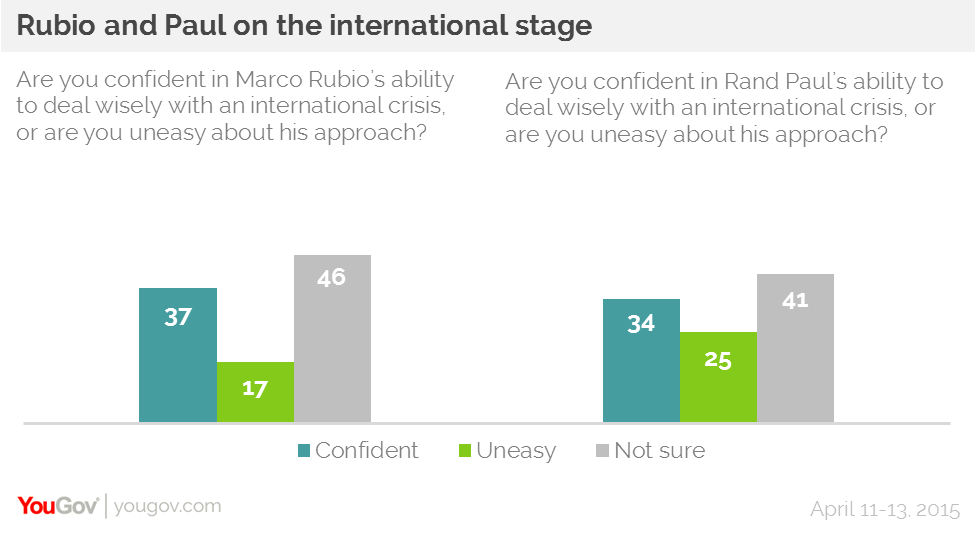 Among the public overall, neither man received a plurality when it comes to confidence in their ability to handle an international crisis.  By 31% to 20%, Americans are not confident in Rubio's ability; by an even greater margin, 39% to 21%, Americans are not confident about Rand Paul.
Rubio, the son of Cuban immigrants, is thought to have a special appeal to Hispanic Americans.  At the moment, he still needs to reach out to them.  Hispanics are more likely than others to have an opinion of Rubio, but that opinion isn't particularly good.  More Hispanics are unfavorable than favorable towards Rubio.  They divide on whether or not he is qualified to be President.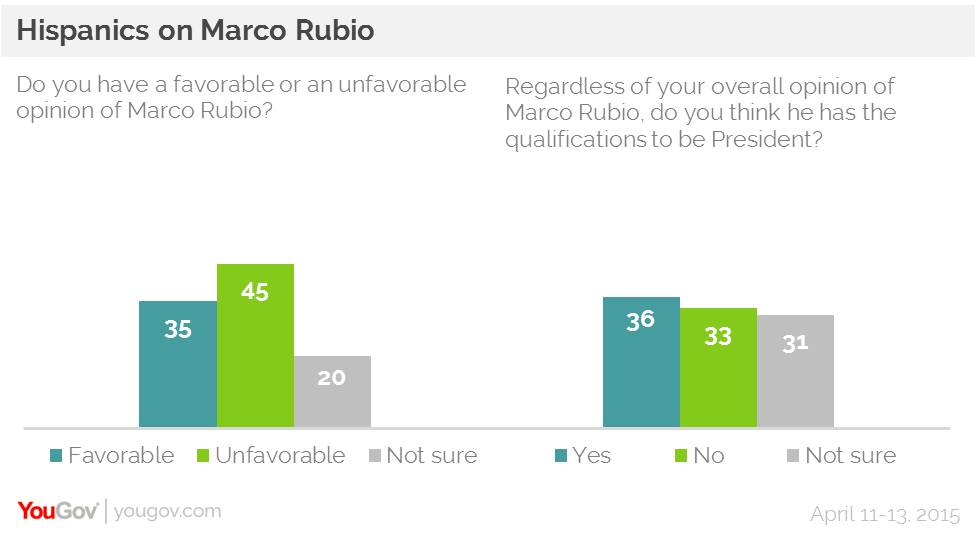 Some of the positives associated with each of these two candidates are also negatives.  When asked to describe Paul in one word, libertarian and conservative are the top two answers given by those who like him.  But they are also the top two mentions for those who don't like him.  Honesty and intelligence are also positives, but the negative assessment of Paul include some stronger words.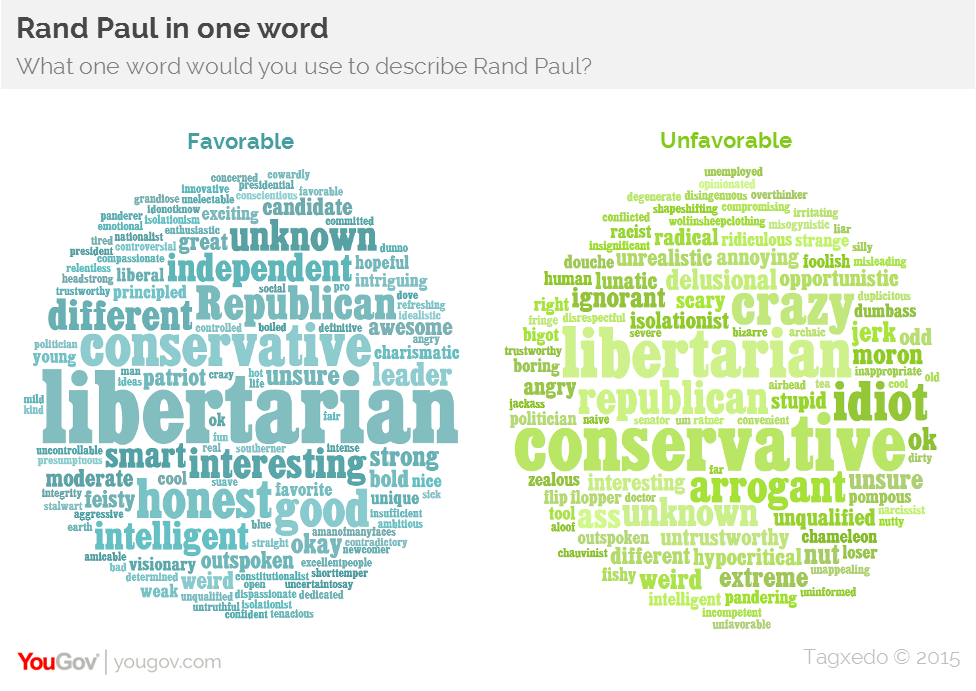 While Rubio's image word cloud are also dominated by reference to his conservatism, his youth and intelligence are also mentioned by those who like him.  But the flip side of the positive of youth is the negative of inexperience seen in the responses of those with unfavorable opinions of Rubio.  There are few references to Rubio's ethnicity – though that could change as more become familiar with the Senator.  Nearly one in three Americans are not represented in the Rubio word clouds at all, as they expressed no opinion, either favorable or unfavorable, about him.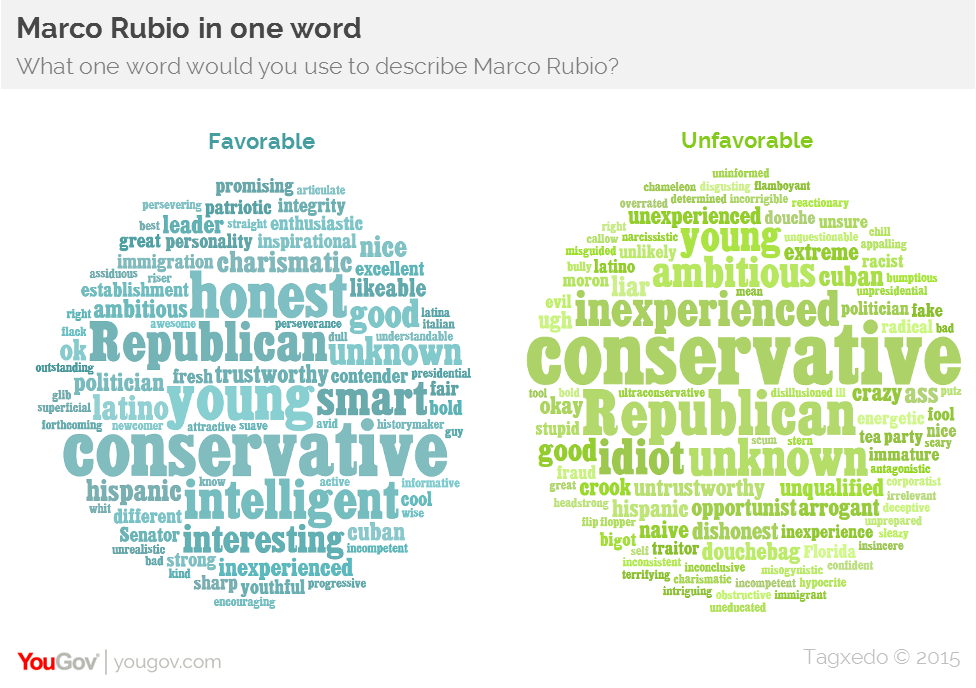 At the moment, Rubio may have the tougher job.  Republicans who are registered to vote are not settled on any single one of the individuals who are potential candidates announced or unannounced.   But four candidates are in double digits, including Rand Paul.  The others three "frontrunners" are Texas Senator and announced candidate Ted Cruz, former Florida Governor Jeb Bush, and Wisconsin Governor Scott Walker.  Rubio is tied with Ben Carson with 7% support.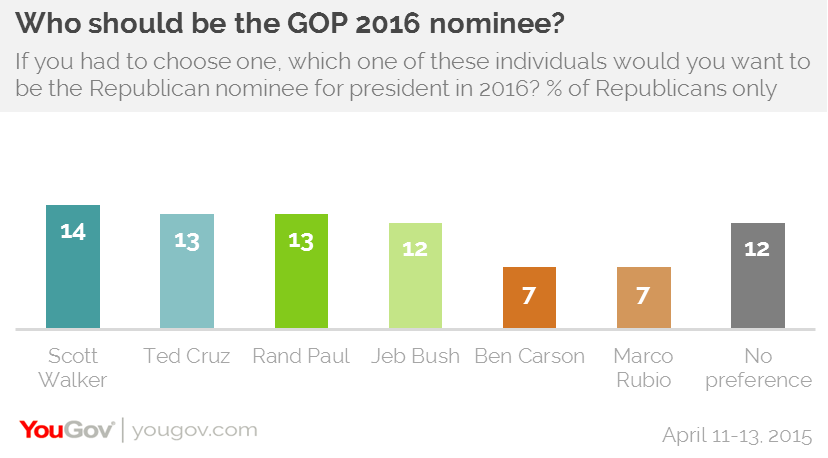 Of course, the first event is still eight months away.
Economist/YouGov poll archives can be found here.