Following a series of terrorist attacks Americans are more worried about an attack at home, but history suggests the fears will soon subside again
The recent terrorist attacks in Tunisia, France and Kuwait have upped American concern somewhat about the possibility of an attack here at home. In this week's Economist/YouGov Poll, one in four think the possibility of a terror attack against the United States in the next 12 months is very likely – at least a 50-50 proposition.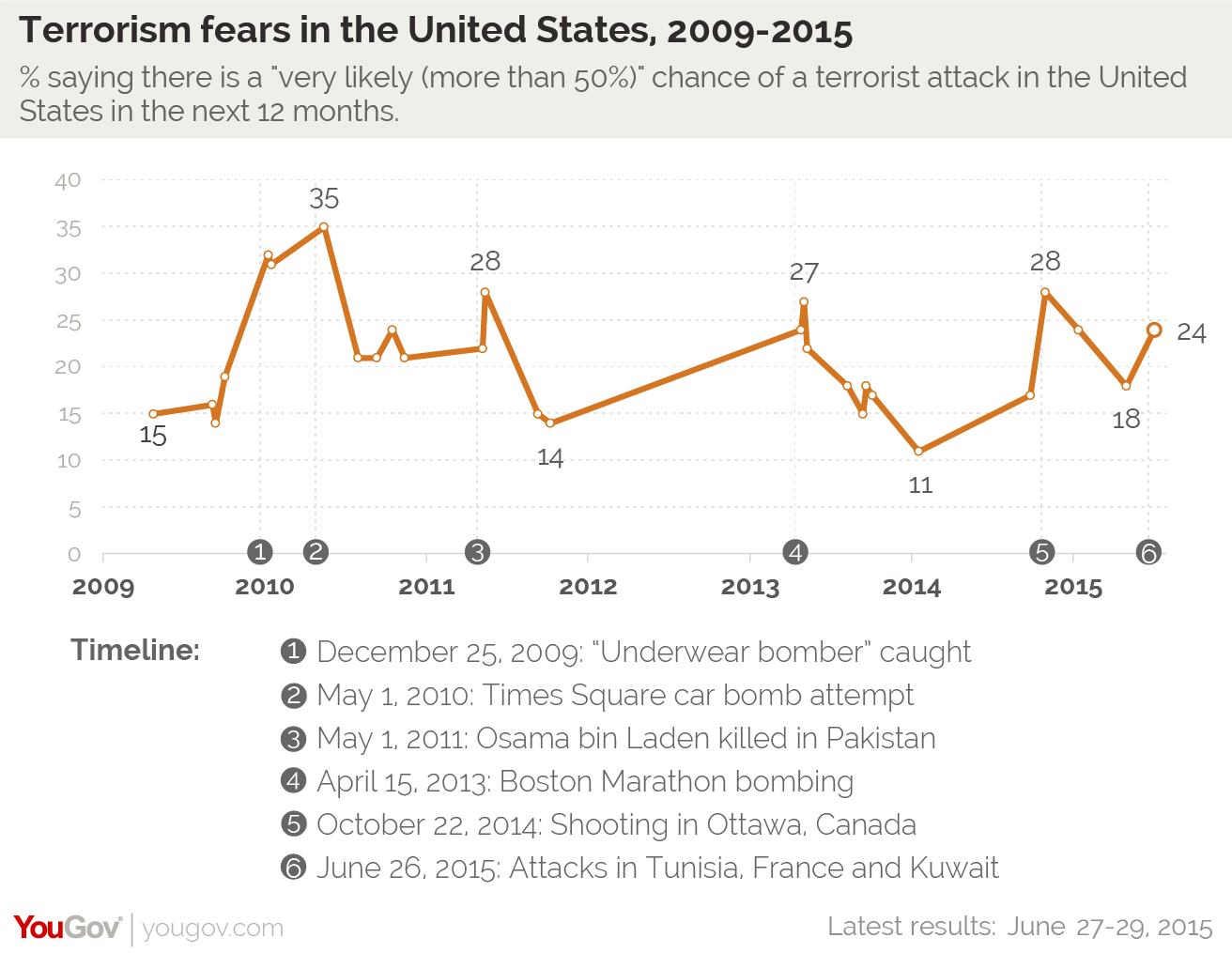 As seen in the accompanying graph, worry about terrorism increases after an attack. It slips back shortly afterwards.  
In 2013, in the Economist/YouGov Poll conducted to mark the 12-year anniversary of the September 11, 2001 attacks, concern about terrorism had declined significantly, and most thought the country would be safer not by confronting countries and groups that promoted terrorism, but by staying out of other countries' affairs. Americans felt differently before then, and they felt differently again after the rise of ISIS in mid-2014 and the shooting of a Canadian soldier in Ottawa later that year. 
Republicans have consistently been more worried about the possibility of terrorism, and that is true this week. In addition, this is the first time in more than two years that a majority of Democrats say a terrorist attack is at least somewhat likely. But only 14% of Democrats say it is very likely, 20 points lower than the percentage of Republicans who think that.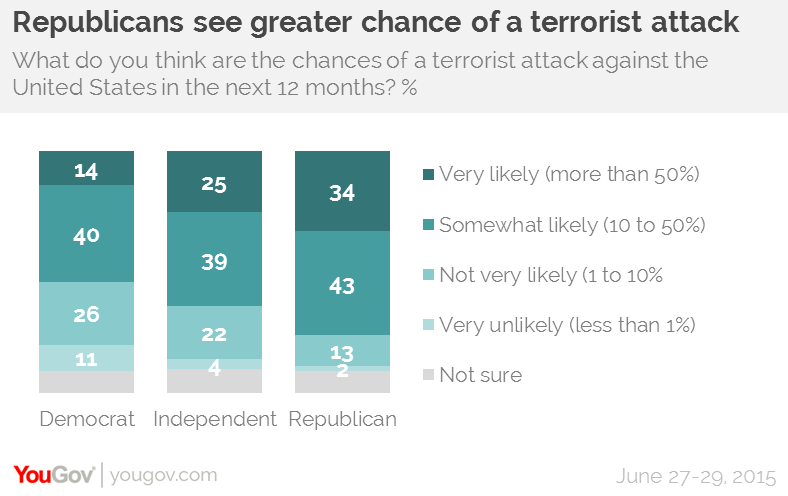 Republicans rank terrorism higher than Democrats do when it comes to overall importance. The economy ranks first with Republicans as the most important issue (as it does with the rest of the country), but terrorism is in second place for Republicans. 14% of Republicans say it is the country's most important issue; just 2% of Democrats and 4% of independents think so.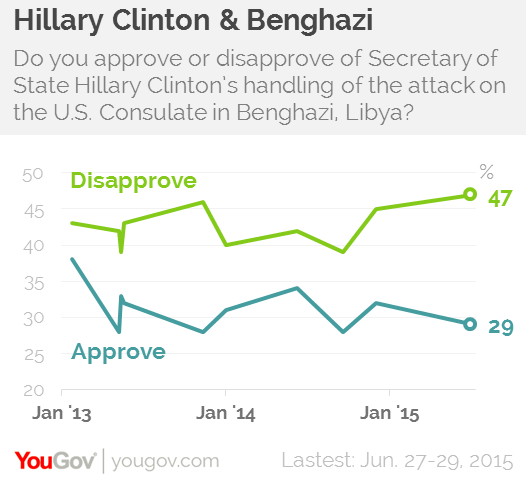 Concern about terrorism could be a factor in the 2016 presidential campaign. The latest release of additional emails from former Secretary of State Hillary Clinton's private email account might matter. The public's assessment of her handling of the 2012 attack on the American Consulate in Benghazi, Libya is now clearly negative. Only 29% this week approve of the way she handled the attack on the Benghazi Consulate, just about matching the lowest rating on this for Clinton since September 2014 (28%).
Clinton's favorable ratings are also negative, though not among Democrats. 83% of Democrats are favorable towards her, but an even larger percentage of Republicans are not.  Independents are also negative.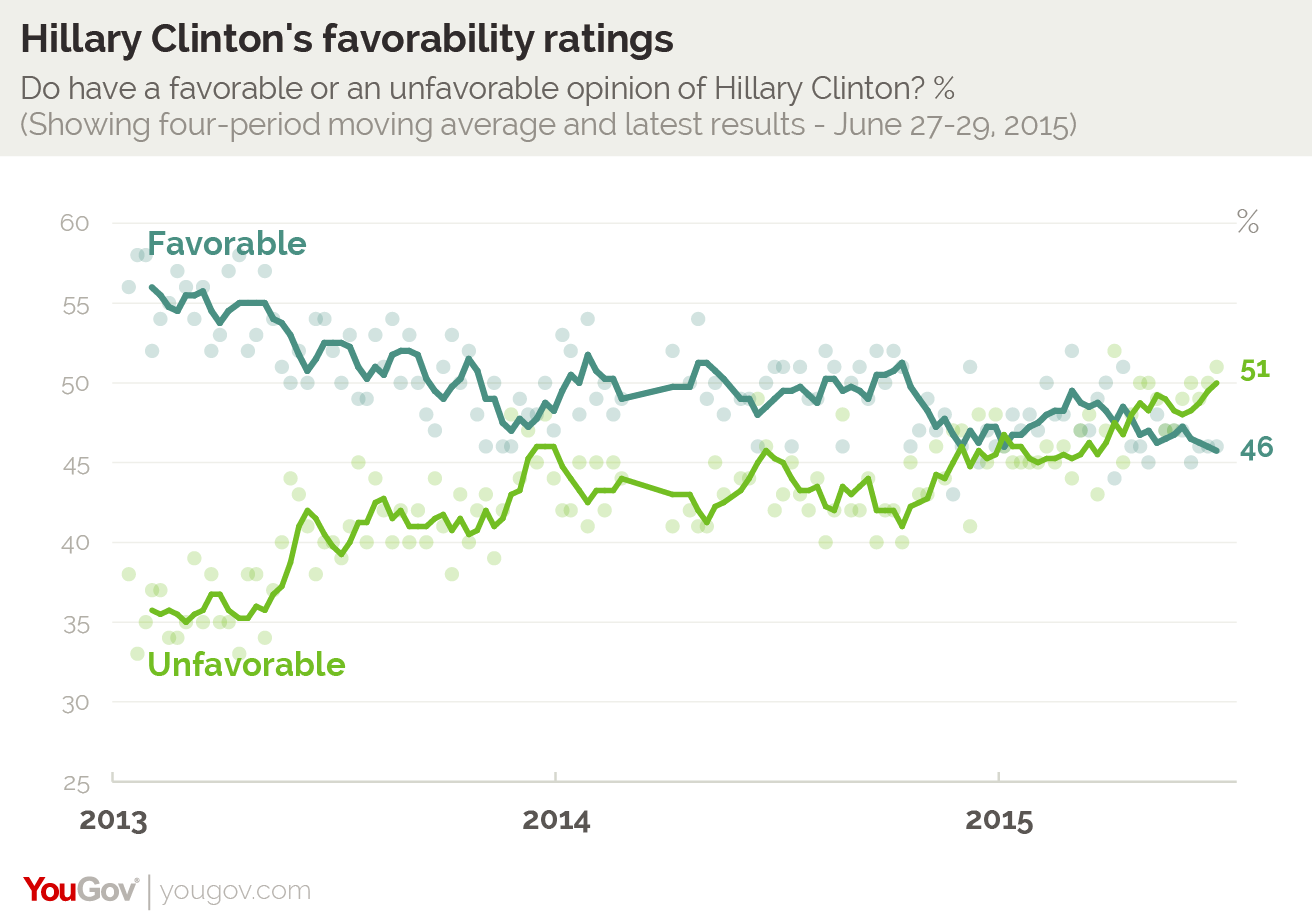 Economist/YouGov poll archives can be found here.