Large numbers of Republicans plan to watch the next debate, as Trump maintains his lead in the primary race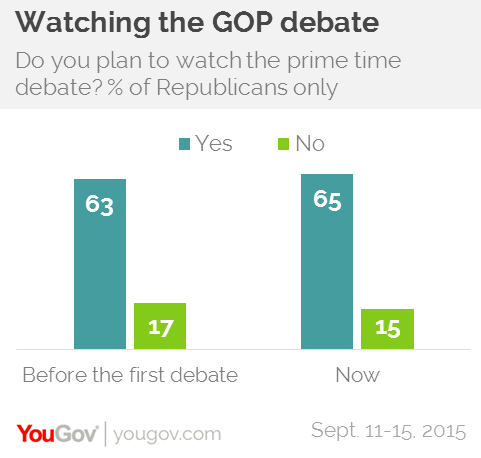 Republicans have not yet lost their enthusiasm for their party's presidential nomination debates.  Just as many Republicans in the latest Economist/YouGov Poll say they plan on watching the CNN debate Wednesday night as said they expected to watch the Fox News/Facebook debate on August 6.  That first debate set records for viewership – the largest primary debate viewership ever, and the largest number of viewers for any Fox News event.   The debate also bested the ratings for any game of last year's World Series and NBA championship games. 
Interest in the Republicans contest goes beyond party lines: nearly half of Democrats claim they are likely to watch the debate, too.  And for Republicans, the debate can make a difference.  One in four Republicans say a candidate's performance in debates is very important in their decision whom to support, and another half say it will be somewhat important. 
New York businessman Donald Trump, the Party's frontrunner for most of the summer, is still one of the candidates exciting Republicans.  There has been no change in the last few weeks in his frontrunner status.  And just as in the previous Economist/YouGov Poll, this week only one other candidate, neurosurgeon Ben Carson, reaches double digits in support.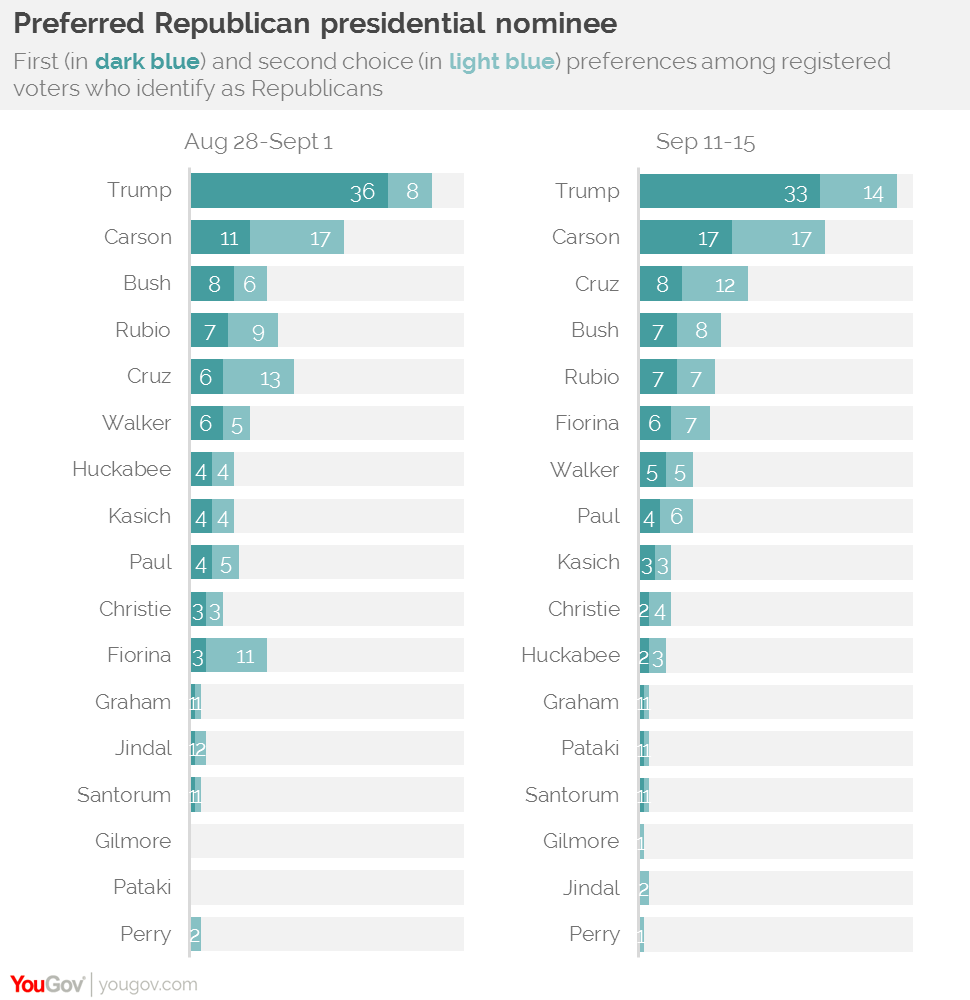 The gap between Trump and Carson has shrunk a bit since the last poll, but Trump remains far ahead.  Half of registered voters who call themselves Republicans choose one of those two men.  In addition to the one-third of Republicans who want Trump to be the nominee, 14% of Republicans say he is their second choice; 17% describe Carson that way.  The third non-traditional politician who will be on stage at the Reagan Library, former Hewlett-Packard CEO Carly Fiorina, is at 6%, closely bunched with former Florida Governor Jeb Bush, current Florida Senator Marco Rubio, Texas Senator Ted Cruz, and Wisconsin Governor Scott Walker.  She has gained support since her presence in the August debate for the less popular candidates. 
Trump is now viewed as an electable Republican: a majority of the public overall thinks Trump could possibly win the presidency if he gets his party's nomination.   The only other candidate seen as a general election winner by a majority of the public is former Florida Governor Jeb Bush.  But this week Republicans are far more positive about Trump's chances than they are about Bush's.   Most Republicans also think Carson and Florida Senator Marco Rubio can win in the fall.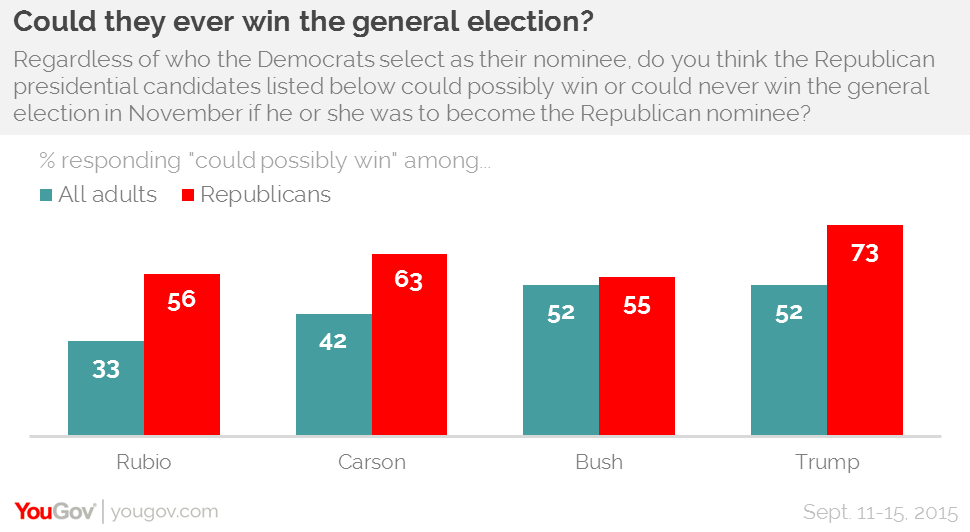 Americans overall don't see Carson or Rubio as likely fall winners. 
But before any candidate can win the November election, he or she must get the party's nomination.  40% of Republicans expect Trump to do just that, while only 14% think Bush will be nominated and 10% expect Carson will.
Trump continues to be the best-liked Republican – but only among Republicans.   Two out of three Republicans have a favorable opinion of him.  However, Trump's popularity doesn't extend to the rest of the public.  A majority of adults have an unfavorable view of him.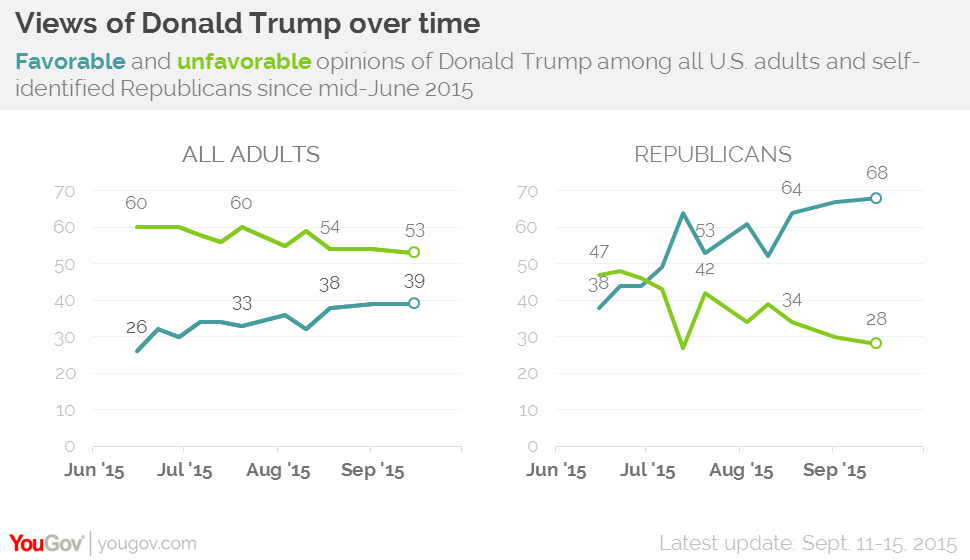 One thing that Republicans have in their favor is their enthusiasm.  76% of Republicans say they will be enthusiastic if their candidate wins the party's nomination, a little higher than the 68% of Democrats who say that.
Economist/YouGov poll archives can be found here.