New YouGov/CBS News polls survey likely Democratic primary and caucus voters in Iowa, New Hampshire and South Carolina
Despite a wide advantage in perceptions of his ability to handle Wall Street and a yawning enthusiasm gap, Bernie Sanders is idling or losing ground to Hillary Clinton lead in all three early primary states, according to a new YouGov/CBS News Battleground Poll. 
Half of likely Democratic caucus goers in Iowa now back Hillary Clinton, giving the former Secretary of State a six-point edge over challenger Sen. Bernie Sanders of Vermont, who receives 44% support. Former Maryland Gov. Martin O'Malley is the choice of 5%. 
Clinton's narrow lead in Iowa is a reversal from a September YouGov/CBS News poll that found Bernie Sanders ahead by 10 points.
New Hampshire has also shifted further in Clinton's favor: what was a 22-point deficit in September has narrowed to just seven. A 52% majority of likely New Hampshire primary voters continue to back Sanders – the same proportion who did so in September. But Biden's definitive exit from the race and a decline in voters with "no preference" have allowed Clinton to rise from 30% in September to 45% in the latest survey. Other polls in the state have found an even closer race, some showing Clinton narrowly ahead.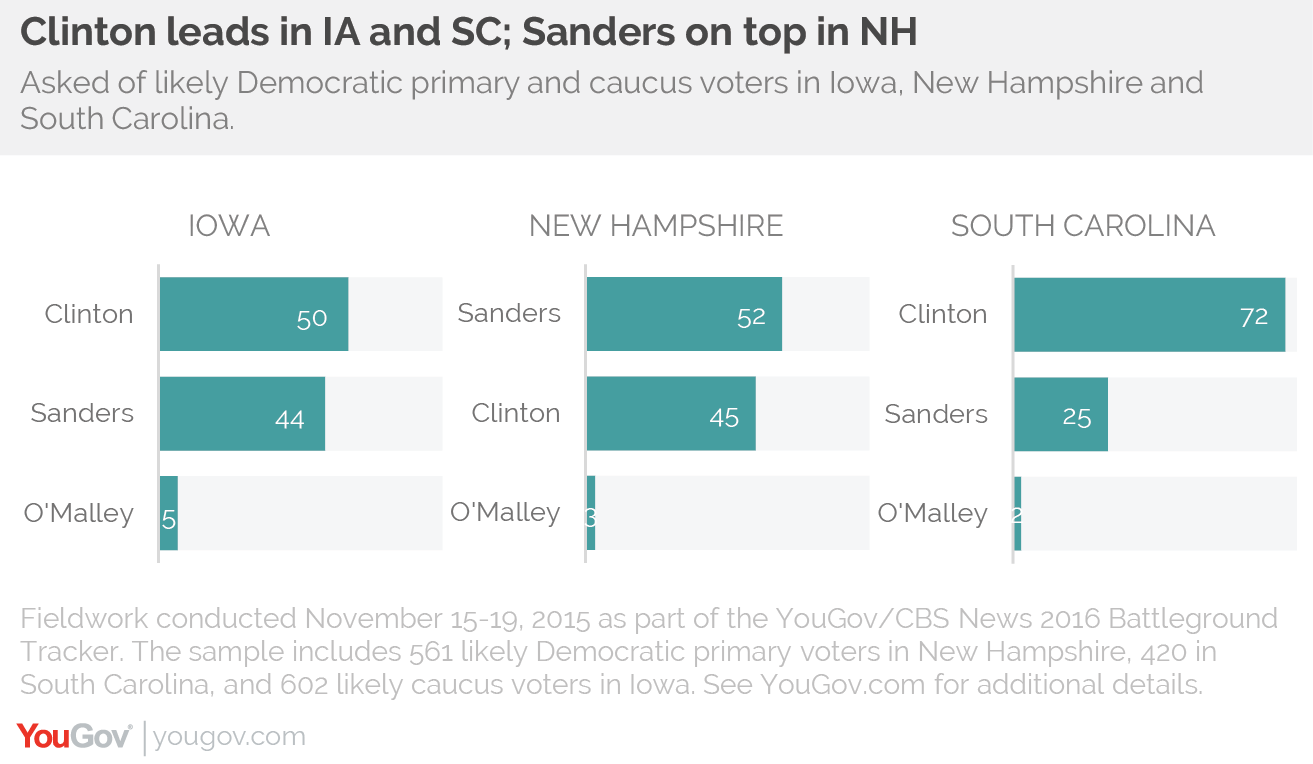 Clinton solidified her lead in South Carolina, the one state with a large share of non-white voters, and a state where she has always performed well this election cycle. 
Sanders is idling at 25% in the state, essentially in the same place where he has been since the end of the summer. Clinton, however, is now the first choice of 72% of likely voters, including 82% of African-Americans, who make up the majority of the Democratic primary electorate in the state. In a shift, Clinton also leads Sanders 57% to 42% among white South Carolinians this month, counterbalancing the smaller, but significant, progress Sanders has made with African-Americans. 
The findings are not all rosy for Clinton. In every state polled a larger proportion of Bernie Sanders supporters say they are "enthusiastic" about the candidate than for Clinton.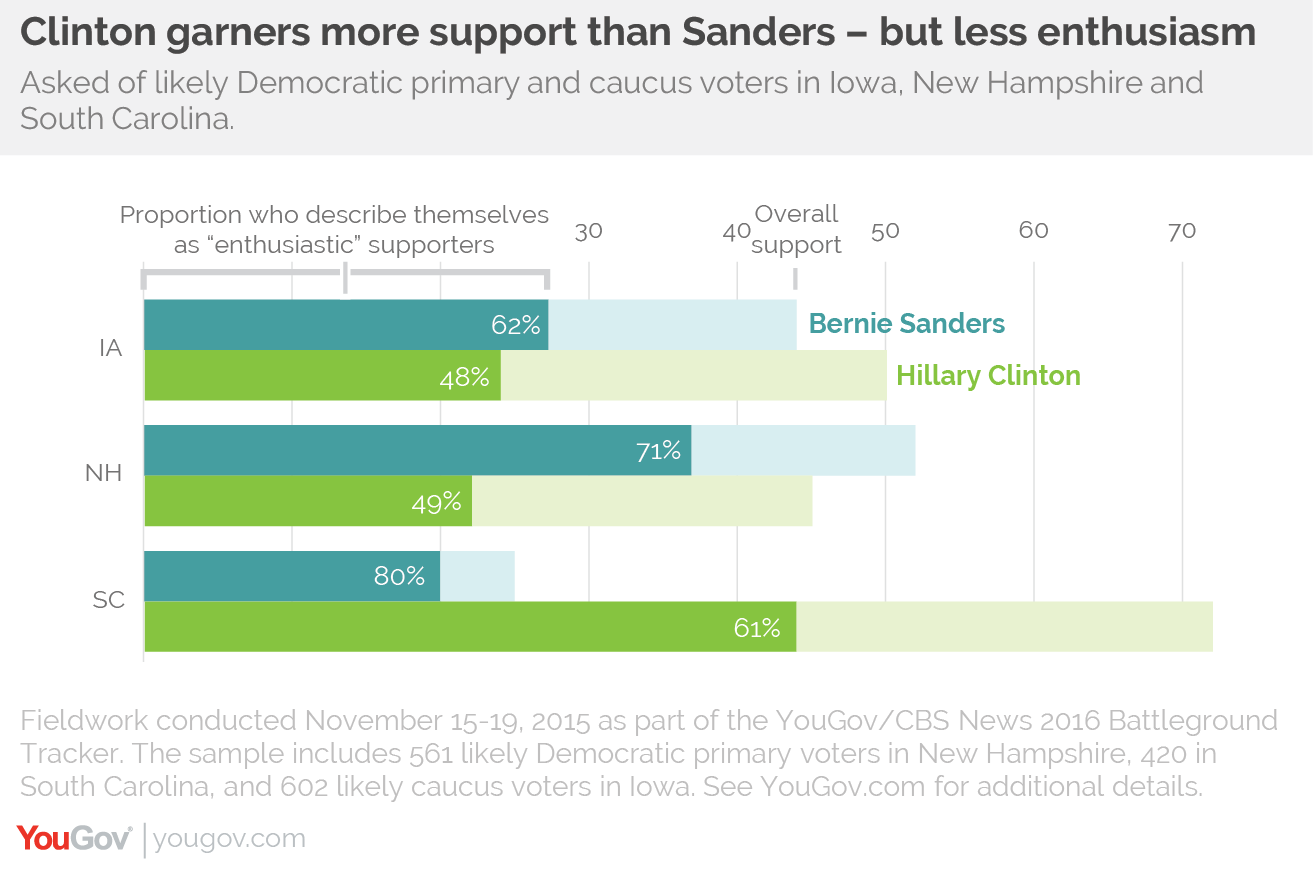 In addition, the poll shows would-be Democratic primary voters worry Clinton will not be tough enough on Wall Street, a concern few have about Sanders. 
Here it is instructive to look at how each candidate's own supporters view the rival candidate: while 52% of Clinton supporters in Iowa say Sanders would get it about right on Wall Street, 78% of Sanders supporters say Clinton would go "too easy" on Wall Street. Altogether, over half of likely Democratic voters in Iowa and New Hampshire – as well as a third in South Carolina – doubt Clinton would be tough enough on Wall Street. 
However, Clinton has an advantage of her own on another test: readiness to fill the role of Commander in Chief. Democrats – including the majority of Clinton supporters and Sanders supporters alike – believe Clinton is prepared to be Commander in Chief. By contrast, only 40% of Clinton backers in South Carolina and a third in New Hampshire and Iowa believe Sanders is prepared to command the country's armed forces. 
Foreign policy has taken an outsize role in both the Democratic and Republican primary campaigns after the deadly terrorist attacks that took place in Paris on Friday, November 13th. 
Last-minute changes to the second Democratic debate, which took place on the next day, refocused the introductory questions on terrorism and the fight against ISIS. Sanders' long-planned speech attempting to reframe "democratic socialism" was arguably overshadowed by a debate over admitting Syrian refugees and even a speech by Clinton on her plan to defeat ISIS. Following the debate, Democrats indicated they overwhelmingly preferred Clinton to Sanders on foreign policy issues and handling ISIS. 
Even so, the potential for the Paris attacks to affect the Democratic race may be more limited than for the Republican race. Around half of voters likely to vote on the Democratic side in these three states say the attacks will have no effect on their presidential vote, versus around a third on the G.O.P. side.

In addition, the majority of Democratic voters say they would accept some differences with their preferred candidate on handling ISIS, whereas at least two-thirds of Republican voters in early states say a candidate must share their view on the issue. 
The YouGov/CBS News 2016 Battleground Tracker is based on surveys of registered voters who had previously voted in primaries in Iowa, New Hampshire and South Carolina. The poll was conducted online but included registered voters who were contacted by phone. The sample includes 561 likely Democratic primary voters in New Hampshire, 420 in South Carolina, and 602 likely caucus voters in Iowa. The majority of respondents are recontacts, meaning most also participated in the October wave of the poll. See a more detailed description of the methodology used here.
See full results with demograhic breakdowns and margins of error: IA, NH, SC