A small but passionate minority of Sanders supporters may prove difficult to sway
Follow @YouGovUS on twitter and stay up to date with the latest news and results
For many Sanders supporters, Tuesday's California double-digit loss was supposed to be a win for the Vermont Senator. This week's conversations in Washington were not supposed to end with an endorsement of Hillary Clinton by President Obama (or with Senator Elizabeth Warren's endorsing the former Secretary of State the same day). The Economist/YouGov Poll conducted in the days before the June 6 primaries underscores some of the difficulties Democrats may face as they try to move together.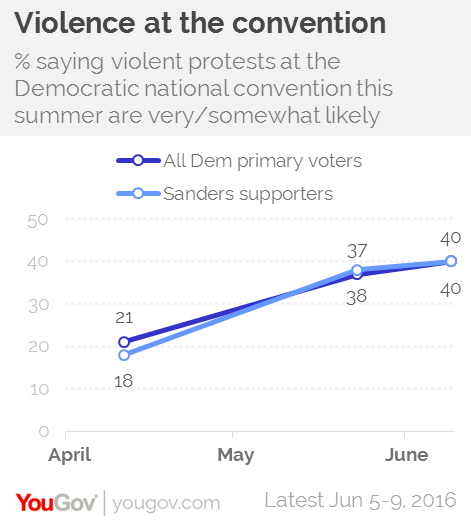 The concern is clear: four in ten Democratic primary voters think violent protests at the party's Philadelphia convention are likely, similar to the share of Democratic primary voters who thought so just after protests by Sanders supporters took place at the Nevada State Convention, and far more than worried about them before that event. And just as many Sanders supporters as all Democratic voters today think violence is a possibility.
And in what might reflect a bit of wishful thinking, a majority of Republican voters now say violent protests at the Democratic Convention are likely. Back in April, there was much more worry about violence at the GOP Convention. Then, before Donald Trump became the presumptive GOP nominee, seven in ten Republican primary voters believed violent protests at their party's Cleveland convention were likely.
But there are weeks to go before the conventions and there is time for healing.  However, when it comes to surrogates who can make the case for Clinton, a candidate disliked by a majority of Sanders supporters, some of them might not be as convincing as they may hope. Even President Obama has weaknesses with those who supported Sanders.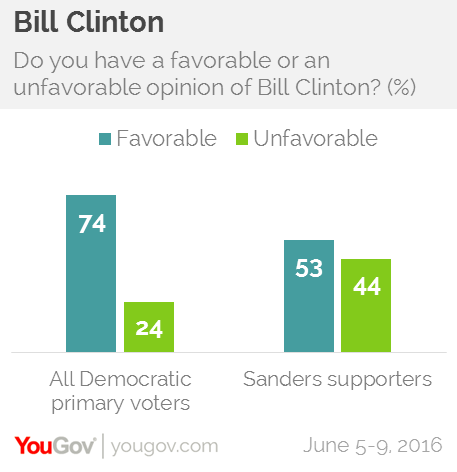 But that's especially the case with former President Bill Clinton.  Just over half of Sanders supporters have a favorable opinion of Clinton, and only 16% are very favorable. Among all Democratic voters, three in four are favorable, and 42% are very favorable.
Bill Clinton is married to Sanders' rival, so the lack of positive feelings towards him makes sense. But differences exist in assessments of the Democratic President and Vice President as well. One in five Sanders supporters have unfavorable views of Barack Obama and Joe Biden. Less than half have very favorable opinions of each man. The difference is even starker when it comes to assessing Obama's presidency. One in four Sanders supporters disapprove of the President's performance in office. One in four say the President is a weak leader. 29% believe he says what people want to hear – and not what he really believes.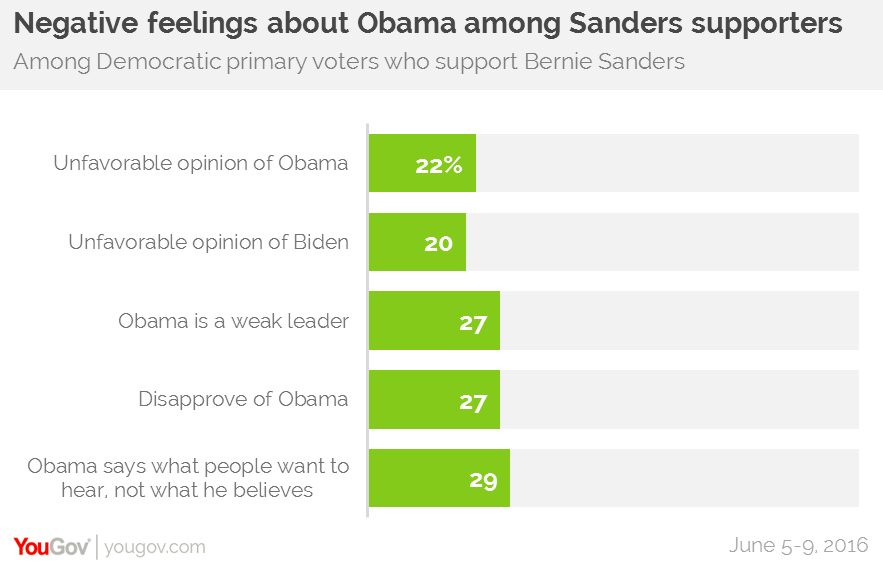 Given the claims of many Sanders supporters that the Democratic selection process was unfair to them, nearly as many view the party unfavorably as favorably. In a way, this could underscore these voters' problems with the party itself. As many Sanders voters dislike the Democratic Party as like it. 
Of course, much of Sanders's primary and caucus support came from people who don't consider themselves Democrats.   51% of them are independents, including 5% who call themselves Republicans.  This group is particularly likely to disapprove of the President and to dislike Bill Clinton.
There is one party member who might sway Sanders supporters: Massachusetts Senator Elizabeth Warren. Sanders supporters – like other Democratic voters – have very positive views of her.  And unlike opinions of Democrats in general and specific Democrats, independents who supported Sanders in the primary and caucuses like Warren even more than Sanders' Democratic voters do.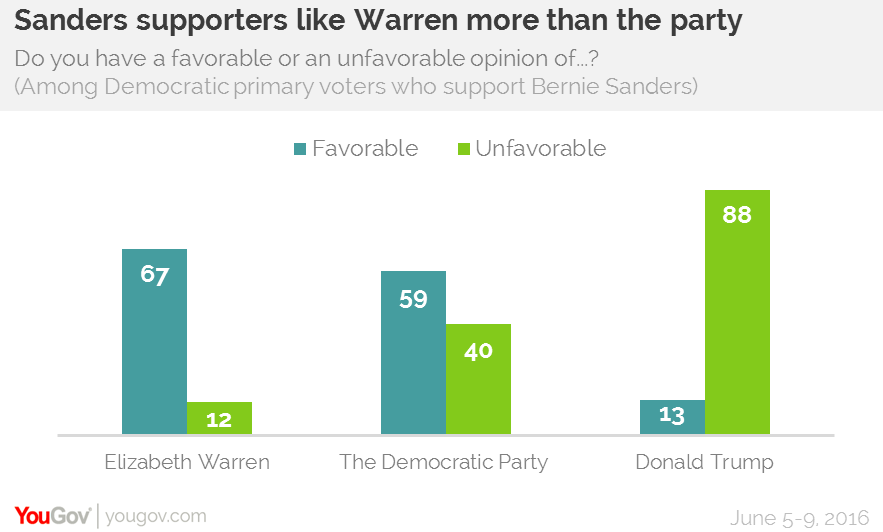 And finally, in the race to win Sanders voters, there is Donald Trump himself. Nearly nine in ten Sanders supporters don't like him. And the Sanders supporters who currently say they would vote for Clinton in the fall, 70% say it's because they don't like Trump, and not because they like Clinton. 
---
See the Economist/YouGov results
Economist/YouGov poll archives can be found here.