President Donald Trump tweeted his plans to begin deporting "millions" of illegal immigrants in the coming week. While that message definitely appeals to Republican partisans, it isn't a popular one overall. In the latest Economist/YouGov Poll, most favor legal status of some for those in the United State illegally, but not a path to citizenship.
The percentage of Republicans supporting deportation has grown since last year. Then, in the midst of the confrontation over separating immigrant children from their parents at the Southern border, 62% of Republicans said they would deport illegal immigrants. This year, the percentage is eight points higher.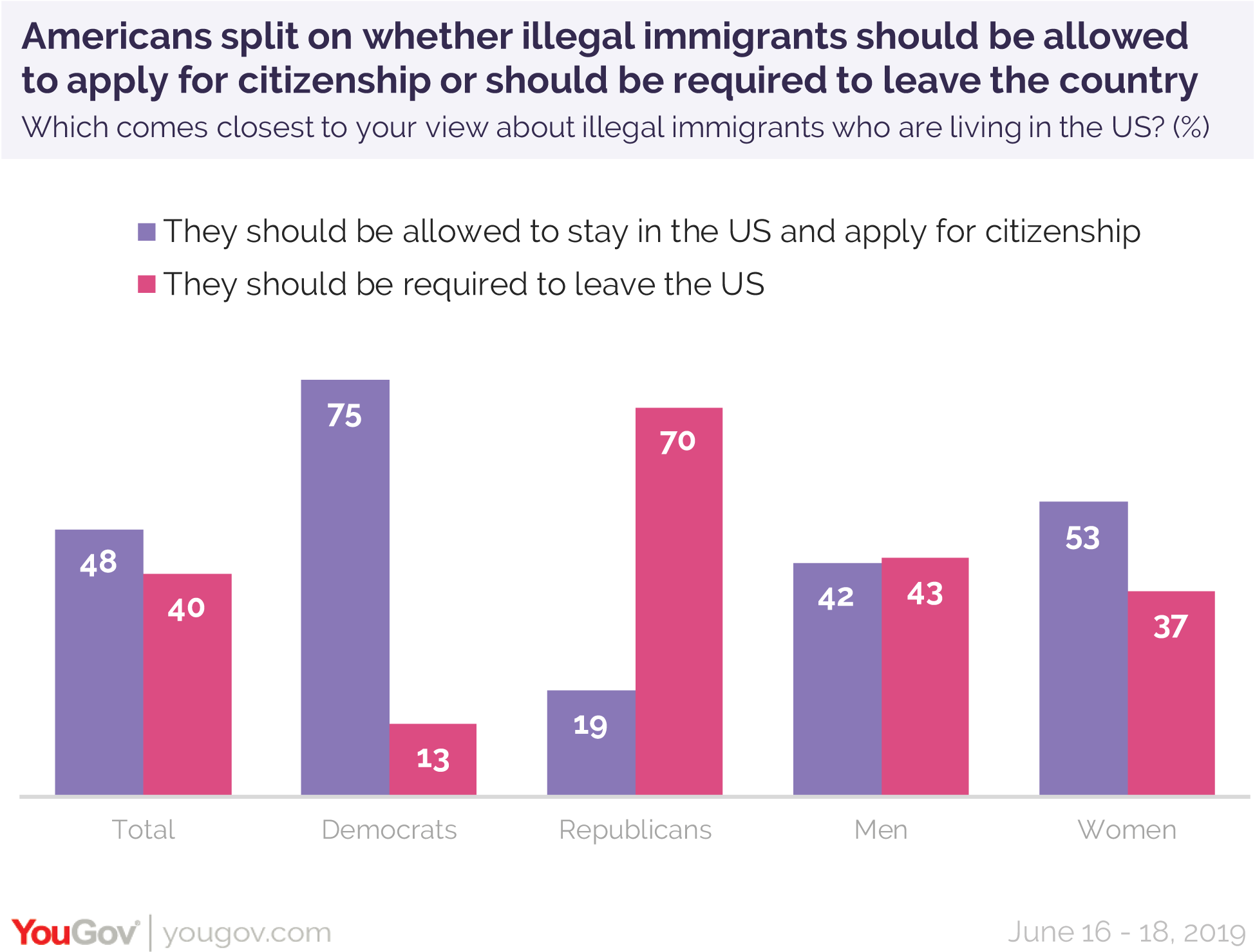 DACA (Deferred Action for Childhood Arrivals) also splits the parties. It has continued to be a popular program overall, supported by twice as many who oppose it (55% to 27%). But a majority of Republicans (51%) oppose it. Just over a third of Republicans are in favor.
For Republicans, immigration has grown in importance as an issue. One year ago, 17% of Republicans cited it as the country's most important issue. Now, 29% do, making it the biggest issue for Republicans. 
Democrats, then and now, say health care is most important. They also increasingly prioritize the environment and are now five times as likely as Republicans to say it is the most important issue.
There are a few surprises when it comes to groups most concerned about immigration. Those Americans with at least one immigrant grandparent are more concerned about immigration than those whose families have been here both more generations and for fewer generations. 17% of those whose grandparents were immigrants believe immigration is their most important issue. They rank it number one. Among Republicans with an immigrant grandfather, 37% cite immigration as their most important issue. 
This group also takes stronger positions against immigration than the public overall. A majority of them (53%) say immigration is a very serious problem nationally. Nearly half (47%) would deport all of those in the United States illegally. 52% support a border wall.
Most Americans don't experience illegal immigration on a personal level. Only one in four say they personally know an illegal immigrant. The figure is highest among Hispanic Americans, more than a third of whom (38%) know someone in the United States illegally. Knowing someone, however, doesn't appear to affect views on whether or not there should be a path to citizenship or deportation for illegal immigrants. 
It does increase the likelihood that a respondent will view illegal immigration as a serious problem. Half of those who personally know someone who is illegally in the United States believe illegal immigration is a serious problem where they live, too, compared with a third overall. They are also slightly more likely to favor a wall on the Southern US border.
Many American adults may not be traveling outside this country anytime soon. Less than half say they currently hold a valid US passport. Just about half in the Northeast and the West have passports, but 60% in the Midwest and 63% in the South do not.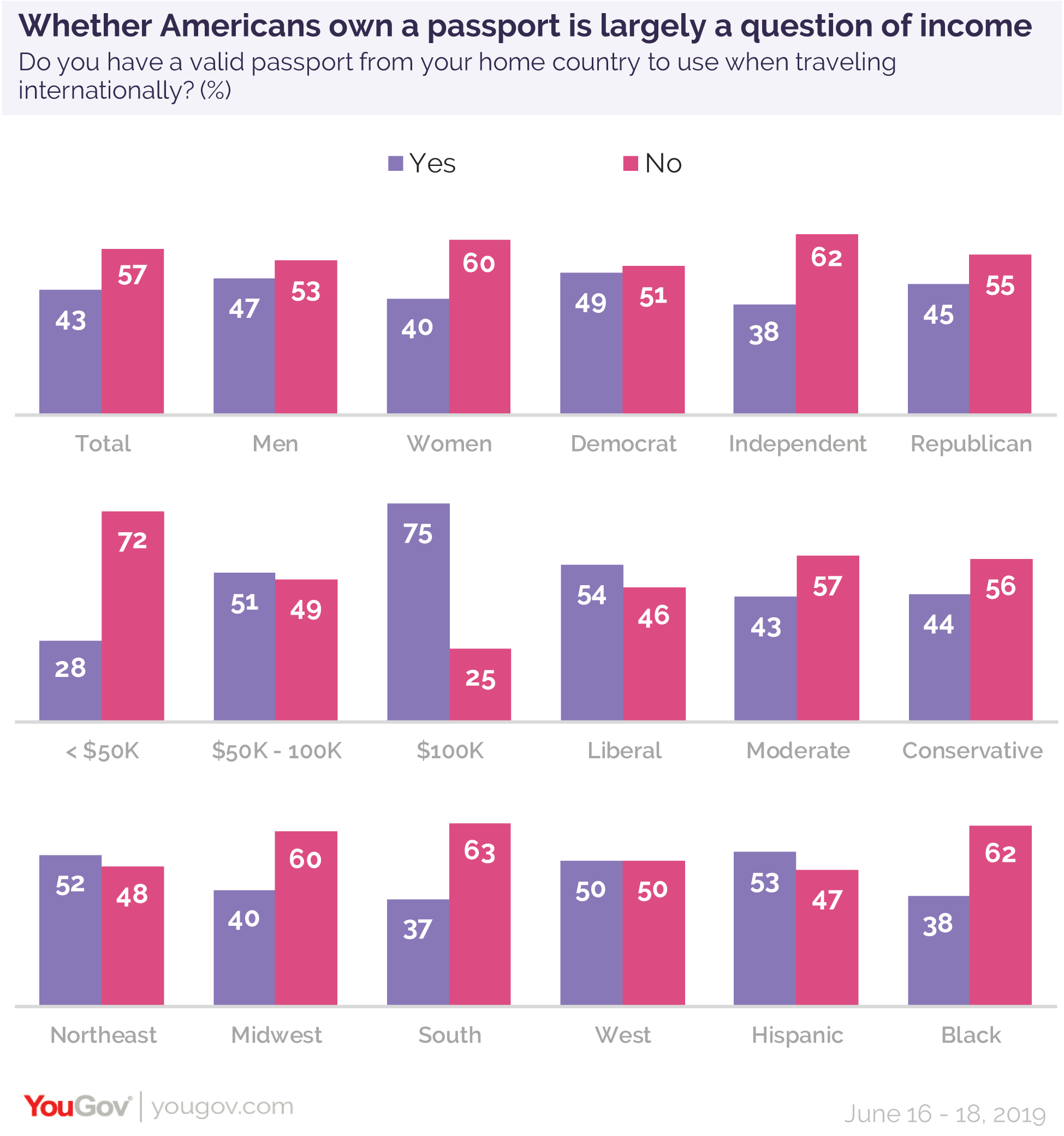 Passport possession is partly a matter of age (those under 45 and those 65 and older are more likely to have them), but also partly a matter of income (three-quarters with incomes over $100,000 a year have passports) and racial and ethnic backgrounds (more than half of Hispanics have a passport). 
Liberals are more likely than conservatives to own a passport, but partisan differences are relatively small. Independents are less likely than either Republicans or Democrats to have a passport. 
Having a passport means one is three times as likely as someone without a passport to have non-American relatives who live in other countries. Half say they have non-American friends who live elsewhere. Less than one in five of those without passports have non-American friends. 
See the full toplines and tables results for The Economist/YouGov weekly poll.
Image: Getty