When President Donald Trump seemingly warned Alabama residents that their state would "most likely be hit (much) harder than anticipated" by Hurricane Dorian, the message earned positive reviews from most Americans, according to the YouGov TweetIndex, a daily tracker of tweets from the @realDonaldTrump account.
Except, Alabama was not actually in danger of being hit by Hurricane Dorian, according to official NOAA forecasts available at the time, and the president's warning prompted the NOAA office in Birmingham, Alabama, to post a statement reassuring citizens that the state would not feel any impact. 
In the days since the president's erroneous tweet, he didn't correct the record, but instead doubled-down on the statement. Trump subsequently attacked the media for misreporting, and those messages were viewed in a negative light, according to the TweetIndex. 
For Trump, the defensive messages overshadow what is typically a favorable environment for his Twitter account. He often earns some praise for his messages during hurricanes and other natural disasters because he thanks the Federal Emergency Management Agency and tends to assure the American people that their government stands ready to help. 
The original warning about Hurricane Dorian from September 1 earned a score of +34 among the general population, according to data drawn from YouGov's TweetIndex. The median score overall for Trump's collected tweets is -20 among US adults, meaning the Alabama tweet exceeded that by 54 points.
America's opinion of Trump's tweets is sourced from normal Americans. Every day, YouGov asks a nationally representative sample of US adults to rate the president's tweets on a five-point scale from Great (+2) to Terrible (-2), which produces an overall score for how the general population feels about the tweet on a scale from -200 (if everyone thinks it is terrible) to +200 (if everyone thinks it is great).
Hurricane Dorian cleared the East Coast by September 5 without threatening Alabama, but Trump continued to insist Alabama was originally at risk. As he doubled down on Twitter, Americans rated his messages much lower than the original and below the median score. None of the tweets following the original, (incorrect) warning earned a positive score among all Americans.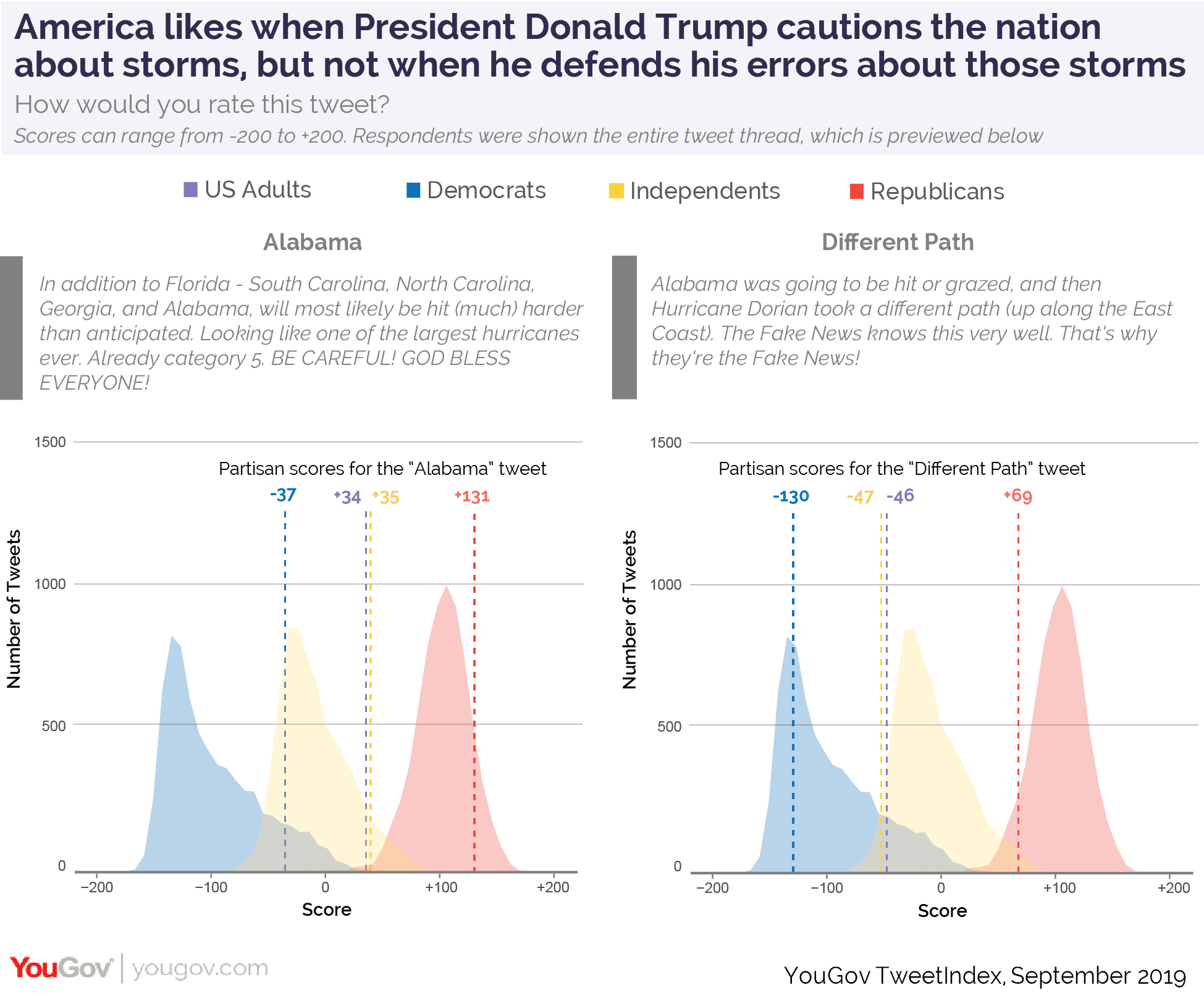 Trump's tweets during natural disasters are generally rated highly when he highlights appreciation for first respondents and instructs Americans to be safe. The president's highest-scored hurricane tweets have been messages encouraging people to "heed the advice and orders of local and state officials," which he did during Hurricane Harvey and Hurricane Irma in 2017.
Similarly, Trump tweeted a warning to Puerto Rico before Hurricane Maria struck in 2017 that was rated favorably by Democrats and Republicans alike with a score of +60 overall. That reversed when he began insisting that thousands did not die as a result of Hurricane Maria (-67) and attacked its leaders after the natural disaster (-53).
Methodology: YouGov TweetIndex shows how the public rate each tweet from President Donald Trump's official Twitter account. At the end of every day, YouGov shows a representative sample of US adults the tweets sent in the past 24 hours by President Trump. The panelists are asked to rate the posts on a scale Great (+2), Good (+1), OK (0), Bad (-1), and Terrible (-2). Theoretically, scores can range from -200 (if everyone thought the tweet was "Terrible") to +200 (if everyone thought the tweet was "Great").
Related: America's opinion of President Trump's tweets in August