25% of teenagers primp before making a video call
In the not so distant past, video phones were merely a cool, fictional gadget you might see on an episode of The Jetsons or Star Trek. Today, however, making a video call is as simple as selecting Facebook Messenger, FaceTime, Skype, Google Duo, or one of the many other apps that facilitate a virtual face-to-face.
Teens in particular are embracing the video call craze, utilizing new programs like Houseparty which allow large groups of people to video chat at the same time. In fact, nearly one in five teens, those aged 13 – 17, would prefer to video chat with friends than hang out with them in person (19%).
This is particularly interesting considering video chatting is not necessarily the less demanding alternative to physically meeting up with someone—there is still often preparation involved for teenagers before getting in front of the screen. One in four teens, 25%, primp before they place a video call to friends or family members. Specifically, over a third of females (34%) do things like brush their hair or put on makeup prior to starting their chat. Males, on the other hand, are half as likely to groom before beginning a video call (14%).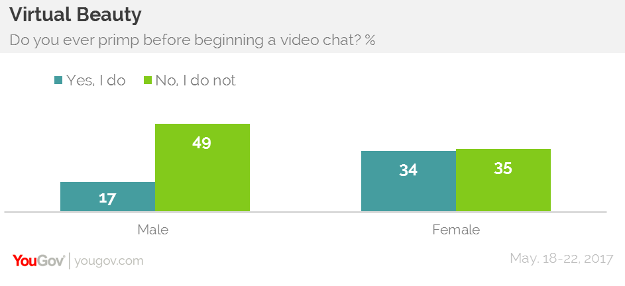 Even with new technologies like video chat, texting doesn't seem to be going out of style. Data suggests that, in many cases, texting takes precedent over things like getting a good night's sleep or paying attention in class. In fact, the majority of teenagers, 62%, have texted their friends when they should have been asleep. Over a third of teens have texted while in class (46%), while eating dinner with their family (39%), or while in the library (34%). Around one in ten teens have sent a text to a friend during a religious service.