Over a third of FIFA World Cup fans (34%) say they're excited to watch the best players compete against each other. 
Follow @YouGovUS on twitter and stay up to date with the latest news and results
The FIFA World Cup begins today in Russia, and since the US is not competing, many Americans have decided to root for other teams from around the globe. New data from YouGov Profiles shows that among people who self-identified as 2018 FIFA World Cup fans, the most popular teams to root for are Brazil (29%), Mexico (28%), England (25%), and Argentina (20%).  
When it comes to the reasons for watching the FIFA World Cup, some of the popular responses among 2018 FIFA World Cup fans include "I love to watch the FIFA World Cup" (48%) and "To watch the best soccer players compete against each other" (34%).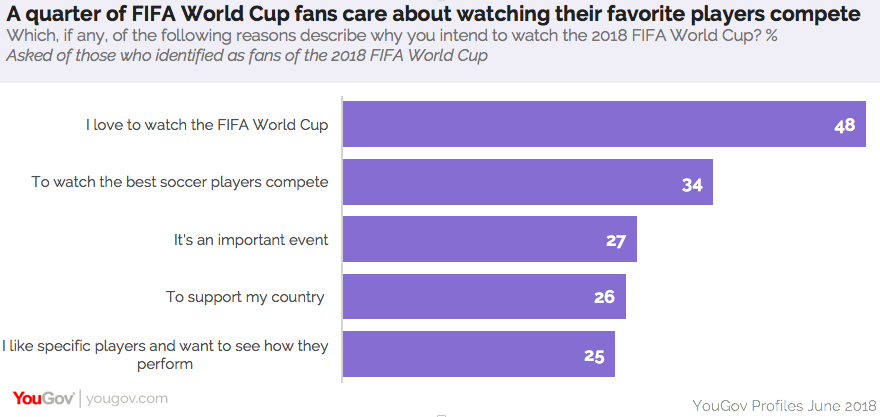 As for where and how they'll be watching, 52 percent of 2018 FIFA World Cup fans say they're likely to watch the games at home with friends and family. Nearly half (46%) plan to watch the matches at home by themselves, while 28 percent report they'll be watching at a friend or family member's house. As there will be a total of 64 matches in the 2018 FIFA World Cup, respondents could choose multiple options for where they would be watching the games.
However, almost three-fourths of Americans (73%) said that they wouldn't be watching any of the 2018 FIFA matches at all. Instead, many say they'll be watching something else on TV (39%), indulging in "me time" (27%), or enjoying an outdoor activity (17%).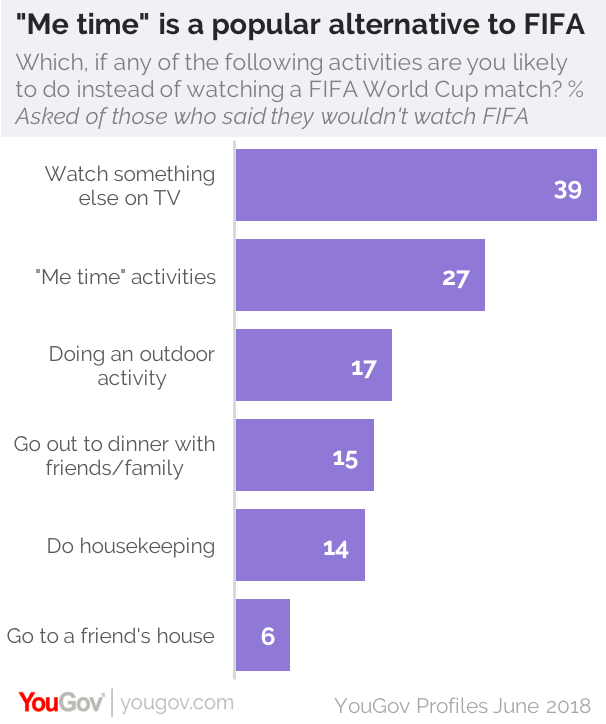 Learn more about YouGov Profiles
Image: Getty