Data finds that young travelers are the most likely age group to have a positive impression of JetBlue and Virgin America
According to recent numbers from Airlines for America, an industry trade association, an estimated 27.3 million people will board a US airline between November 18th and the 29th — up 2.5% from 2015.
As airports around the country brace themselves for hordes of travelers this holiday season, recent data from YouGov Profiles suggests that a fresh crop of customers are bringing new attitudes and expectations to the nation's airlines.
A comparison of positive impression scores between the low-cost carriers Southwest and JetBlue, for instance, illustrates a clear difference in opinion. While all age groups have a higher positive impression of Southwest than JetBlue, Millennials aged 18-34 who've taken at least one leisure trip on an airline in the past year report the lowest score for Southwest with 45%. Travelers aged 65 or older, on the other hand, record the highest with 59%. Contrast this with JetBlue's positive impression scores and the order is reversed: young travelers give the budget airline the highest positive impression score with 34%, while older travelers give it a slightly lower 28%.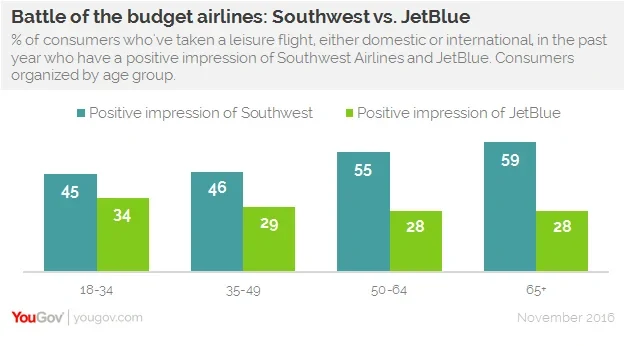 A comparison of new and old airlines results in a similar pattern. Delta, which began flying passengers back in the 1930s, has its highest positive impression rates among travelers aged 65 or older (45%) and its lowest among those aged 18-34 (35%). Meanwhile, Virgin America, which launched in 2007, receives its highest positive impression scores from young people (20%) and its lowest from old people (11%).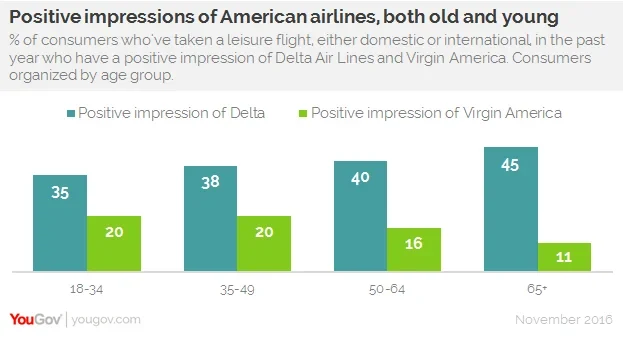 The differences don't stop there. Additional data finds that 34% of Millennials aged 18-34 who've taken at least one leisure trip in the past 12 months indicate that their preferred method for booking a flight involves scouring travel websites, such as Expedia or Travelocity. As a traveler's age increases, his or her likelihood of using these online aggregators decreases. Only 17% of recent passengers aged 65 or older, for instance, report preferring this method.
When it comes to booking a flight over the phone, travelers aged 65 or older are the most likely demographic to favor this method. At 33%, Baby Boomers aged 50-64 are the most likely generation to secure a seat through an airline's own website.