In the wake of highly viral videos of a passenger being forcibly dragged off a plane, and corporate response under fire, United Airlines' consumer perception levels fell to its lowest level in at least 10 years over the past three days, marking the steepest drop a domestic airline has taken since last August.
However, it is too early to tell yet whether passengers will pull back from purchasing United Airlines tickets in the future, or given the industry's consolidation over the years, if they'll be able to. However, what happened last August to Delta Airlines may be instructional – more about that in a few paragraphs.
Putting this into perspective, airline mishaps occur periodically, causing a short minor drop in consumer perception, and then a bounce back, as the public gets past these incidents relatively quickly. Only two weeks ago, United wouldn't permit teen girls onto a plane because of the leggings they wore, dragging their perception down to its lowest level in a year, a more extreme reaction than most airline incidents. It took one week for United's consumer perception to head back up.
Last August, Delta's computer experienced a power failure, forcing the airline to ground thousands of flights worldwide. It took several weeks for Delta's consumer perception to fully recover from that crisis.
But did it impact Delta's bottom line, given industry consolidation? On August 8th, 37% of consumers would consider flying Delta the next time they had to purchase an airline ticket. Four days later, that number dropped to 27%. By September 1st, they were up to 39%, even higher than where they were earlier.
YouGov BrandIndex measured consumer perception in this research with its Buzz score, which asks respondents: "If you've heard anything about the brand in the last two weeks, through advertising, news or word of mouth, was it positive or negative?"
A score can range from -100 to 100 with a zero score equaling a neutral position. Example: A score of 35 means that 35% more people said they were positive than negative about the brand.
On April 8th, United Airlines' Buzz score was 3. By Wednesday, April 12, the score had dropped to -28. By comparison to another recent crisis, just before the United Airlines videos posted, Delta canceled thousands of flights because of storms. Its Buzz score dropped from 7 to its current -2.
Last August, when Delta's computers failed, the airline's score fell from 9 to -33 over the course of a week.
Buzz: United and Delta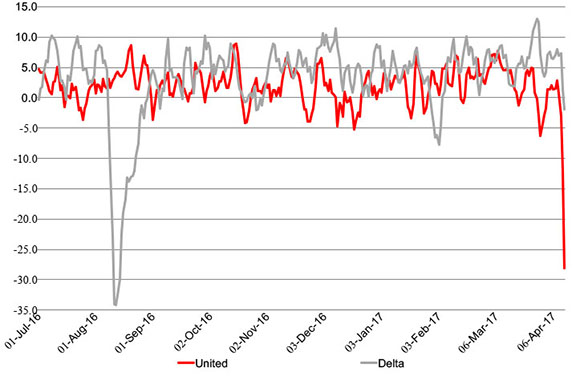 Purchase Consideration: United and Delta